2018 Woodin CYtation Award Recipient
Karin Lawton-Dunn, Program Coordinator II, Graduate College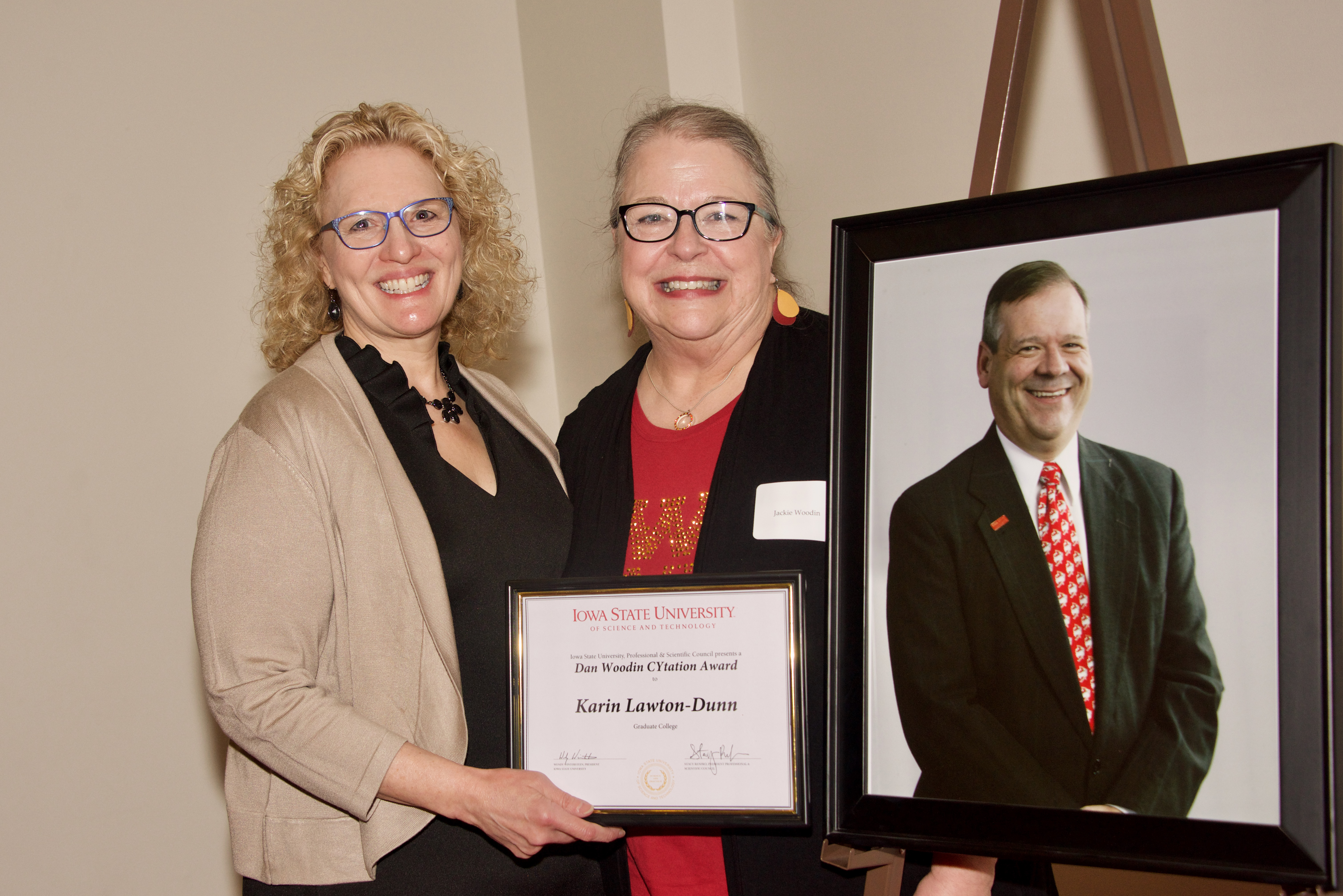 Karin Lawton-Dunn, this year's Woodin CYtation Award winner, runs the Career Services Office for the Graduate College and has shown exemplary service, going above and beyond, and demonstrating leadership, innovation and initiative, all while showing compassion and respect toward others and with a great attitude. She developed a career planning seminar, the Cyclone Career Strategy, to assist graduate students and post docs with career planning. This seminar includes sessions on Self-Assessment, Networking, Informational Interviewing, and Goal Setting. Additionally, Karin has held 77 workshops after which individuals often seek one-on-one consultations to practice and perfect the skills from the workshops. She holds mock job interviews, critiques resumes, role plays networking situations and takes students to events where they can practice their networking skills in the real world. She works to bring potential employers and students together through her efforts with the Greater Des Moines Partnership's Global Talent Advisory Committee and with students from the Veterinary Medicine Graduate Student Organization. In collaboration with the assistant dean of the graduate college, Karin assembled a Graduate College Industry Advisory Committee to discuss qualifications and qualities industry is looking for and share that with relevant departments. She has poured enormous energy into developing a resource that benefits hundreds of students and postdocs each year. She is proactive and her energy, kindness and commitment to students and postdocs have made a true impact to Iowa State University.
---
2018 CYtation Award Recipients
Tiffany Berkenes, 4-H Youth Program Specialist, ISU Ext. & Outreach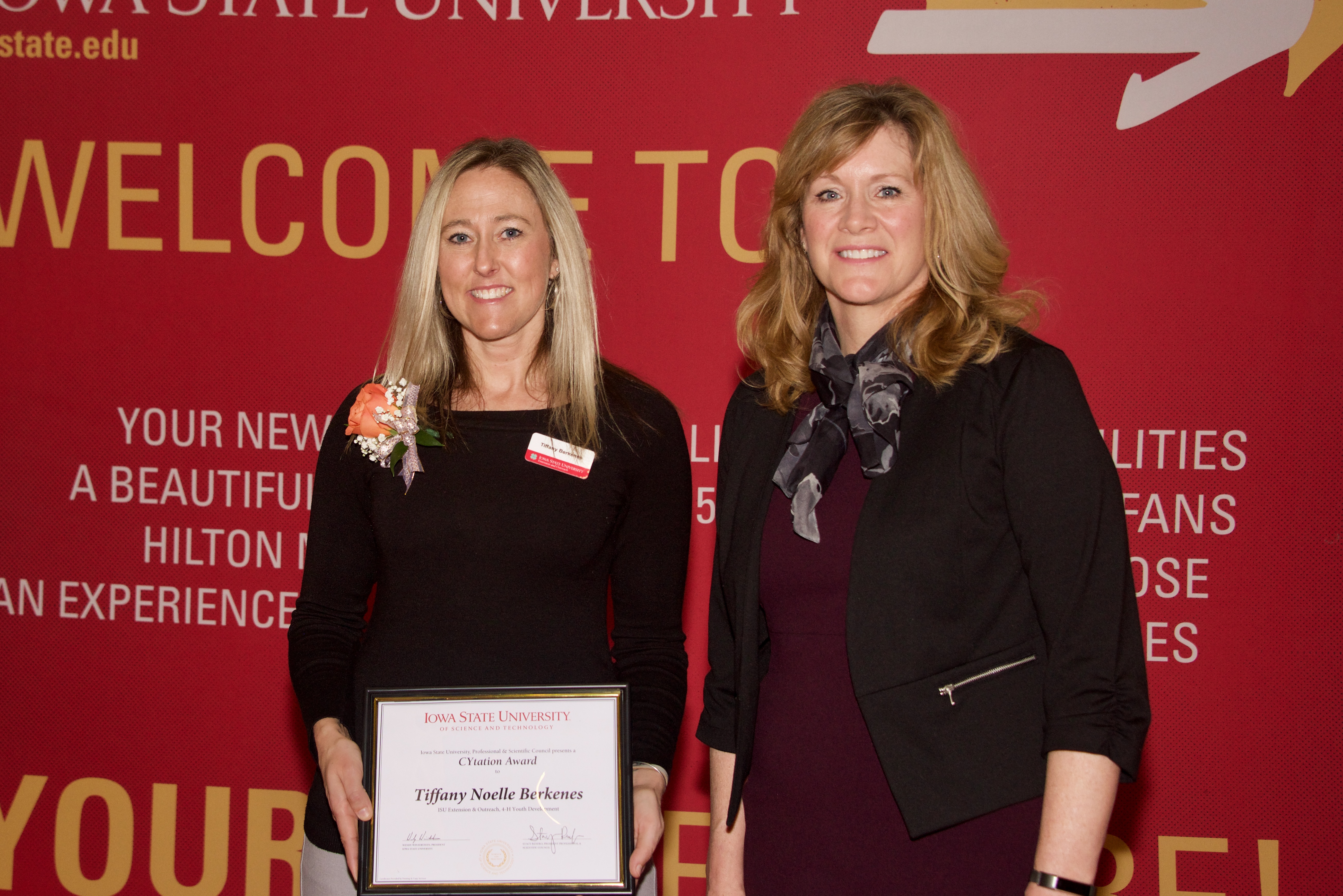 Tiffany Berkenes, a 4-H Youth Program Specialist, has devoted herself to creating exemplary opportunities for central Iowa's youth through inclusion advocacy, development of community partnerships, and continually challenging herself and her colleagues to strive for greatness. One of Tiffany's biggest passions is college access for youth from multicultural, low socioeconomic, or first-generation college-bound backgrounds. She has addressed this issue by developing the Polk County RiSE College Access Conference in partnership with Iowa 4-H, Iowa State University, Grand View University, and Des Moines Public Schools. Tiffany has also been a key player in Cultural Youth Leadership Accelerator retreats, working on the planning committee and recruiting immigrant and refugee youth by conducting home visits. Tiffany takes time from her evenings or weekends to have conversations with families in their homes who are unfamiliar with ISU Extension & Outreach and the Iowa 4-H Youth Development program. Tiffany's work at ISU has given youth from under-represented backgrounds the opportunity to feel empowered, to be leaders in their schools and communities, and to explore higher education and understand that 4-H is for everyone. Tiffany's contagious positivity, boundless enthusiasm, and incredible passion for equality showcase her award-winning work going above and beyond the call of duty.
---
Hiliary Burns, Program Coordinator II, Ames Laboratory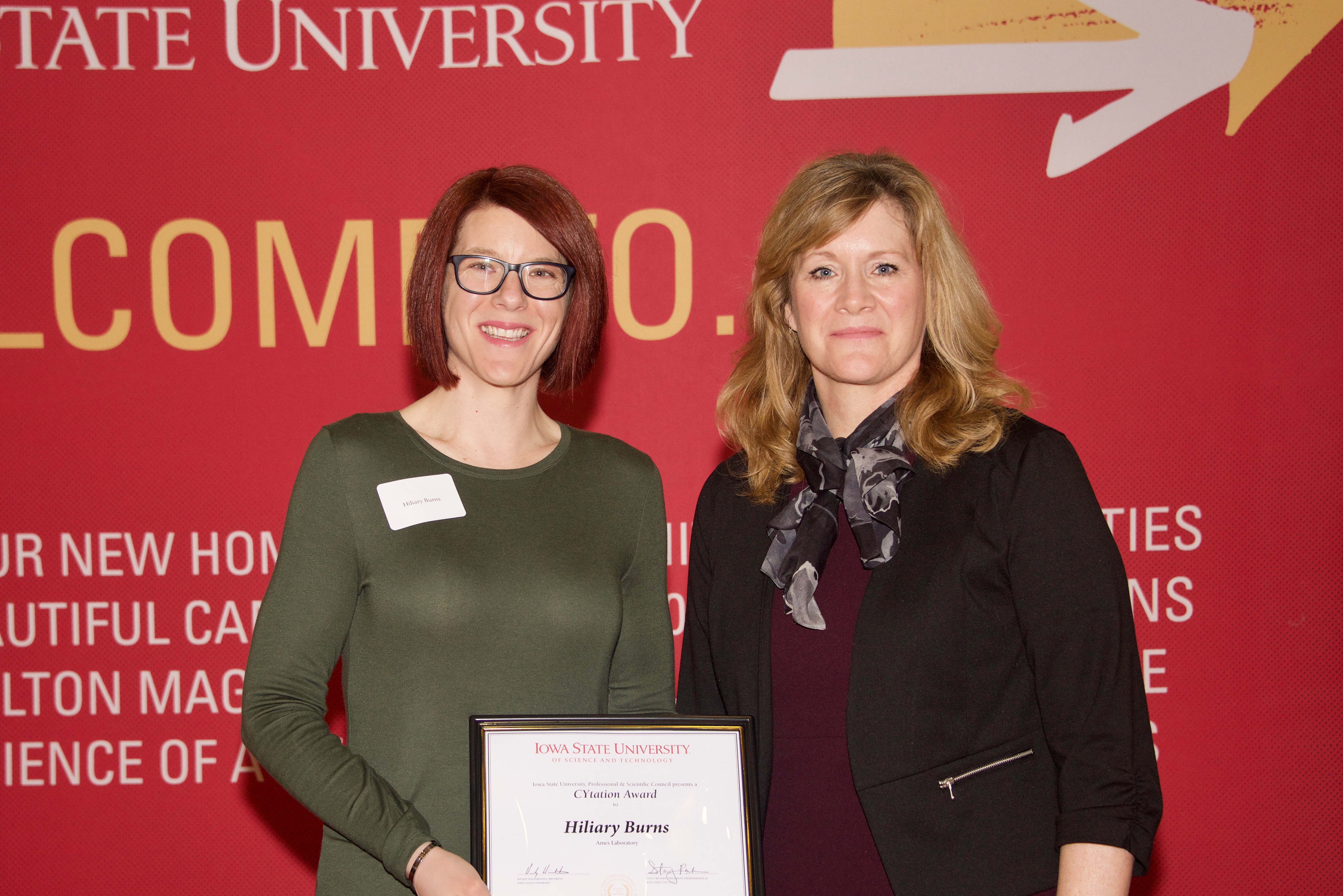 Hiliary Burns is the Learning and Development Coordinator with Ames Laboratory. Hiliary started at Ames Laboratory in July 2015 and has since made significant improvement to the Laboratory's training programs. These improvements include moving the training platform to Learn@ISU, improving and updating training content, and removing costly inefficiencies. Hiliary has gone above and beyond her job duties by holistically and strategically reviewing the Laboratory's training program, and prioritizing her focus in areas that have the largest impact for the Laboratory. One of Hiliary's recent training initiatives is saving the Laboratory 600 hours of personnel time annually by cutting down redundancies and consolidating training material required of all Laboratory employees. As a result of this success, Hiliary's work is now being shared with other DOE National Laboratories as a best practice. Another of Hiliary's improvements to the Ames Laboratory came via new employee training programs, where she saved the lab approximately 300 personnel hours annually by streamlining new employee training exercises and reducing the need for year-round recertification programs. These projects are just a few recent examples of Hiliary's impact, saving employees approximately 900 hours annually. Hiliary's vision, leadership and follow through to enact change at the Laboratory has made a big difference at our University. We would like to congratulate Hiliary on her achievements thus far, and thank her for for her extraordinary work.
---
Jason Follett, Academic Adviser II, Software Engineering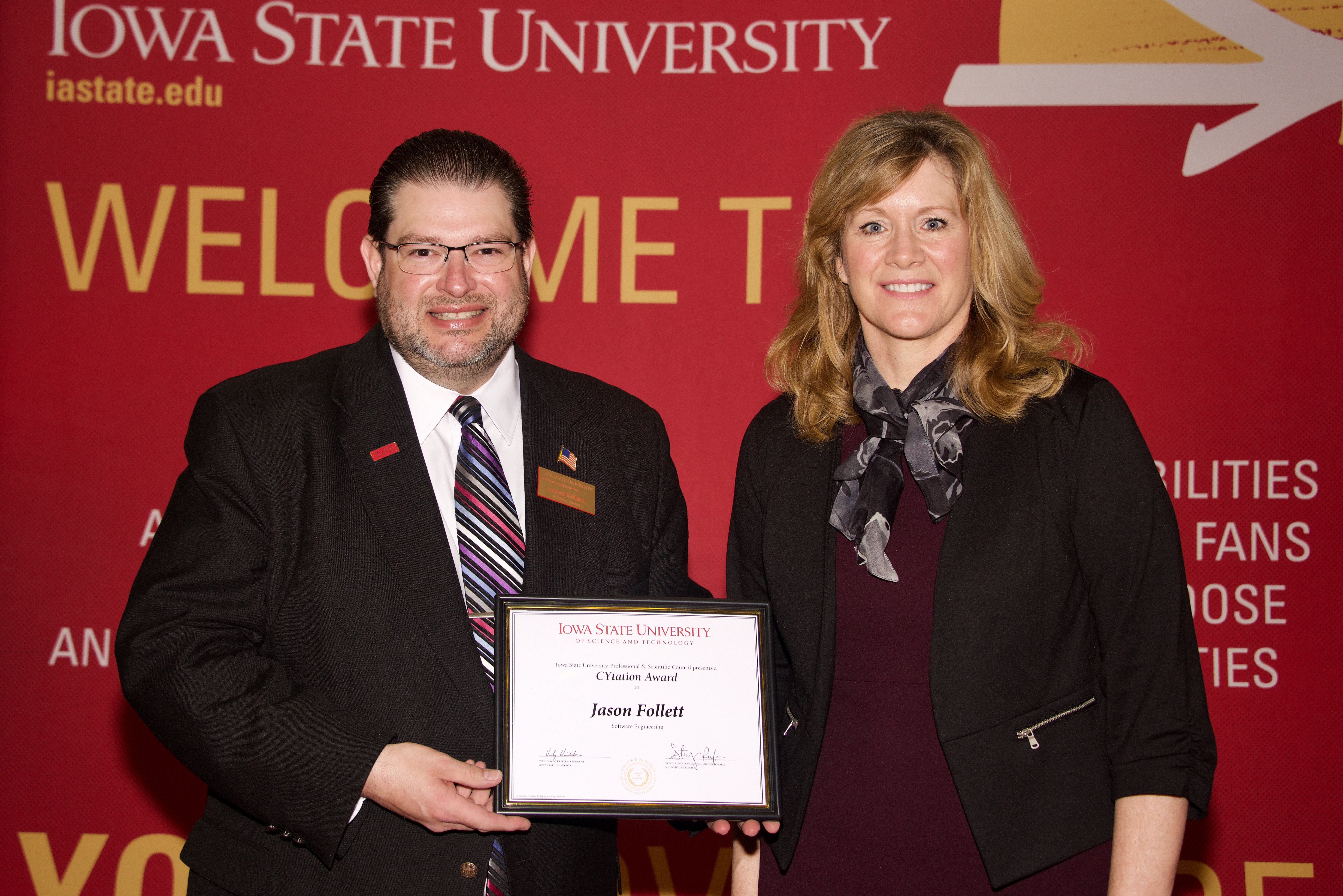 Jason Follett is an Academic Adviser II with the Software Engineering Program. Jason is an articulate, organized, and effective leader. During the Spring 2017 semester, due to a colleague going on leave, Jason was the only full-time Academic Adviser for over 600 undergraduates. He worked diligently to meet their needs, including but not limited to registration, academic status, change of major, adding a minor, personal issues, and internships. Jason also supervised the Software Engineering Learning Community and had weekly meetings with the peer mentors. As a representative of the Software Engineering program, Jason meets prospective students and attends recruitment events. The college's Office of Admissions and the Software Engineering Program have received many positive comments about the work Jason does with prospective students and their families. As stated by one colleague, "Jason is a warm, funny individual whom you enjoy being around and a professional that you hope to have on your team." Additionally, Jason has served multiple terms on P&S Council and is a current member of Council. He is also working with fellow Engineering councilors and the Dean's Office on the formation of an Engineering P&S Council going above and beyond to serve his fellow P&S Employees.
---
Erin Hunt, Teaching Laboratory Associate, Architecture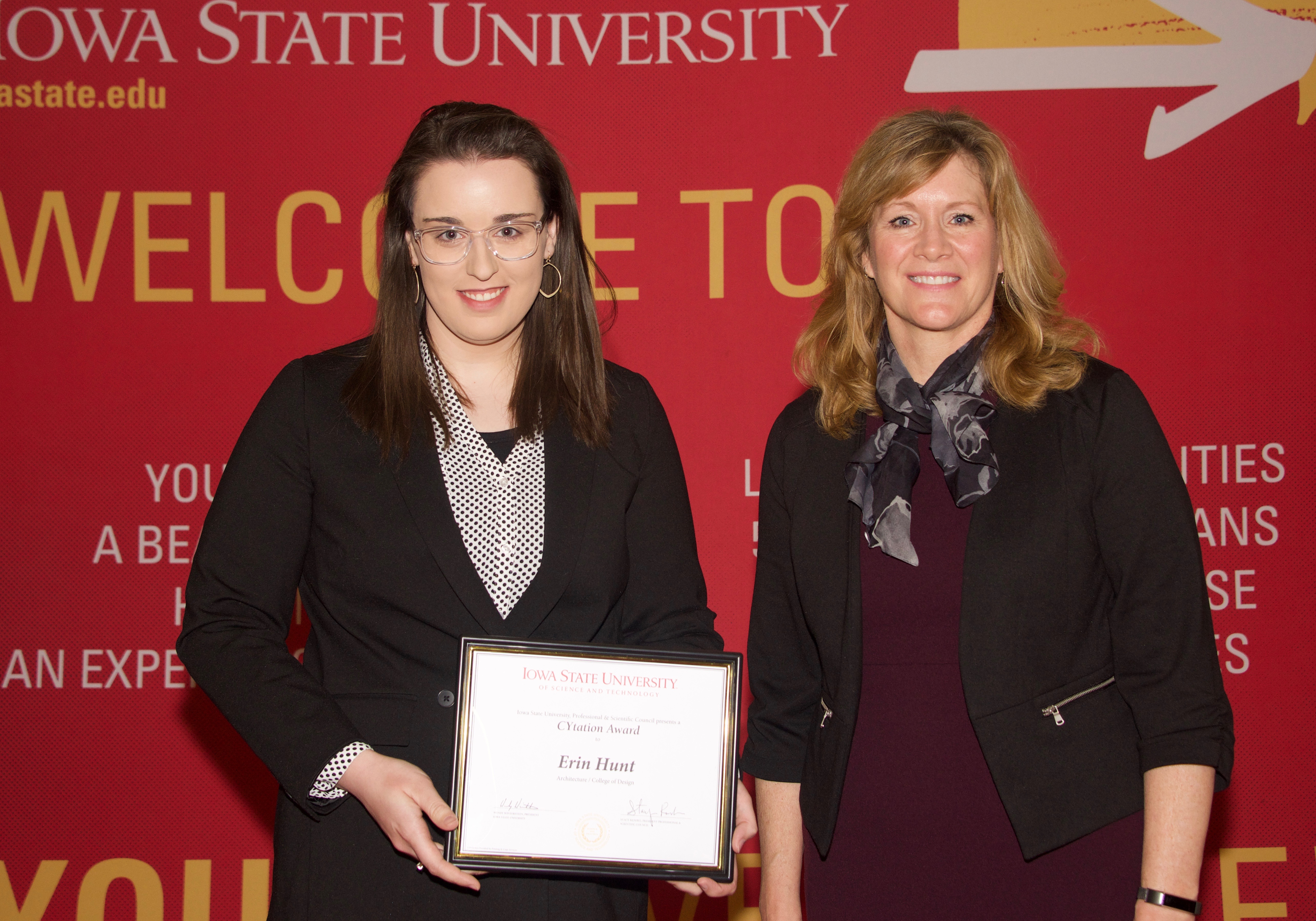 Erin Hunt is a Teaching Lab Associate in the Department of Architecture in the College of Design. Erin graduated from ISU's Bachelor of Architecture program in 2017 and then transitioned into a role as the inaugural ISU Computation & Construction Lab Manager. She has been involved in every aspect of planning and development from the most highly visible to the unseen everyday labor that keeps the lab running. Erin manages this fledgling lab, maintains its machines, creates the workflows and training used to teach students how to use the equipment. Additionally, she has supported multiple research projects, overseen design commissions, and helped students transform ideas into tangible objects through digital fabrication. The Office of University Marketing invited the College of Design / Department of Architecture to create a pavilion to represent the university at the 2018 Iowa State Fair. Erin oversaw the 3D printing of 3200 joints for the pavilion, supervised the installation by a team of students, organized the 3D printers and files that accompanied the pavilion display, and trained dozens of volunteers to use and talk about the 3D printers. This public exhibit, visited by over 500,000 fair-goers, would not have happened without her and shows her commitment to making a difference in the institution.
---
Diane Jepsen, Accountant I, Genetics Development and Cell Biology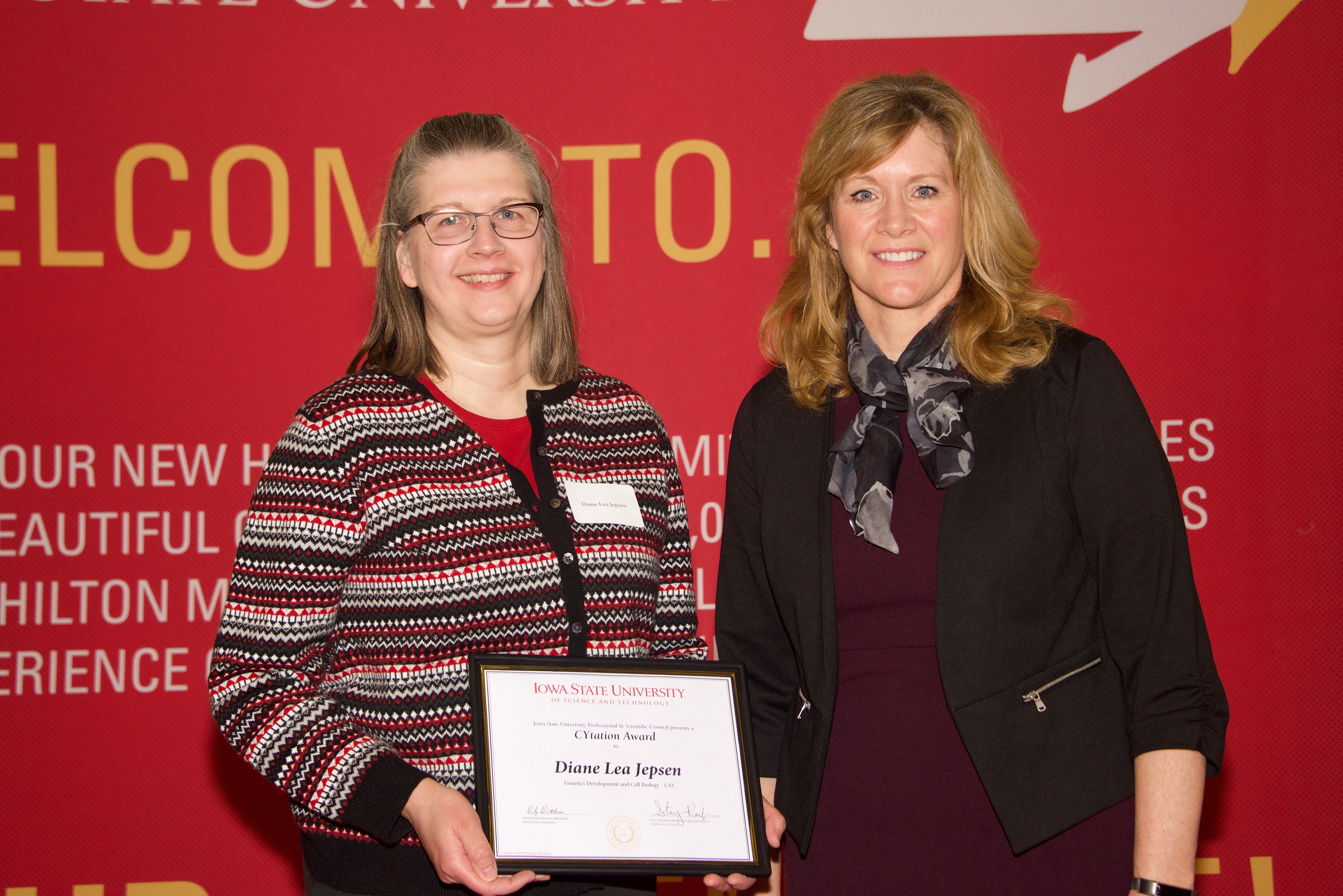 Diane Jepsen is an Accountant I in the Department of Genetics, Development and Cell Biology. The Department of Genetics, Development and Cell Biology is administratively complex, and Diane is one of the linchpins that holds the department together. As an accountant with the department, Diane helps each principle investigator understand and manage their accounts.  Diane exemplifies an ideal staff member because of her strong work ethic that few can match in addition to being skillful and efficient in what she does. Diane often steps up and offers to help above and beyond her assigned duties. When a neighboring department was short staffed in 2016, Diane asked, "How can I help?" While continuing to complete her GDCB responsibilities, she assisted this other with their accounting while they were understaffed and helped train their new hire.In 2017-2018, GDCB began an extensive process of faculty moves between existing buildings, and into the newly-constructed Advanced Teaching and Research Building.  This process was complicated and required extensive knowledge of departmental personnel and space requirements. Diane took a leading role in planning and arranging the complex moves as well as coordinating with staff members from other departments and FP&M. In this project and in everything else she does, Diane demonstrates the highest degree of professionalism and a commitment to the wellbeing of the unit and university.
---
Jacqueline Kester, Academic Adviser II, Aerospace Engineering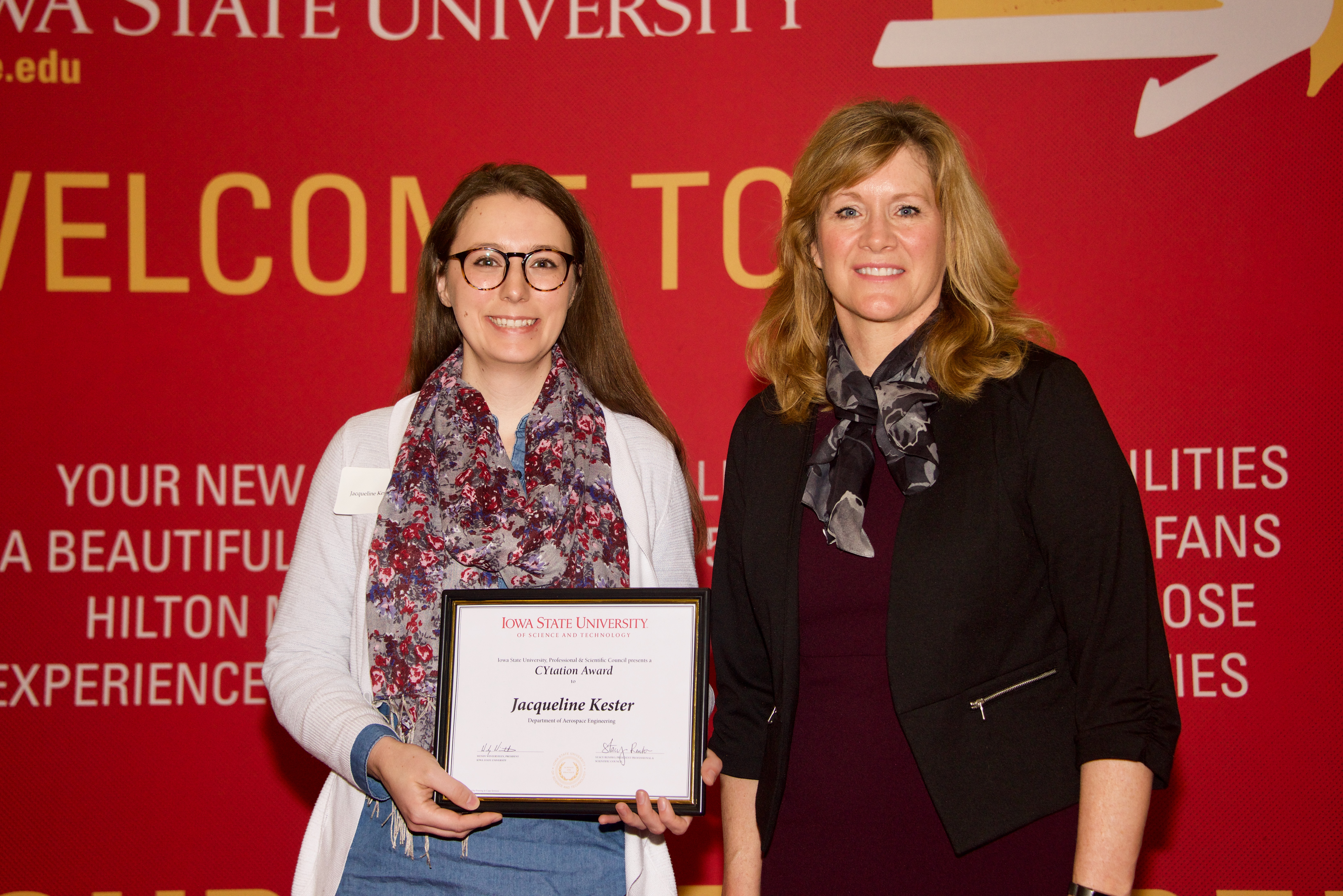 Jacqueline Kester is a current academic adviser in the Department of Aerospace Engineering and has been there for 2+ years. It has been shown through her work in these past few years that Jackie loves working with the students she advises and being able to build relationships that make an impact within her department.  Jackie has taken on heavy advising loads and responsibilities and still makes impactful connections with her students.  Students she works with have reported positive feedback about how Jackie has been the perfect adviser for them throughout their educational journey at Iowa State University. On top of her advising responsibilities, Jackie also coordinates the Aerospace learning community, teaches ENGR 101, and has implemented initiatives for females and students of color in the Aerospace engineering department. It is through Jackie's dedication and willingness to go above and beyond that she is able to make an impact on the Aerospace engineering department and the students she advises.
---
David Mwirichia, Program Coordinator I, School of Education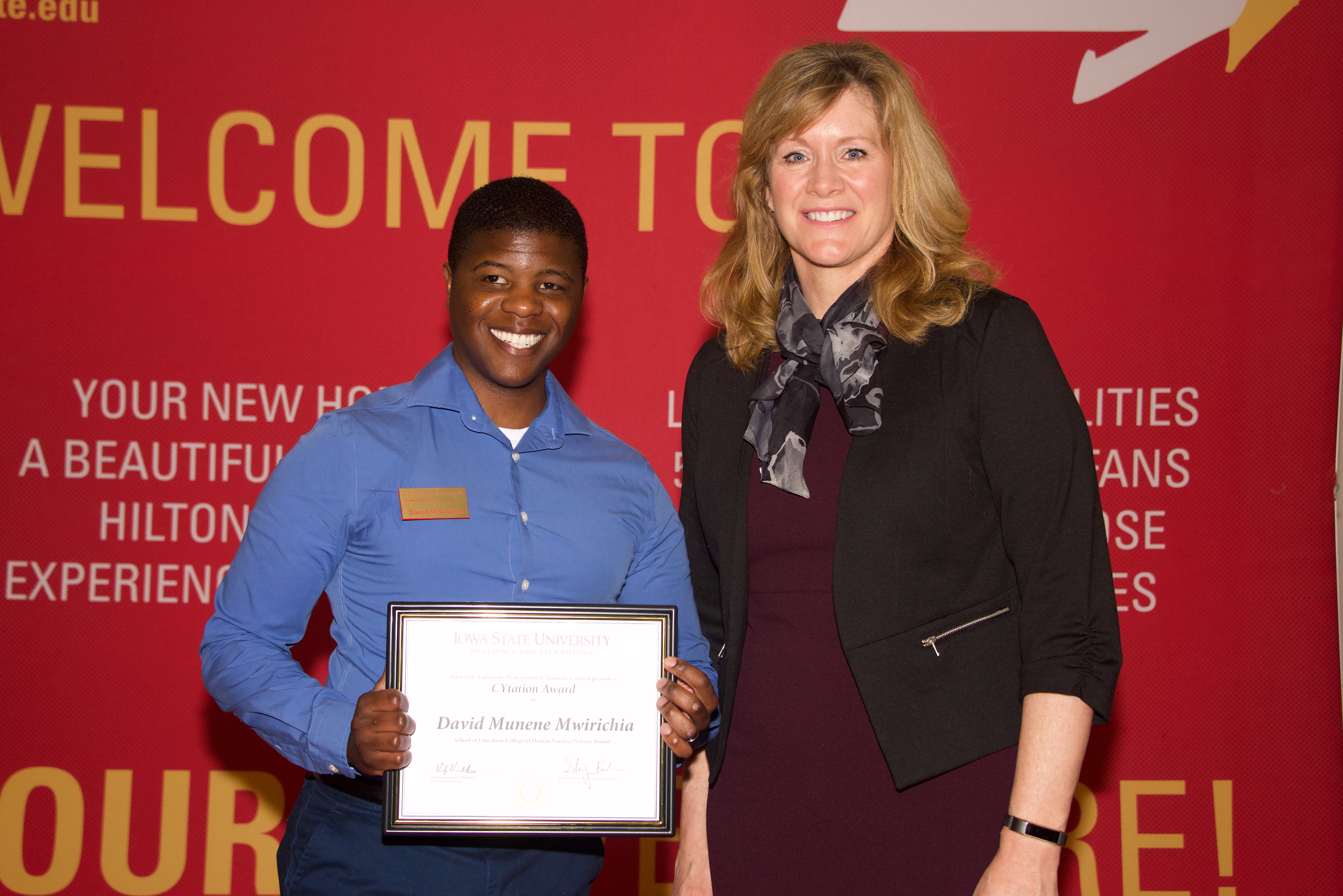 David Munene Mwirichia has been a true leader and has made significant contributions to the science bound program during his time at ISU. David goes above and beyond for over 440 pre-college and 150 ISU college students and families through the science bound program. Not only has he fulfilled this role, but has also provided stability for the program as it was undergoing some major personnel changes. David stepped into leadership roles and filled gaps where needed to sustain and grow the program. During this time of change and instability, David showed creativity and innovatiion to grow the program even further by developing and delivering programs, trainings, and retreats for students. Through all of these changes and additional work that David took on through the changes in the personnel, David was still performing quality work for the program and going above and beyond to get things done in an effective and efficient manner.
---
Jessica Shannon, RN, Program Coordinator II, Thielen Student Health Center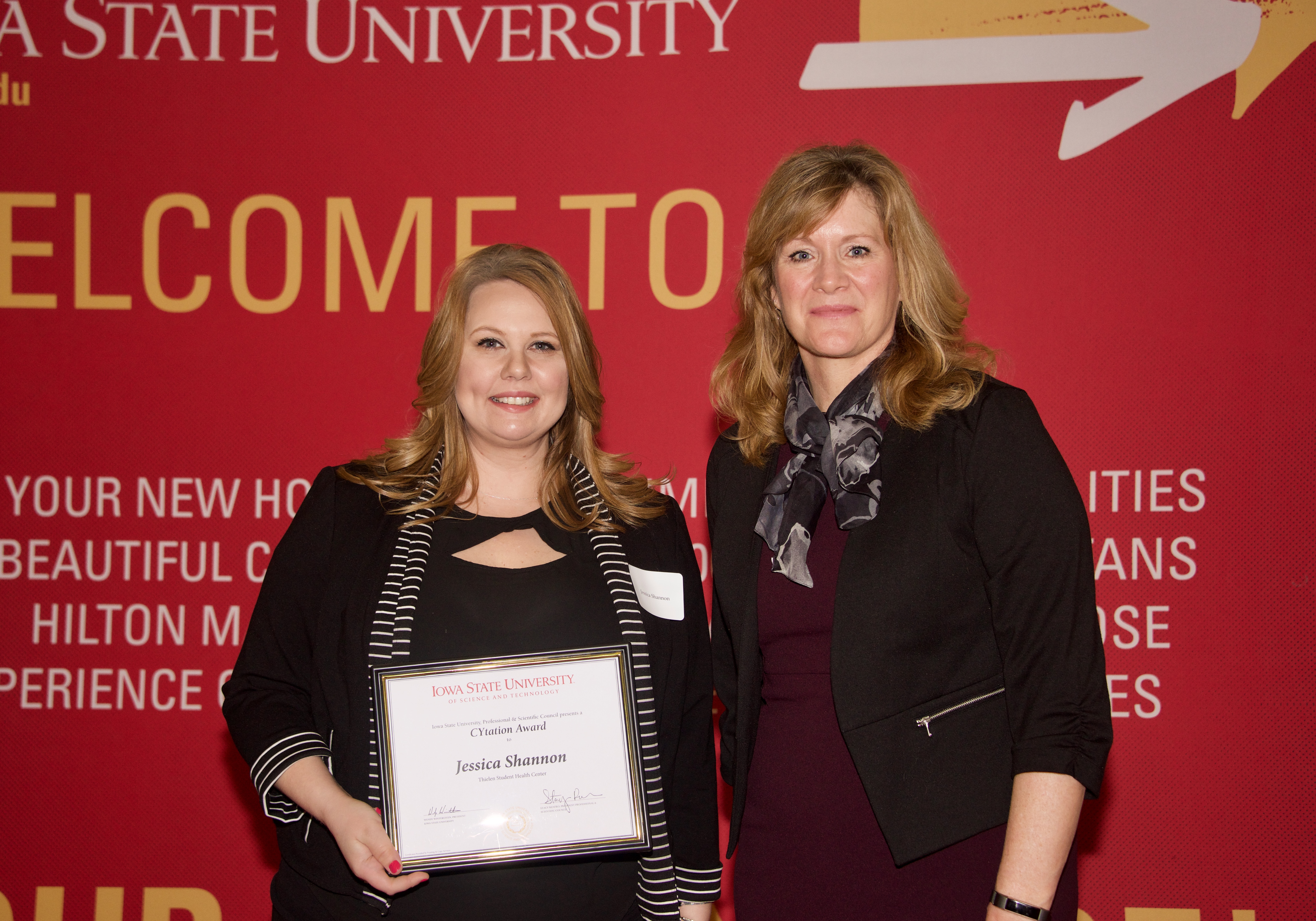 Jessica Shannon is a RN in the student health center serves as a Sexual Assault Nurse Examiner (SANE). She serves her students in a caring and compassionate manner, she is dedicated to pursuing training outside of her requirements, and she is also on call for Story County as a SANE nurse when needed. The required exam for sexual assault victims takes between 4-6 hours. Jessica has been known to never turn away a patient, even in the late afternoon hours when she is required to stay past her normal work hours. Jessica has shown to be accommodating, compassionate, and dedicated to this position and extra training she has received. Jessica helps ISU students and the Story County community through the SANE exams she performs and has always conducted her responsibilities in a compassionate and professional manner.  In taking on this additional training to become a SANE nurse, Jessica adds an important piece to our students' health and wellbeing that most campuses do not offer and makes a real difference to the institution.
---
Tammy Stegman, Program Coordinator III, Career Services - Human Sciences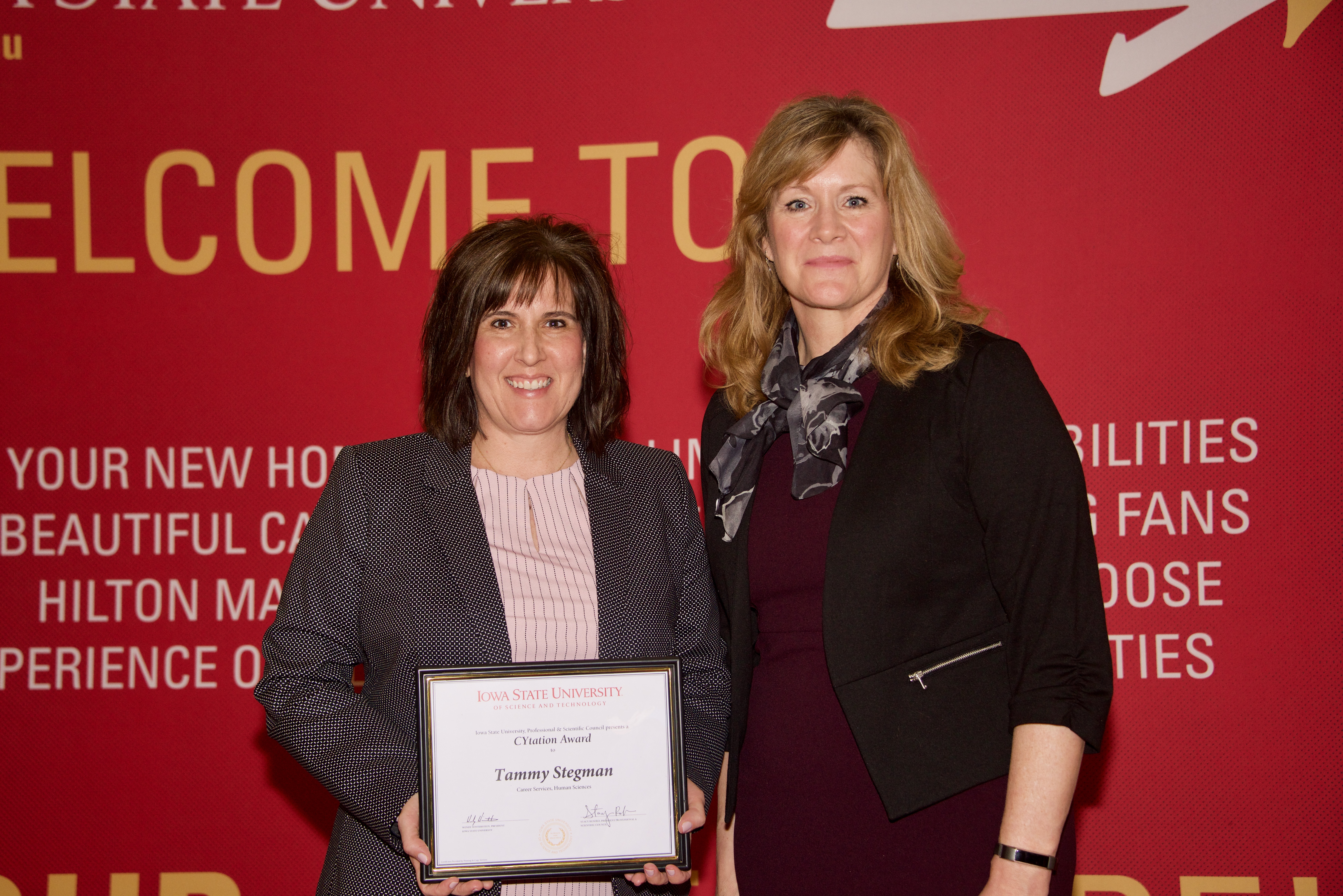 Tammy Stegman, Director of Career Services in the College of Human Sciences, has been performing above and beyond by serving as chair of the Career Services Council for the 16-17 academic year. In addition to this work, Tammy provides leadership over the CHS non-paid internship scholarship to help those who are not paid during their student teaching requirements and has helped oversee distribution of over $300,000. Tammy and her team provide career development services for over 4000 students in 15 different majors. These majors represent significant complexity and Tammy and her small team continually "make it happen" for those in Apparel Merchandising to teaching to pre-medicine. Tammy is an active member of the Big 12 Career Services Directors organizations and the National Association of Colleges and Employers to monitor trends and communicate best practices to Iowa State University. Tammy chairs the CHS Career Services committee providing leadership to 15 departmental coordinators, helps with coordination and hosting of 5 career fairs, and creates programming, visits classrooms and meets one-on-one with students. Her work developing rapport and relationships with industry partners and continuously promoting CHS students to potential employers on top of everything else, show her willingness to go above and beyond.
---
Kristin Taylor, Ext. Program Specialist IV, Human Sciences Ext. & Outreach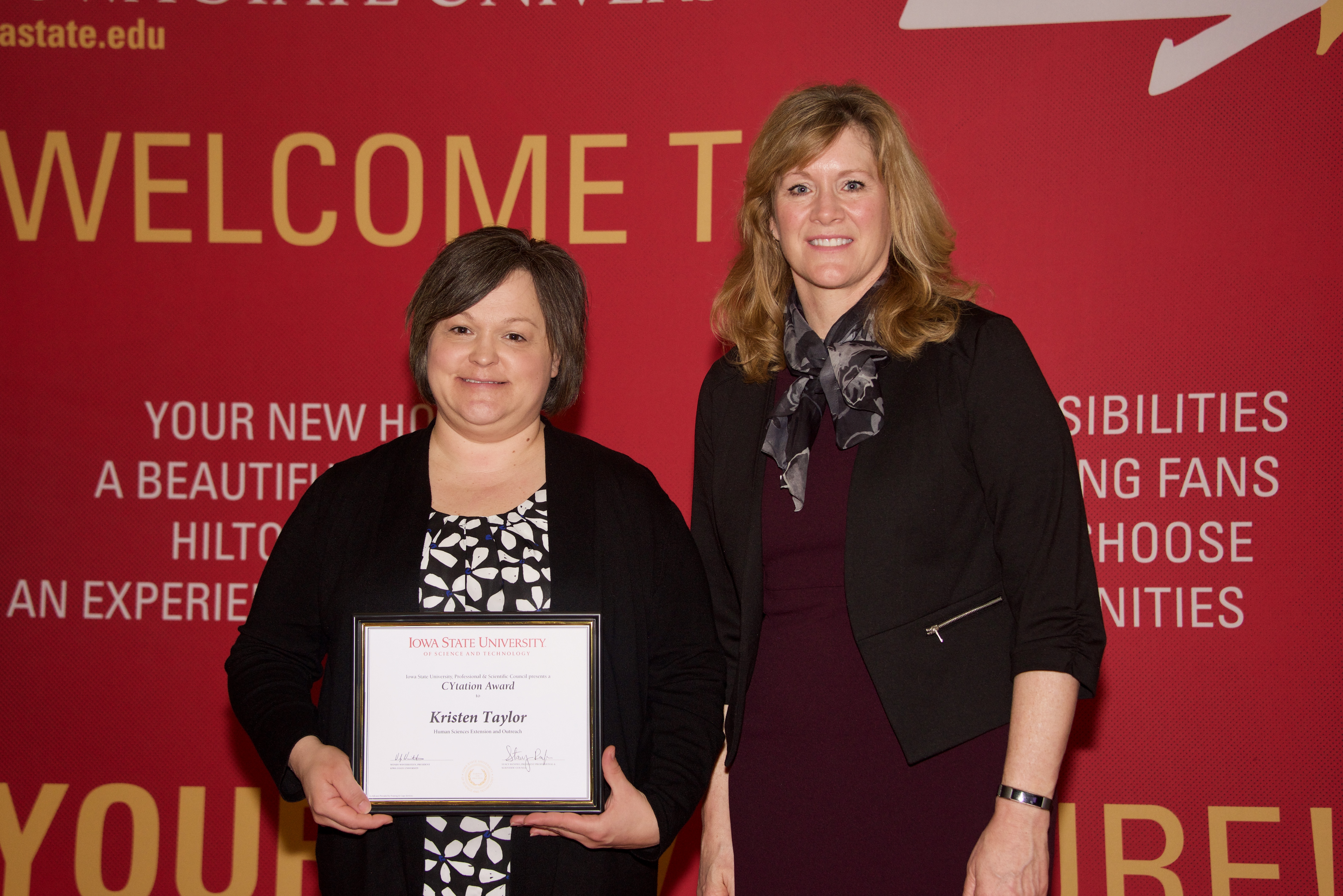 Kristin Taylor works as a Creative Projects Specialist for Human Sciences Extension and Outreach. Her work includes ensuring proper branding, accessibility and visual identity for all of Human Sciences work. Kristin is committed to making certain that Human Sciences Extension work is valuable to clients and exemplary in the field. Several projects show Kristin's extraordinary commitment to helping all of us produce higher caliber work, and one example was working side by side with web design to transition the Spend Smart. Eat Smart. website to mobile platform. She defined the scope, ensured all deliverables were accessible and met branding guidelines, and shepherded the seamless transition of content from the old site to the new one.  Kristin also served as a critical member of the team coordinating the Healthy and Homemade Calendar by securing the vendors, ensuring high standards for the photo shoots, content development, proofreading and printing. She has owned and championed accessibility and inclusivity by serving as a leader and advocate for the ISU eAccessibility Initiative on behalf of Human Sciences Extension and Outreach. She does all of that extraordinarily well and her talents go so far beyond keeping the unit up to date with standards and requirements.
---
Svitlana Zbarska, Program Coordinator II, University Honors Program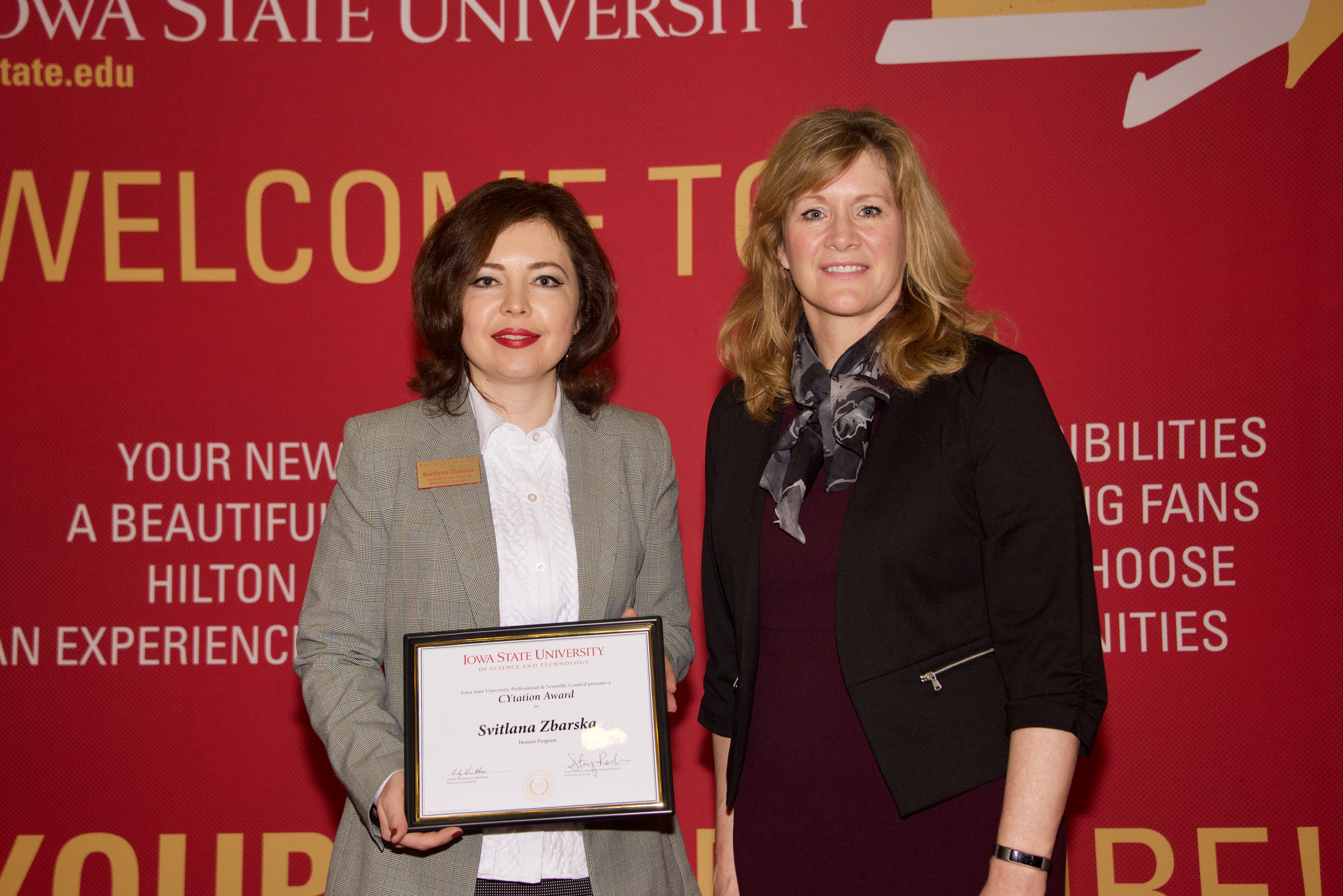 Dr. Svitlana Zbarska, the Undergraduate Research Program Coordinator Campus-Wide, has excelled and influenced thousands of ISU undergraduates to gain an appreciation of the importance of research as a part of their undergraduate experience. She has started multiple initiatives including weekly "Research Seminars for Undergraduate Students", a series of pre-research workshops which she then expanded into a one-credit course that over the two semesters it has been offered has had over 100 students participate.  Svitlana also facilitates operation and communication with university programs related to undergraduate research including the Honors, McNair, and STEM Scholars Programs, the Freshman Research Initiative, and Science with Practice to name a few. She has organized and supervised all aspects of the Annual ISU Symposium on Undergraduate Research and Creative Expression, "Research in the Capitol" undergraduate research symposium, and the Summer Undergraduate Research Symposium. She works to promote ISU undergraduate research at the local, regional and national levels, resulting in ISU undergraduates participating at the National Conference on Undergraduate Research in 2017 and and more than tripling the number of participating students in 2018. Her work to match students with faculty based on mutual research interests has been done extraordinarily well and resulted in nearly double the amount of participation.

---
2018 CYtation Team Award Recipients
4-H PRODUCT TEAM
The 4-H Product Team worked collaboratively with county and field staff in addition to ISU colleges and departments to develop eight day camps on the topics of Healthy Living, STEM, Civic Engagement and Leadership, and Communication and the Arts. The day camps were developed with ease of use, affordability, and product customization in mind for staff to easily pick up and integrate into one-day educational programs. This effort has impacted more than 3,500 youth from urban, suburban, and rural Iowa youth audiences just this year. The 4-H Product Team was a dedicated team of staff that went beyond their specific job responsibilities to create high quality resources to best meet the needs of the statewide Iowa 4-H Program. The team didn't back down from the short deadline, but instead relied on one another and local expertise to deliver high quality, research-based resources. Their high quality work, collaborative efforts and contribution to enhancing the land-grant mission of Iowa State University.
Team Members:
Mike Anderson, Extension Program Specialist IV, 4-H Youth Development
Clark Colby, Extension Program Specialist III, 4-H Youth Development
Bonnie Dalager, Extension Program Specialist II, 4-H Youth Development
Pete Evans, Senior Lecturer, Industrial Design
Nicole Hanson, Extension Program Specialist III, 4-H Youth Development
Maya Hayslett, Extension Program Specialist III, Extension and Outreach
Haley Jones, Extension Program Specialist II, 4-H Youth Development
Laura Liechty, Extension Program Specialist III, 4-H Youth Development
Sara Nelson, Postdoc Research Associate, School of Education
Amy Powell, Extension Program Specialist III, Animal Science
---
ISSO STUDENT ADVISING TEAM
International Students and Scholars Office (ISSO)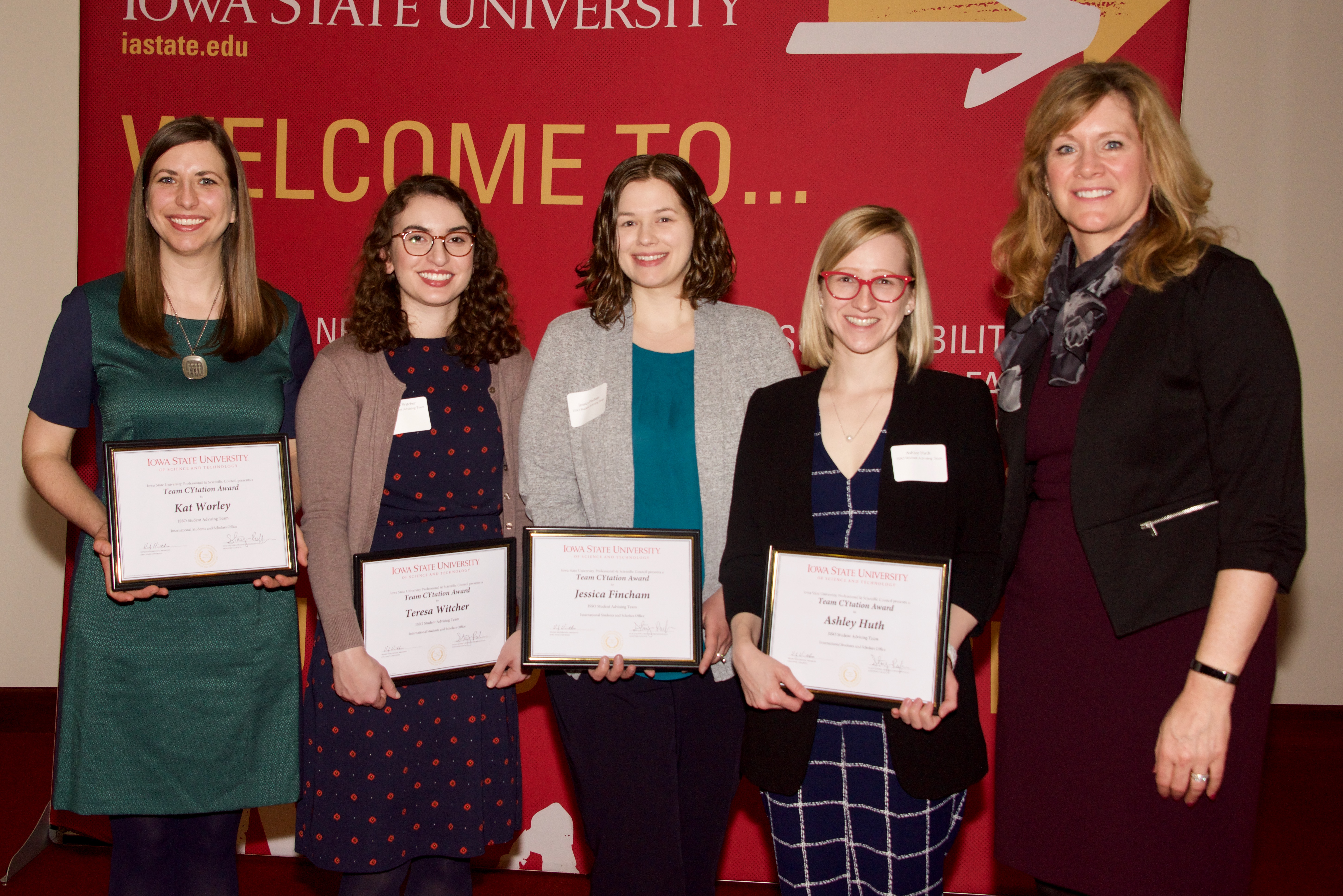 The ISSO Student Advising Team advises nearly 4,000 current international students and hundreds of international student alumni regarding the maintenance of their immigration status, along with any personal, cultural, financial, or other issues.  This has been increasingly essential for the international student population due to the current climate and students rely on this team to provide them with accurate and updated information that pertains to their current and future immigration status within the United States. By reimagining the International First Year Experience (IFYE) Seminar, the team flipped the seminar into a recitation style class that allows students to explore new activities and experiences outside of the classroom and help students acclimate to their new environment and culture. This team goes above and beyond on a daily basis to not only ensure that Iowa State University complies with the federal regulations, but strives to create a sense of community where our international students feel welcomed and supported on ISU's campus and within the Ames community.
Team Members:
Jessica Fincham, Program Coordinator I, ISSO
Ashley Huth, Program Coordinator III, ISSO
Elliot Uhl, Program Coordinator I, ISSO
Teresa Witcher, Program Coordinator I, ISSO
Kat Worley, Program Coordinator I, ISSO  
---
LAS SUMMER ORIENTATION PROGRAM
Liberal Arts & Sciences (LAS)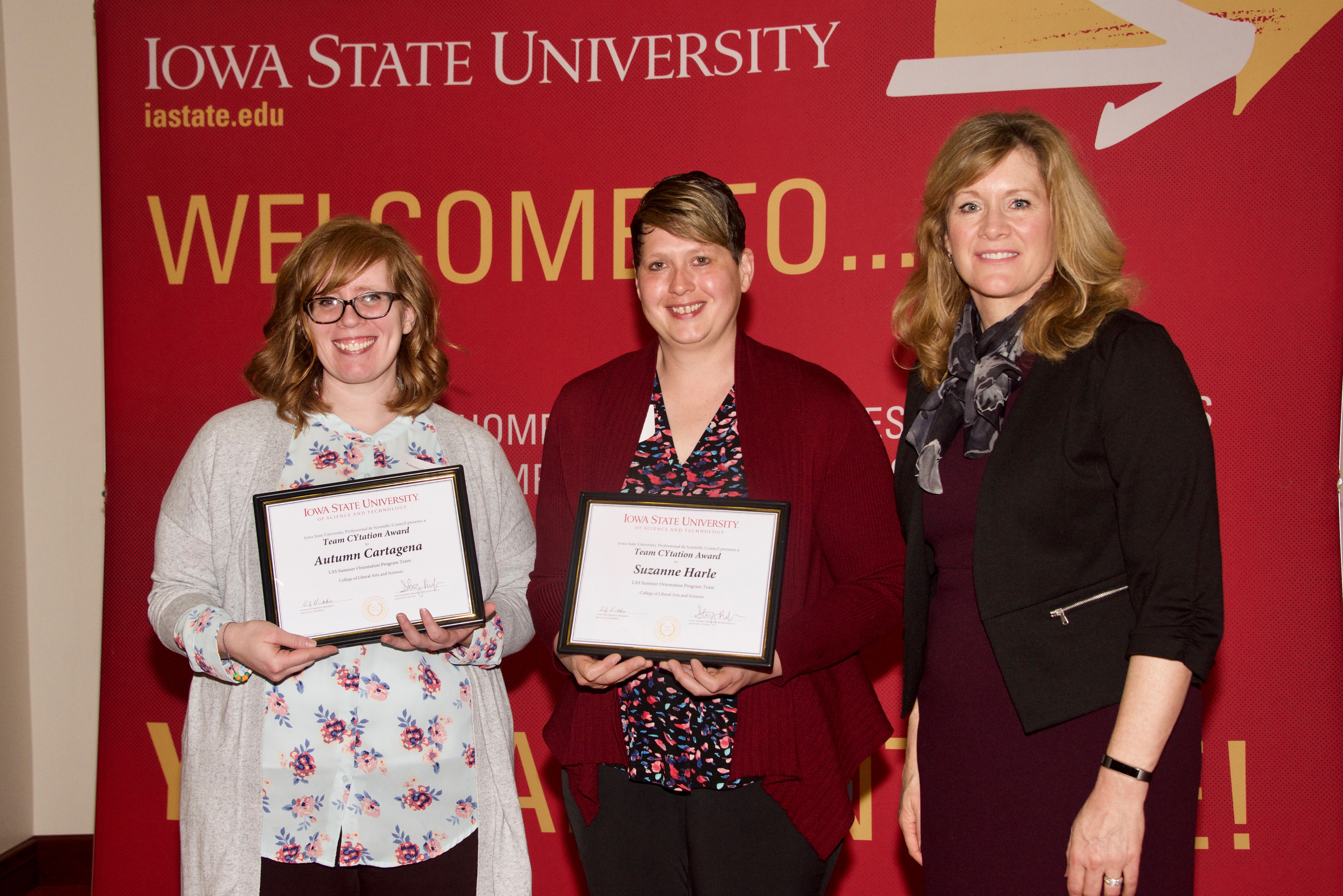 The LAS Orientation Programming Team took on the enormous and time-consuming project of revitalizing and improving The College of Liberal Arts & Sciences' much-outdated summer orientation programming content for new undecided (Open Option, Pre-Med, Pre­Health, and Pre-Law) incoming students. With an incoming group of nearly 1,000 undecided students, the team worked for several months, sought feedback from current and past students, other colleagues and faculty, and spent many hours together to create the best programming possilbe. The team used their backgrounds in advising and teaching to create orientation leaning objectives and outcomes that emphasized decision-making and exploration. They created useful resources and guidebooks to categorize every major at ISU and listed suggested courses to explore majors in easy-to-read tables. The new programming they created was not only well-received in June by students and families, but has resulted in a strikingly more engaged, deliberative, and prepared class of students. Their enthusiasm to take on this challenge shows their willingness to go above and beyond to serve students at ISU.
Team Members:
Autumn Cartagena, Academic Adviser IV, LAS Student Academic Srv.
Suzanne Harle, Academic Adviser III, LAS Student Academic Srv.
---
ONEAPP IMPLEMENTATION TEAM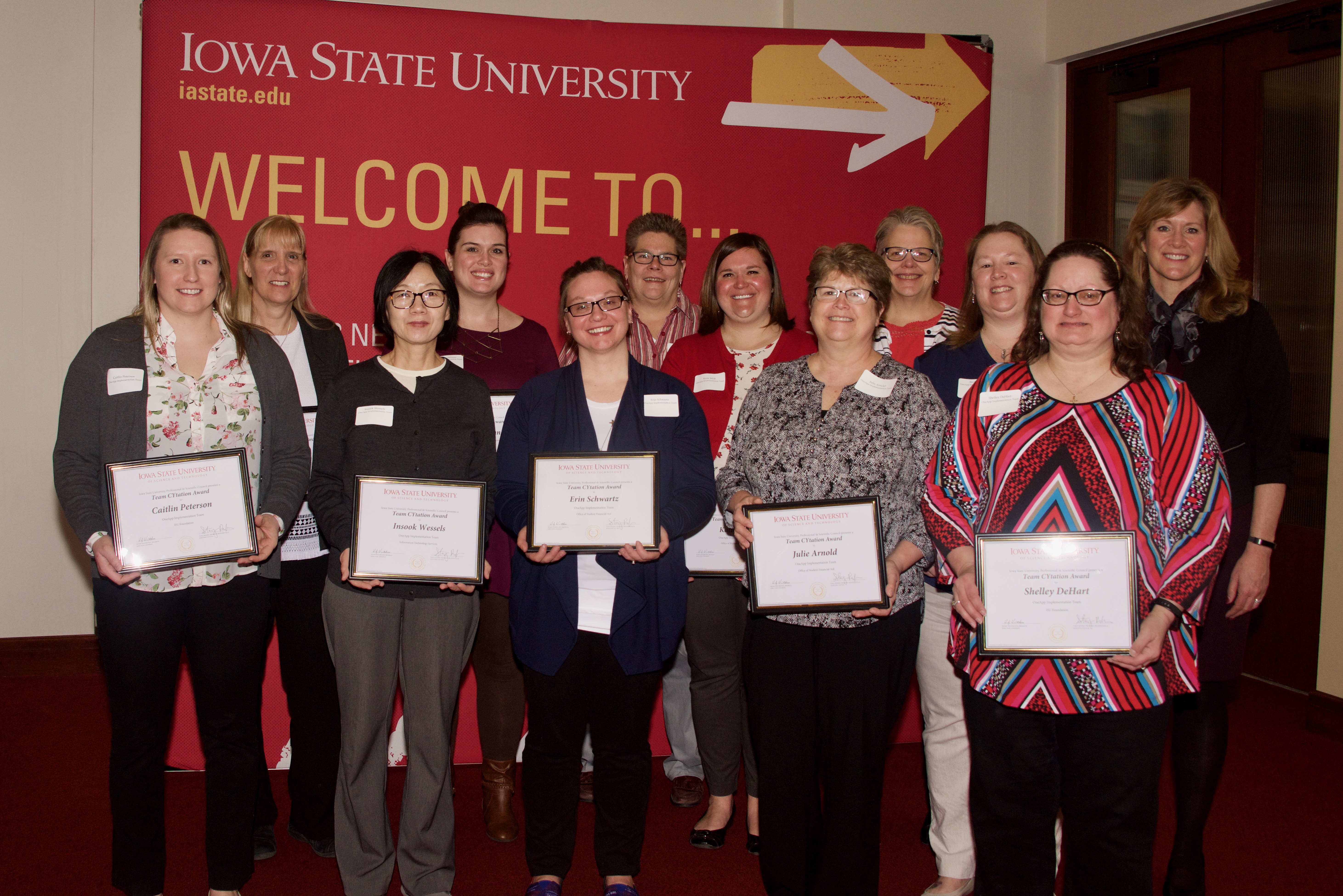 The OneApp Implementation Team was formed after the October 2017 purchase of a third-party scholarship solution from AcademicWorks.  The goal of this purchase was to simplify the scholarship application process for students, streamline the scholarship selection process for colleges/departments/other university scholarship providers, improve data security, and increase stewardship of the generous gifts given to Iowa State University as scholarships.  The ISU OneApp Implementation team was tasked with the campus-wide roll-out of this software, and they did so with great success and efficiency. OneApp opened for most colleges/departments/units on October 1, 2018. Roughly two months later the team experienced over 59,000 individual user sessions, and nearly 330,000 page views. The deployment of OneApp is having powerful and tangible impacts across campus.  Both potential and currently enrolled students now have a single application process to apply for scholarships. Colleges, departments, and units have the ability for both on- and off-campus personnel to review and rate scholarship recipients through a simple process. The ISU Foundation now has an easier mechanism to confirm that funds are being awarded to qualified candidates and meeting the intent of our donors.  Furthermore, individual student data is now safely stored behind layers of security as opposed to residing in spreadsheets on individual reviewers' laptops or on printouts. Truly, this effort has made an impact on the entire campus and will continue to offer benefits for years to come. 
Team Members:
Sheryl Alcott, Senior Director, ISU Foundation
Julie Arnold, Clerk IV, Student Financial Aid
Shelley DeHart, Project Coordinator, ISU Foundation
Katherine Mott, Program Coordinator I, Human Sciences
Caitlin Peterson, Associate Director, ISU Foundation
Becky Salz, Project Coordinator, ISU Foundation
Erin Schwartz, Program Coordinator II, Student Financial Aid
Melissa Skinner, Student Srv. Specialist III, Engineering Student Srv.
Jane Stowe, Secretary III, Engineering Student Services
Mary Lynn Ullestad-Heneke, Program Coordinator II, LAS
Insook Wessels, Systems Analyst III, IT Services
Ann Wessman, Program Manager I, Student Financial Aid