2021 P&S Council CYtation Awards
2021 Woodin CYtation Award Recipient
Heather Paris, Associate Vice President Finance Services, Division of Operations and Finance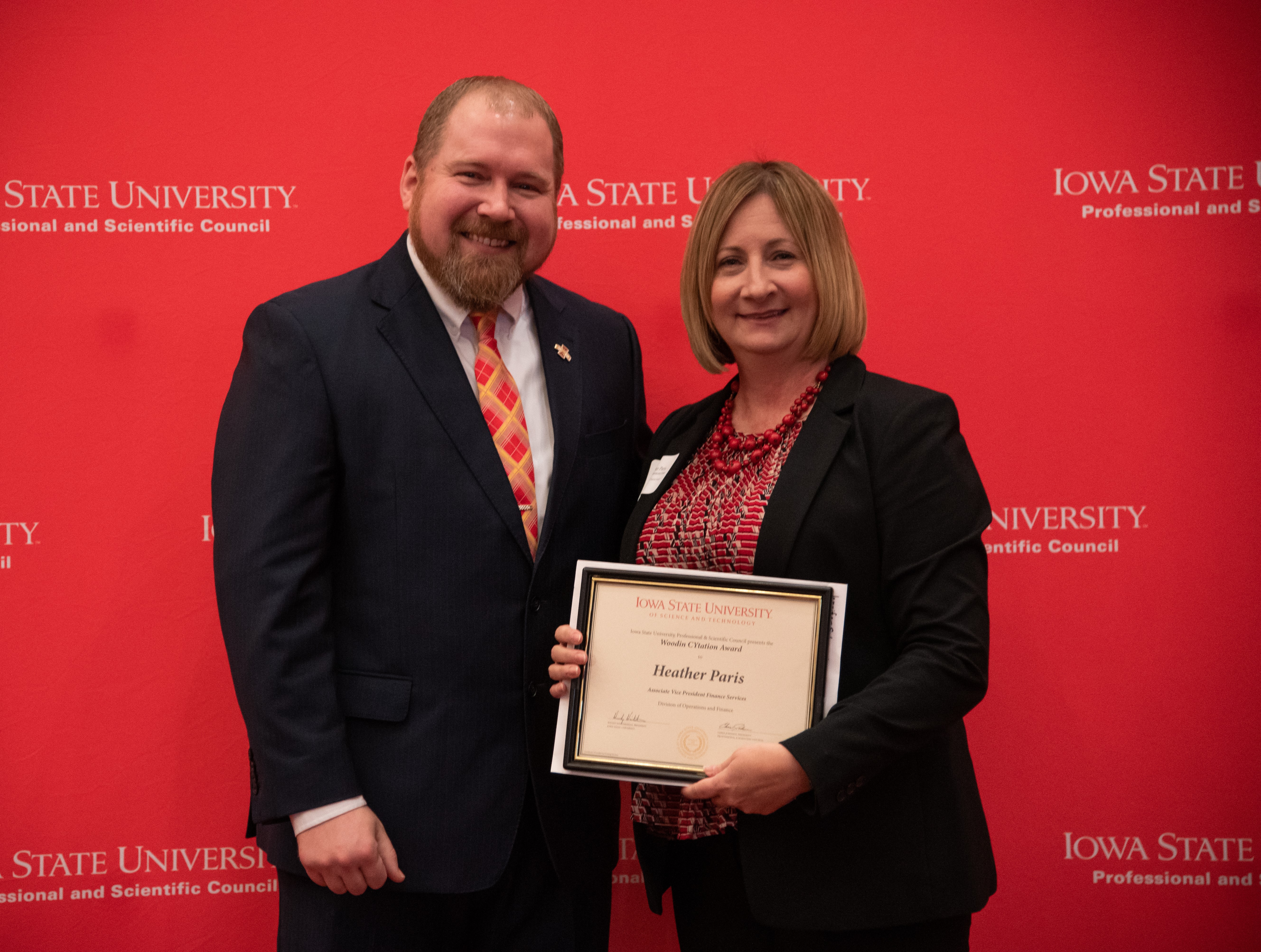 Heather was called upon to lead the charge for front-end operations of the 2020 Hilton COVID testing site, working tirelessly to staff and plan for all aspects of the testing site. She devoted endless hours of support and leadership while continuing to fulfill her Associate Vice President responsibilities including the implementation of Workday and the service delivery support structure.  Heather's leadership, passion, and commitment to excellence are showcased daily.  She is a true leader who has impacted Iowa State through service to her finance unit and the broader campus community.
 
---
2021 CYtation Award Recipients
Bill Beach, Graphic Designer III, Engineering College Relations
Bill touches almost every project in the College of Engineering. From graphic design and production, to website development and creative marketing projects, Bill's skills and dedication are of the highest standards. Mr. Beach works closely with many people in the college –from the dean and associate deans, to faculty, staff and students. His creativity and keen sense of branding have played a major role in the college's promotion, marketing and recognition as a leading engineering program. Bill works on high-level communications projects including student and faculty recruiting materials; multiple college and department websites; a research magazine and other impact reports seen by engineering peers across the country; print and electronic brochures and promotional pieces; and everything in-between. Bill brings creative and innovative design work to the way we communicate Cyclone Engineering to the world, helping to tell the stories of how we make Iowa and the world a better place.
---
Valyn Bodensteiner, Communication Strategist, Iowa 4-H Youth Development with ISU Extension and Outreach
Valyn  works for ISU Extension and Outreach 4-H Youth Development department on campus as a Communication Strategist. Since starting her role with 4-H in 2020, Valyn has made a substantial impact on Iowa's 4-H communities and increased their digital visibility and digitally accessibility through thorough implementation of communication and marketing initiatives.  Some of these initiatives include: audience analysis of social media channels, Video production and enhancement of 4-H YouTube Channel, expanded and enhanced quarterly newsletter, brand persona surveys, and so much more. In addition to her vast marketing contributions, Valyn supervises student workers oversees marketing budget, leads work groups, participates on committees and serves on the P&S Council. Valyn looks at the big picture. Through that lens she successfully she not only promotes 4-H, but also Iowa State University, and Iowans across the state.
---
Spencer Braly, Audiovisual Support III, IT Services - Audiovisual Experience Team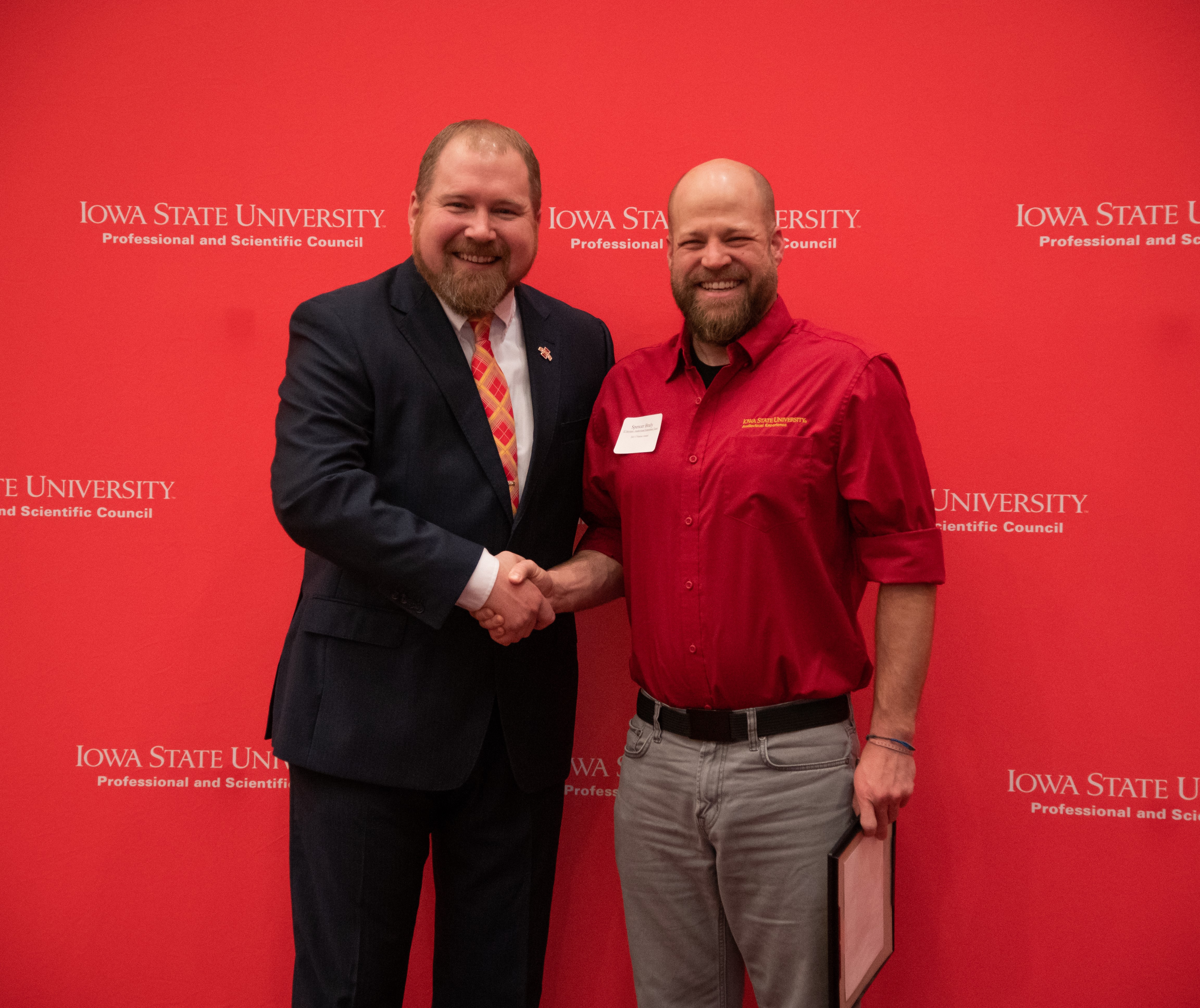 Spencer has served in virtual meeting services as a result of the needs for remote and hybrid environments, following the start of the COVID-19 pandemic. Spencer quickly developed a process on how to successfully support and run high-profile remote meetings. His services became popular, and he was called upon from the Board of Regents, Office of the President, Office of the Vice President and Provost, the Chief Information Officer, and others to setup and manage their critical meetings.  In addition to the virtual meeting services, Spencer was also an instrumental part of the team that produced two major virtual commencement services as well as the spring 2021 commencement at Jack Trice Stadium.  He was also instrumental in leading the significant effort to reinstall all the audiovisual hardware throughout Ross Hall as part of the post-fire restoration project. Spencer's services have been an essential component to the success of the University throughout the pandemic
---
Alisha Carroll, Alumni Relations Specialist II, Department of Civil, Construction and Environmental Engineering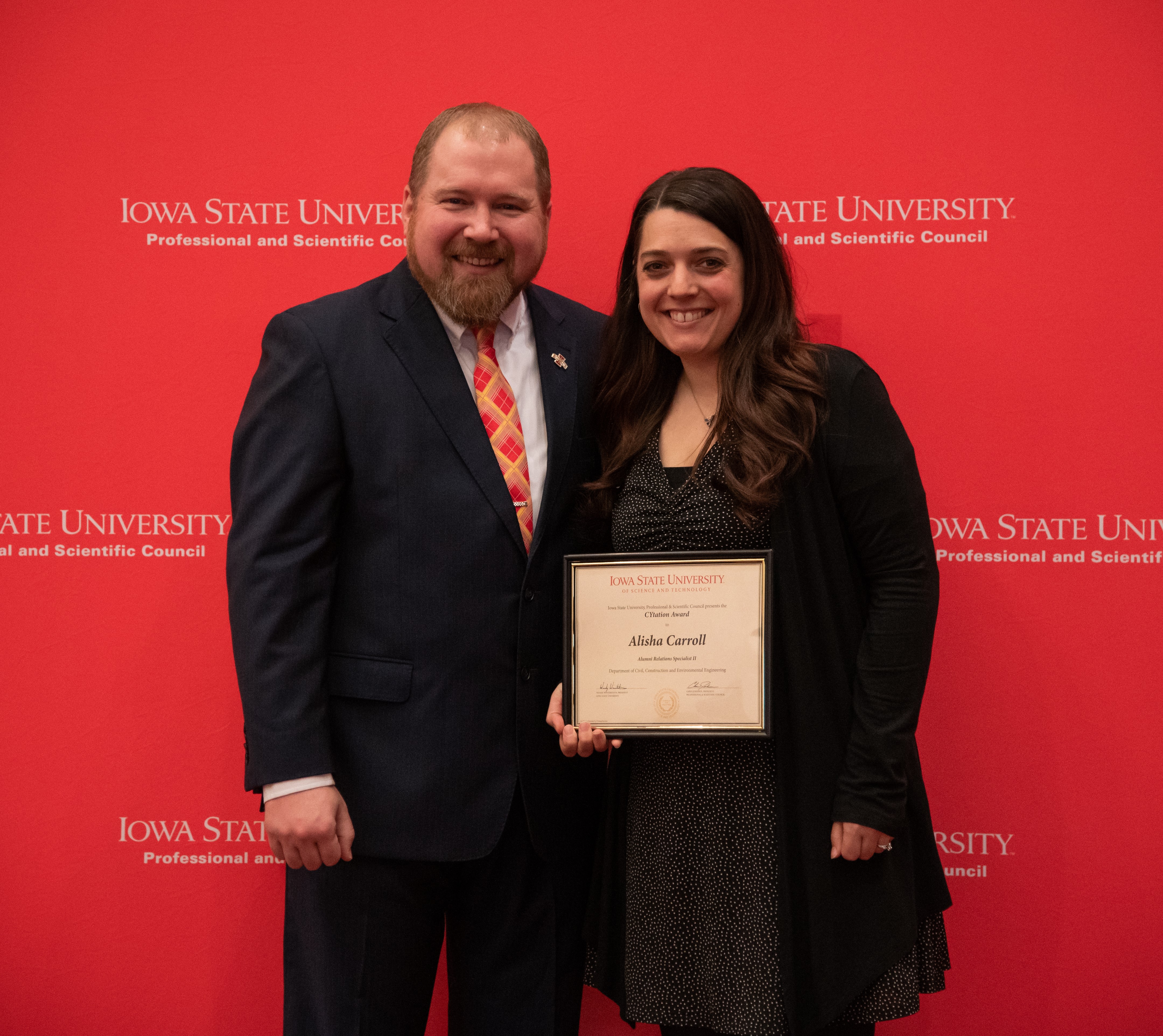 Planning the department's 150th Anniversary Celebration has been a constant project in addition to her regular responsibilities.  Alisha coordinated, managed, and led all aspects of the anniversary from idea brainstorming, through detailed planning, to execution.  Every aspect of this planning and the celebration were complicated by the constant presence of a global pandemic.  Alisha handled every minute logistical detail such as coordinating speakers, promotion, communication, and registration for four millstone events for the CCEE Department.  Alisha also worked to develop and expand upon the 150th Celebration website. With 150 years of history, she worked with the history committee and University Archives and Special Collections to gather and develop content for the 150th website. Alisha's efforts were instrumental to the success of the CCEE Department's 150th year‐long celebratory events.
 
---
Ana Clymer, Cultural Equity Statewide Coordinator, Child Welfare Research and Training Project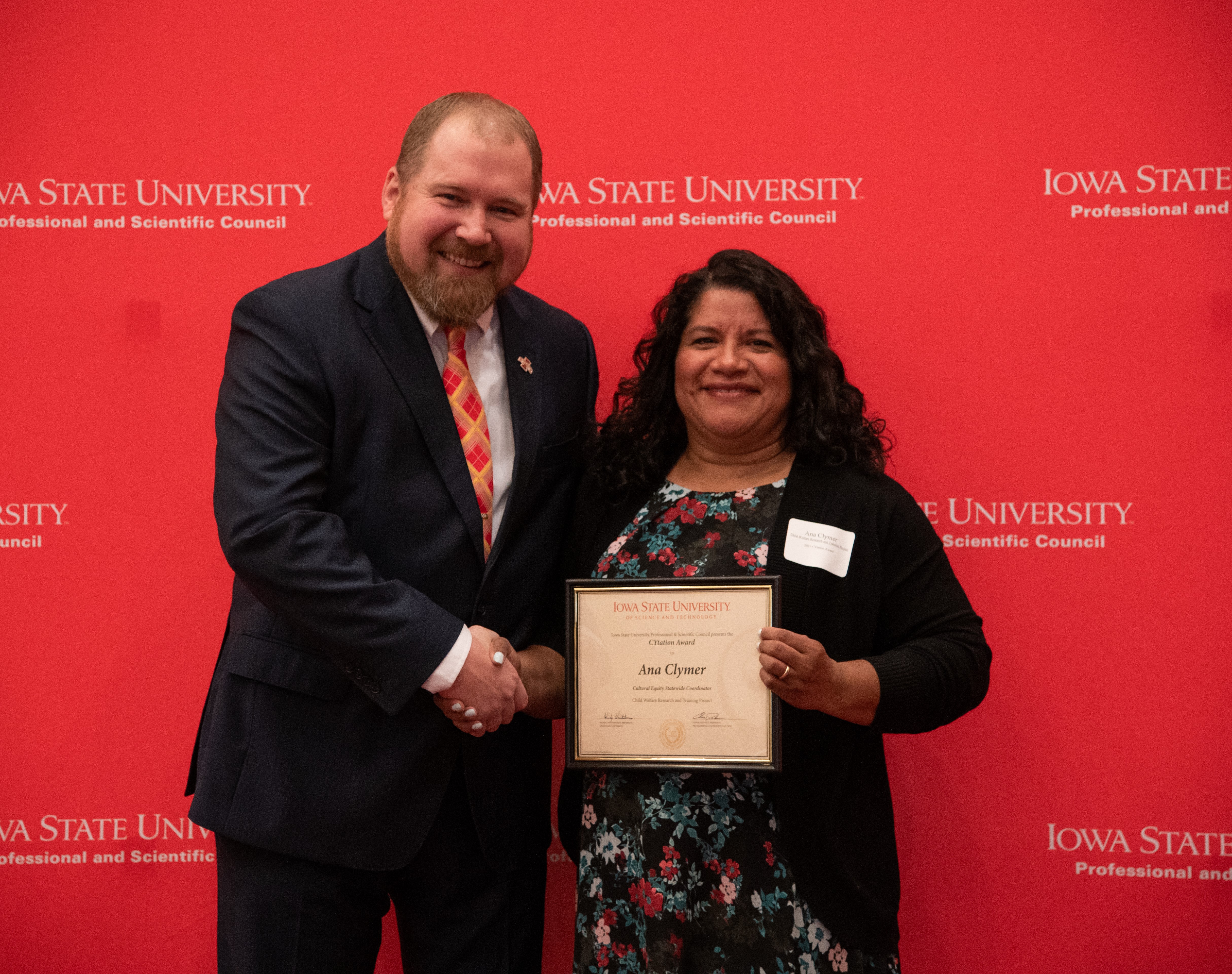 Ana consistently cultivates cooperation across State government and community partnerships.  Recently, Ana stepped up to provide guidance and curriculum expertise for two Cultural Equity Learning Exchanges, Race: The Power of an Illusion, and Understanding Implicit Racial Bias. Ana worked with local Cultural Equity Teams to implement and augment their Plan, Do, Study, Act (PDSA) plans to address disparities in IDHS child welfare at the local level; has presented to various organizations, including United Way of Story County, on shared learning for equity focused efforts; and led and coordinated Statewide Learning Sessions focused on cultural equity work in child welfare with attendance of over 100 invited participants. Ana's work to dismantle racism and affect disproportionality and disparity in the child welfare system makes a significant difference in institutions and communities. Ana is a genuine example of who we strive to be as P&S Staff at Iowa State University and she exemplifies the Iowa State University Principles of Community.
---
Keara Doocy, Assistant Director, TRIO Student Support Services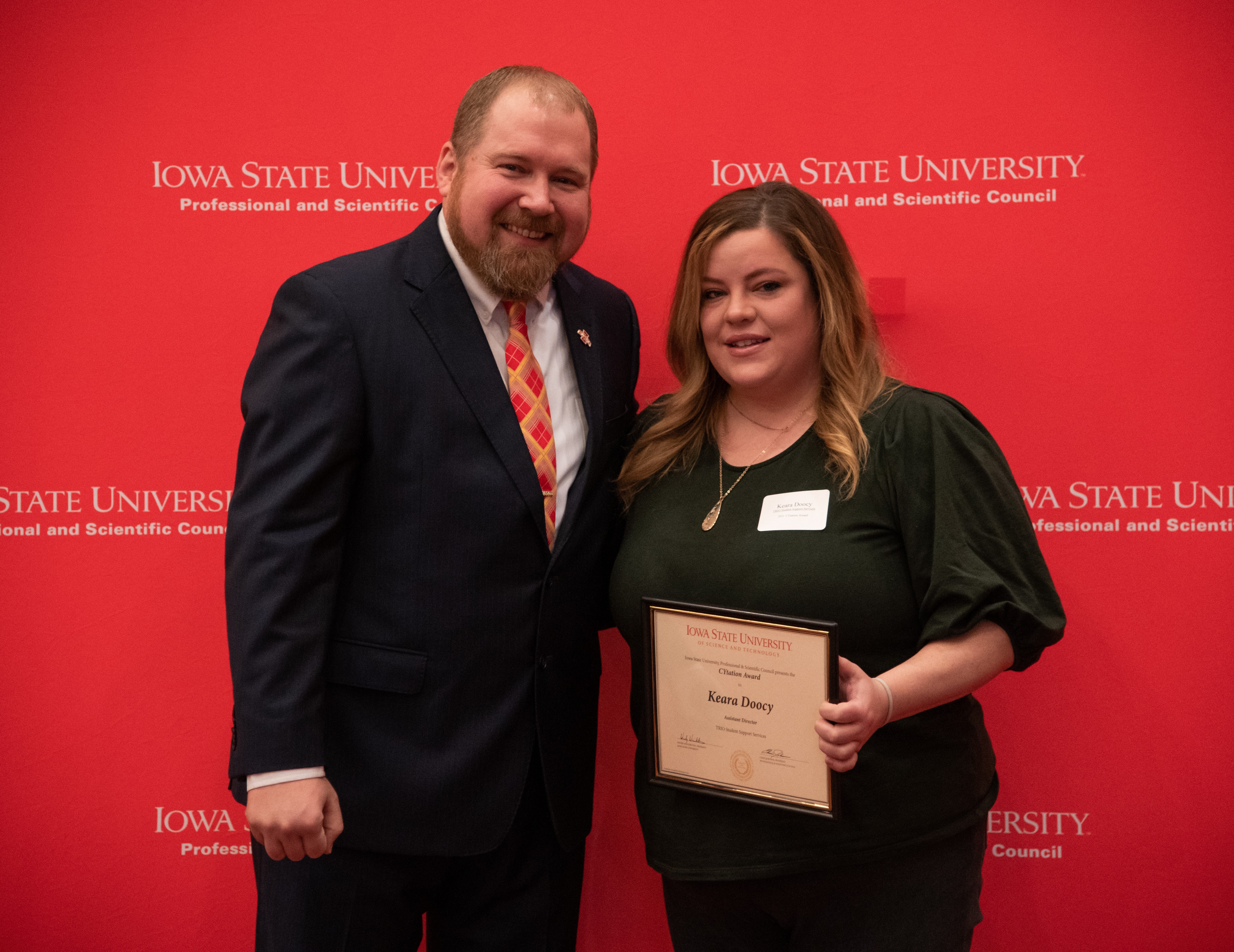 One of her proudest moments was when she worked with a deserving student that had exhausted all their resources and did not know where to turn for financial help.  Kearaworked diligently to help assist this student with getting funding.  She is the type of leader that is caring, flexible, open, and inclusive.  Kearahelped several of the peer mentors achieve their academic, professional, or financial goals and has equipped them with the necessary tools to be successful in their roles as mentors.  Keara is constantly taking the lead on initiatives to promote, encourage, develop, and support multicultural students and professionals from underrepresented populations. Kearahas served as an example and role model for students and staffat ISU; sheclearly is an Iowa State advocate in her work.
 
---
Alison Doyle, Chief Relationship Officer, Iowa State University Research Park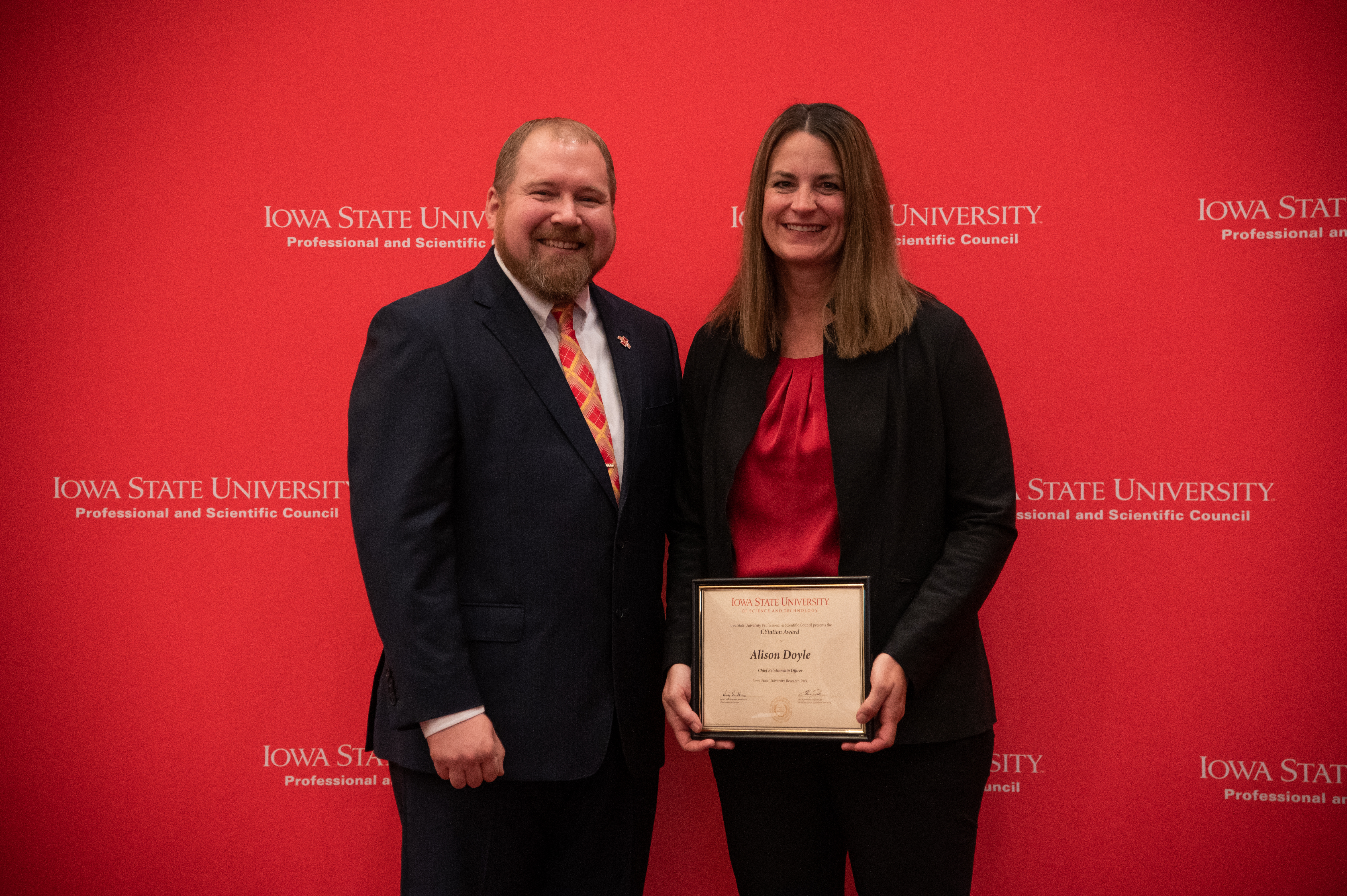 Alison is the Chief Relationship Officer at the Iowa State University Research Park (ISURP) and has worked at the ISURP for 13 years. Allison has a strong commitment to enhancing the community of Ames by fostering growth and innovation through recruiting companies, both big and small, and connecting them to talent from the University. Alison uses innovation and initiative at the core of every career decision she makes. Specifically, Alison had a vital role in tripling the number of buildings at the ISURP, along with doubling the square footage and acreage. This includes the addition of integral tenants at the Research Park, such as Vermeer, John Deere, and Workiva. Alison has also had a great impact on the community connection within ISURP with the implementation of Provisions Lot F, Ames Racquet and Fitness, and numerous bike trails. Allison is persistent and devoted to enhancing the ISURP, Iowa State University, and the Ames community.
---
Danise Jones, Graduate Student Services Specialist, Department of Genetics, Development and Cell Biology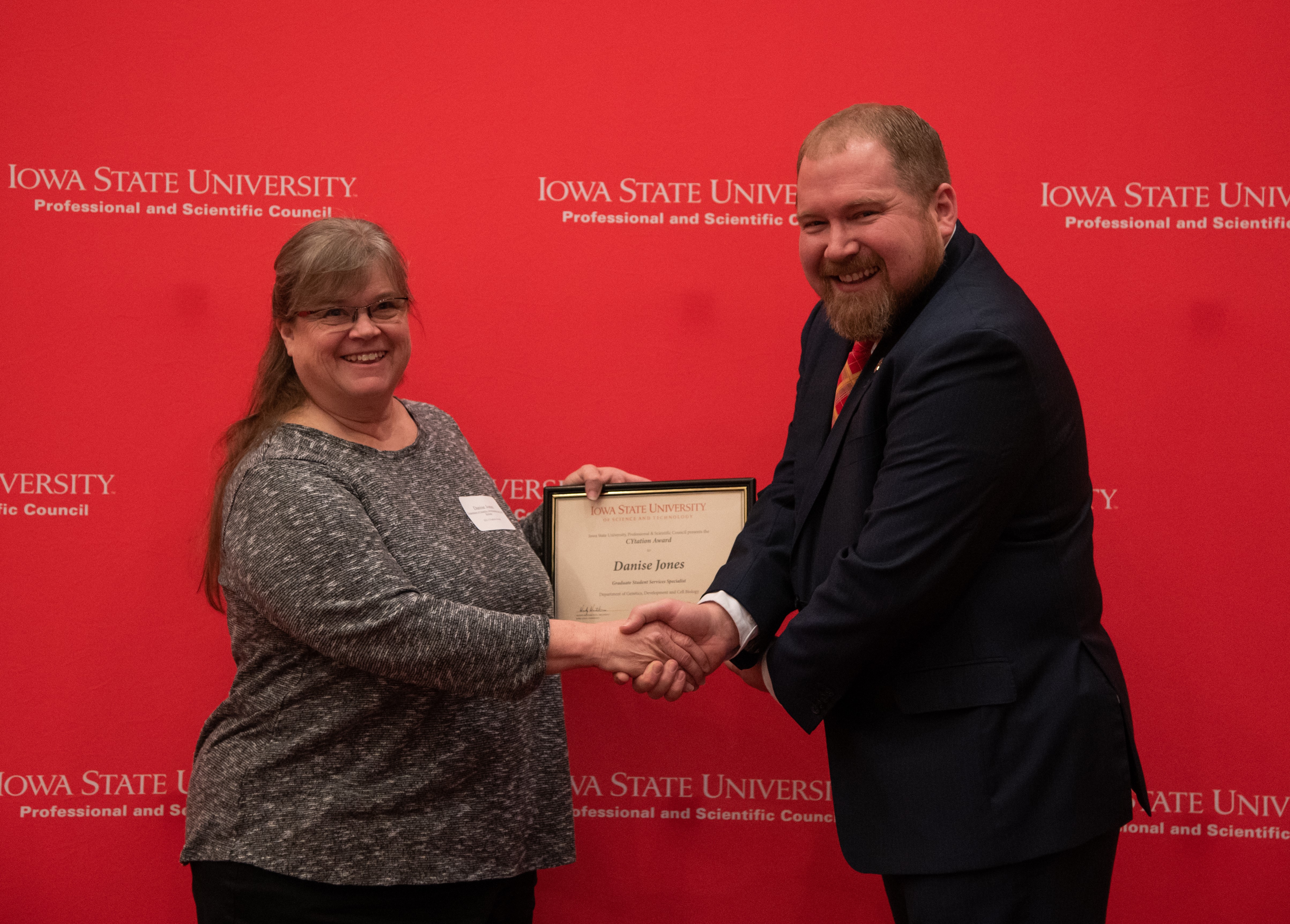 Danise consistently goes above and beyond in support of her department and demonstrates professionalism and enthusiasm in all work that is done. Danise's commitment to going above and beyond has allowed departmental activities and functions to work smoothly and flawlessly. In addition to taking on a myriad of extra responsibilities in 2020 and 2021, Danise went above and beyond dedicating many hours (often face-to-face) training two new employees, a responsibility that tremendously helped to advance undergraduate and graduate education in the two departments. Danise's is truly dedicated to continual personal and departmental improvement. 
 
---
Zoe Kiefer, Research Scientist I, Department of Animal Science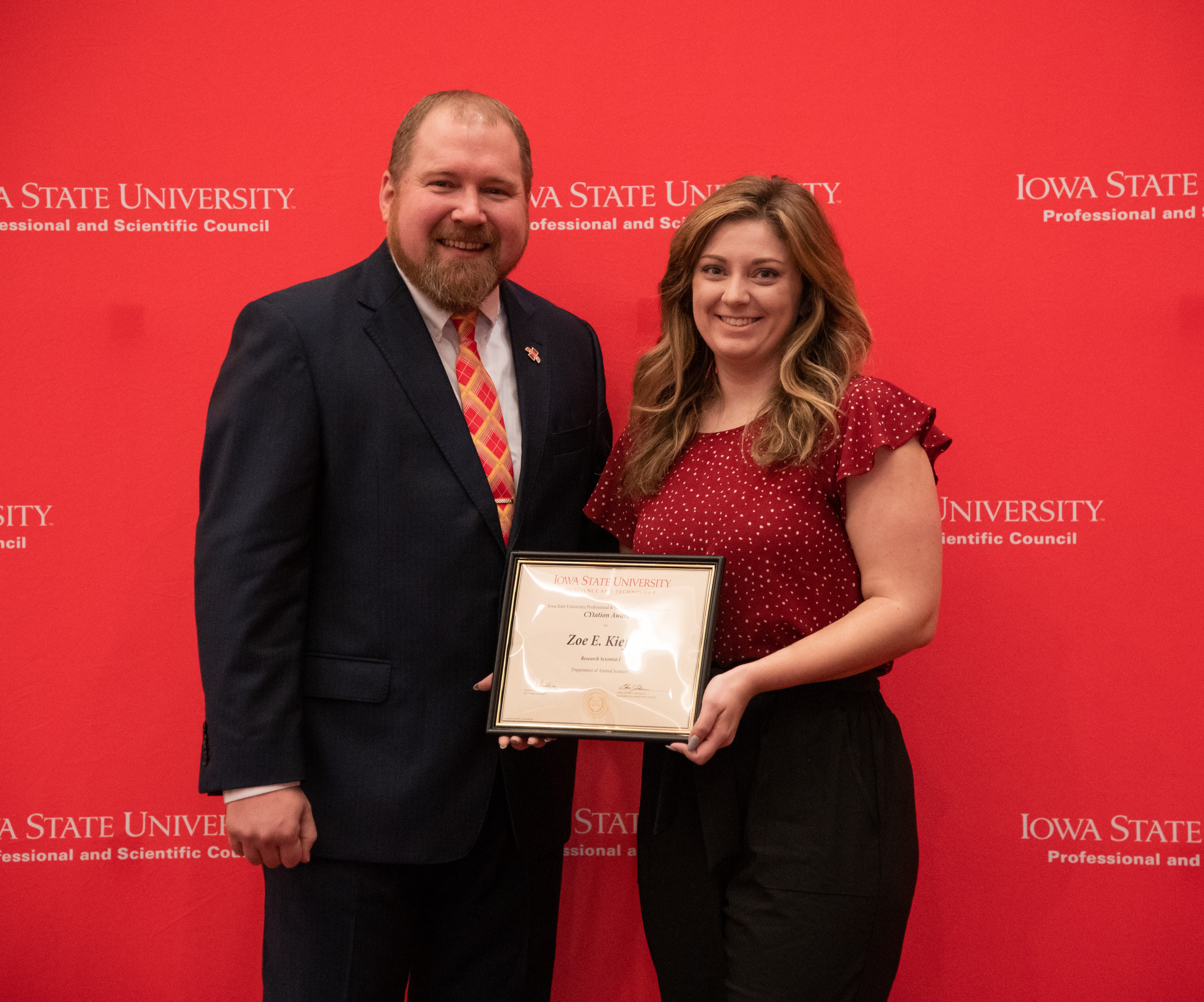 Zoe has not only helped maintain and grow her own research, but she has had a substantial positive effect on those around her during the past two years. Zoe helped plan and execute on-farm research projects in Nebraska, Iowa and Illinois, in collaboration with three of the largest pork production companies in the United States. While conducting a field research project in Illinois with a pork production partner, Zoe worked every day for over 20 consecutive days leading a 3-person team and working 12-16 hours per day for many of them. Not only was the project able to be salvaged and fully completed as planned, Zoe demonstrated a resolve and commitment to excellence that our external research partners and sponsors found remarkable. Zoe represents Iowa State's research and outreach programs with class and professionalism.
 
---
Beth Minner, Research Administrator II, Grants Hub - Office of the Vice President for Research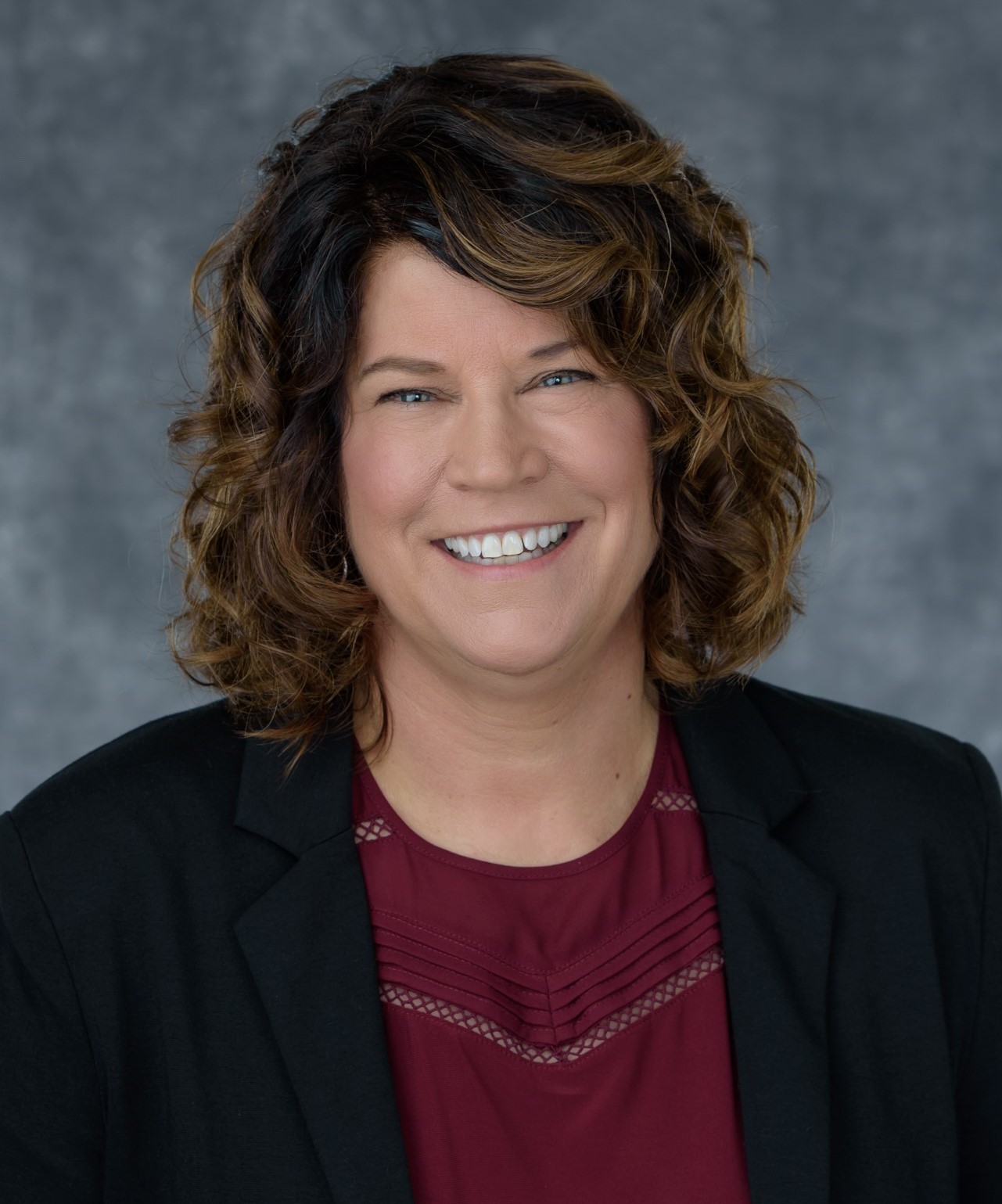 Beth is the Grants Hub Project Manager. Beth has gone well above and beyond her typical duties to respond to sponsor expectations that far exceed those for a typical academic proposal or research project. Rather than just advising the researchers on project management tools and processes, she personally led the required project management function for the ARA team. She developed and repeatedly revised an extensive project plan, including a project execution plan, a work breakdown structure, and a highly detailed Gantt chart. Beth's leadership and exemplary service lies in teaching others how to effectively manage their complex projects and build productive teams. The project management foundation Beth has built – will impact rural communities in Iowa and beyond through new wireless technologies.
 
---
Tiffany Schieffer, Head Early Childhood Teacher - Lab 3, Child Development Laboratory School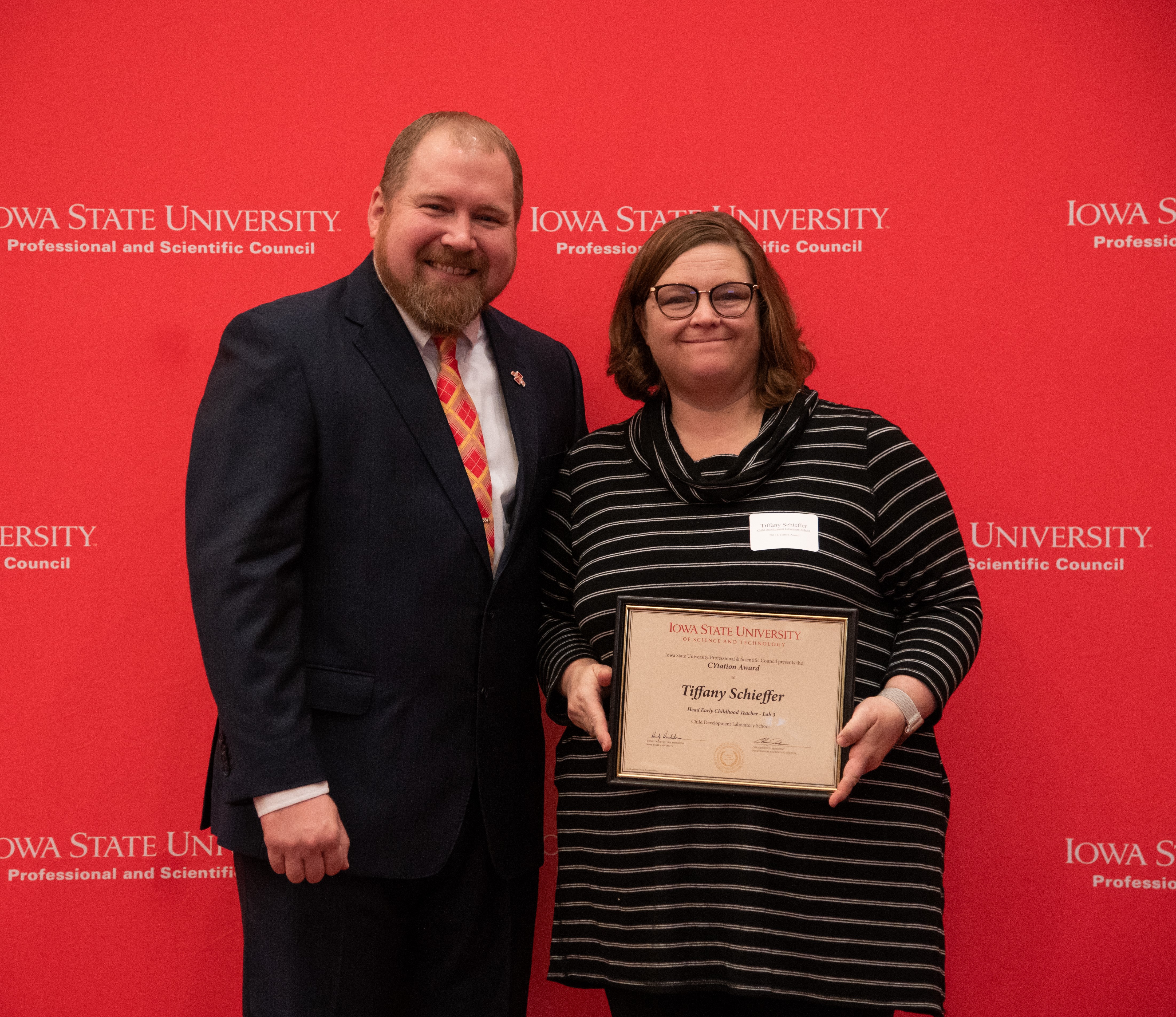 Tiffany supports college students in early child-development, guidance, and teaching, and regularly goes above and beyond to help these students feel welcome, inspired and empowered as they hone their skills. In the last year and a half, Tiffany displayed exceptional leadership, mentorship, and innovative thinking by swiftly adapting to the demands of teaching in a pandemic. In 2020, when the pandemic forced Practicum to a full stop, Tiffany quickly stepped forward to help design a Practicum alternative. When challenged with a preschool classroom that could not accommodate the alternative Practicum, without hesitation, Tiffany invited other students to participate with her own class. In the words of her nominator, "this experience was one of the most mutually collaborative experiences I have had with a colleague." Tiffany's contributions of service, support, leadership and adaptability throughout the pandemic were not only immensely appreciated, but crucial to the success of the early childhood program.
---
Stephanie Schoeller, Assistant Finance Manager, Finance Service Delivery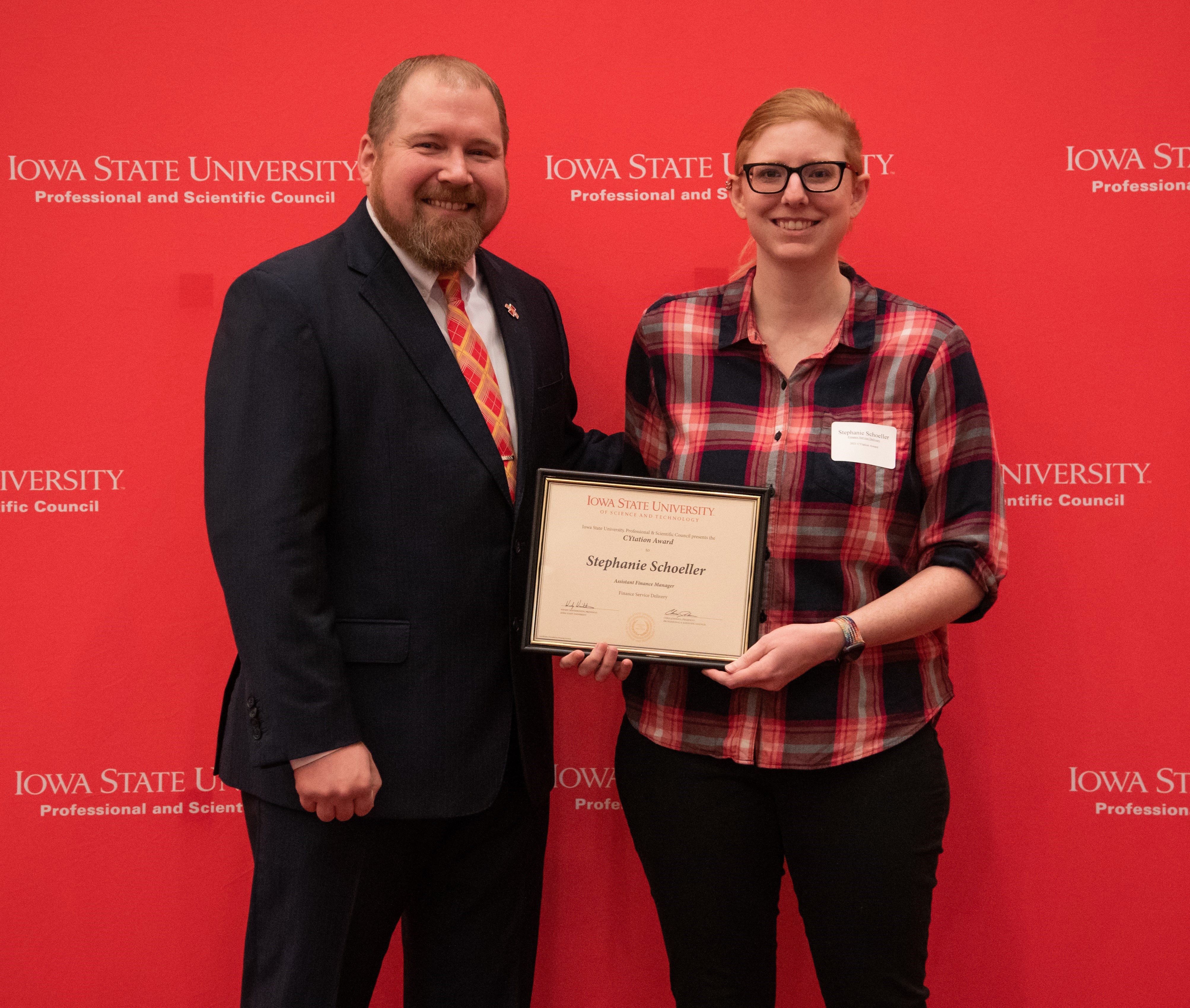 During the past year, Stephanie has gone above and beyond to support the mission of Finance Service Delivery to provide high quality and customer-focused services to the University. Stephanie assisted in the faculty financial reporting workbook initiative, including holding training sessions and developing extensive job aids.  In addition to this initiative, Stephanie demonstrated exceptional effort beyond normal expectations by leading two large projects for allocating expenses for two major federal awards: DERECHO and CARES. Stephanie's leadership ensured that Iowa State could fully utilize the award funding available.  Stephanie is devoted to exceptional support, collaboration, and teamwork.  
 
---
Huigang Shen, Diagnostic Associate II, Veterinary Diagnostic Laboratory
Dr. Shen is an integral part of our Next Generation Sequencing (NGS) lab –a unit of Veterinary Diagnostic Laboratory, at the College of Veterinary Medicine. Dr. Shen and the NGS lab process genetic sequencing of various microbial pathogens for other universities, businesses, and state & federal government entities like the FDA and USDA. The work of the NGS lab is essential to the success & the mission of VDL and their clients. Dr. Shen plays a role in virtually every aspect of operations at the NGS lab. Last year under Dr. Shen's guidance and support, the NGS lab revenue increased more than 27% (from $360K to $458K), and increased case load by 15% from 1524 to 1764 cases annually. Dr Shen is a true leader at the NGS lab, who wins people by their hearts, and leads by example. Congratulations Dr. Shen, and thank you for your hard work and commitment.
 
---
Matt Shriver, Maintenance Manager, Utilities Enterprise with Facilities Planning and Management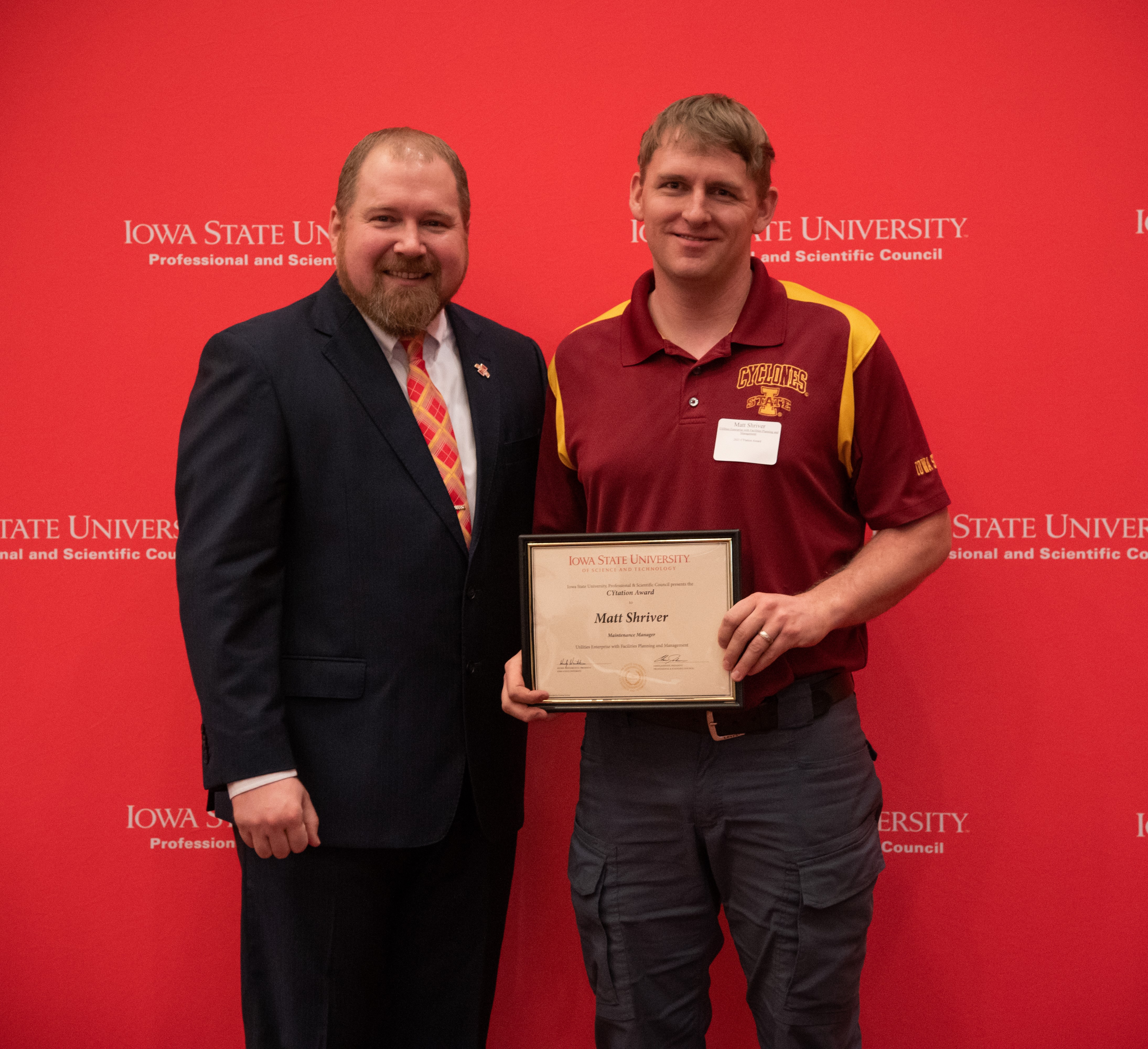 Matt, a Utilities Senior Manager with Facilities Planning and Management, recently helped the university with a huge overhaul to their generator controls program. This project was originally slated to be managed by a third-party consultant and contractor. After careful consideration, the decision was made to complete the project internally. Matt went above and beyond the scope of his job duties by performing the detailed design, ordering parts, supervising construction, validating work performed, and leading startup activities on this project. Matt's outstanding performance helped save $270,000 from the project budget, which will be used to fund other campus utilities improvements. Matt's contributions also included relocating generator control locations, and adding a new auto-sync feature for improved reliability and safety of the generator start-up process. This project provided a one-time economic savings but will benefit the University long into the future.
---
2021 Outstanding New Professional and Scientific Council Member CYtation Award Recipient
Sarah Larkin, Customer Relations Coordinator II, Extension and Outreach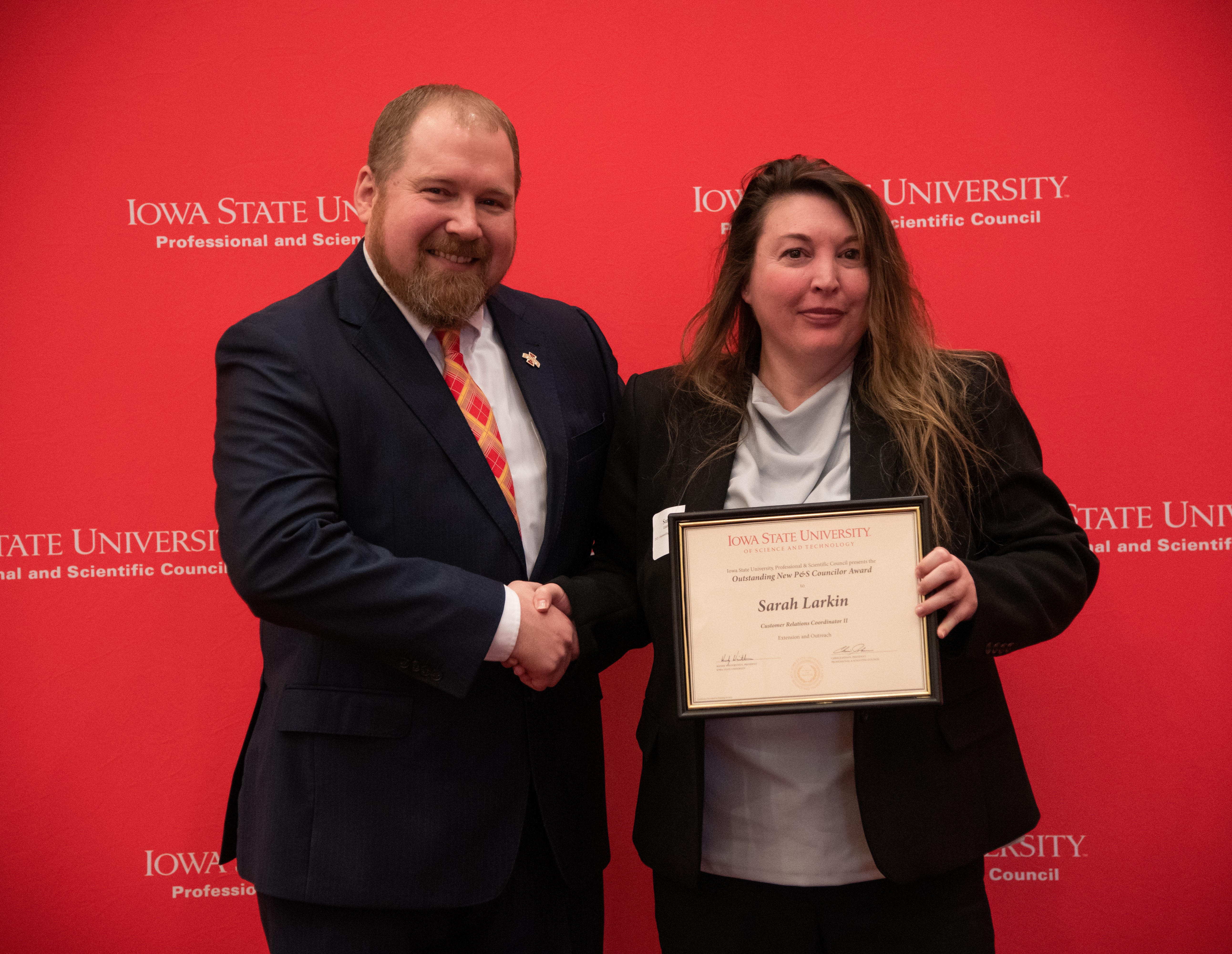 Sarah was elected to the Council in 2020, and has served diligently on the Policies and Procedures Committee, Communications Committee, and as representative for the College of Design. Sarah is a conscientious leader who demonstrates initiative. In 2021, when a vacancy on the council presented itself, Sarah self-nominated and was elected Secretary/Treasurer. Sarah has flourished in this role by leveraging her skills to ensure council meeting highlights and monthly minutes meet digital accessibility requirements, leading website updates and revisions, and sharing new streamlined process ideas with the council. Sarah's dedication to the council and advocacy for others are evident actions, and her enthusiasm and positive attitude are immensely appreciated.
---
2021 CYtation Team Award Recipients
Audiovisual Experience Team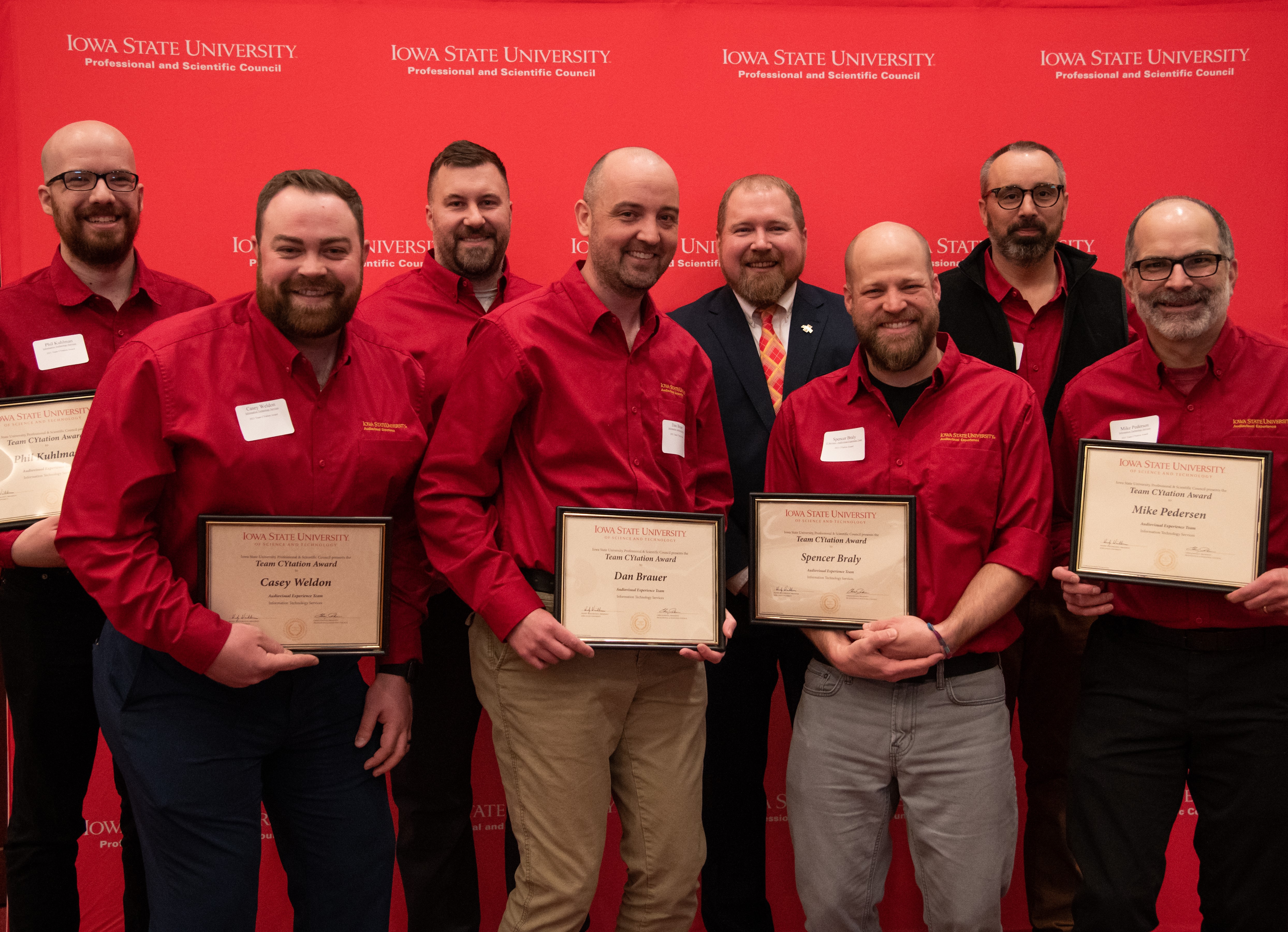 Early in the pandemic response it became clear that additional technology and support services were going to be needed to support remote and hybrid teaching and collaboration.  The team quickly and proactively acquired a large number of webcams and USB headsets for distribution to faculty and staff in the transition time. The team was called upon to support high-profile remote meetings and developed Virtual Meeting Services. In particular, the AVXT went above and beyond during the summer of 2020 to prepare for the return to classes. At the start of March 2020, only around 20 of the 208 classrooms at that time had any type of lecture capture or hybrid support.  Currently, of the 212 active classrooms, 41 have some form of Level 1 hybrid technology and 167 have Level 2 technology.  The team supported the spring 2020 and fall 2020 virtual commencements as well as the spring 2021 outdoor commencement.

Team Members (left to right): Phil Kuhlman, Casey Weldon, Rusty Pidsosny, Dan Brauer, Spencer Braly, Shane Sparks, Mike Pedersen
---
CARES Pre-Award Team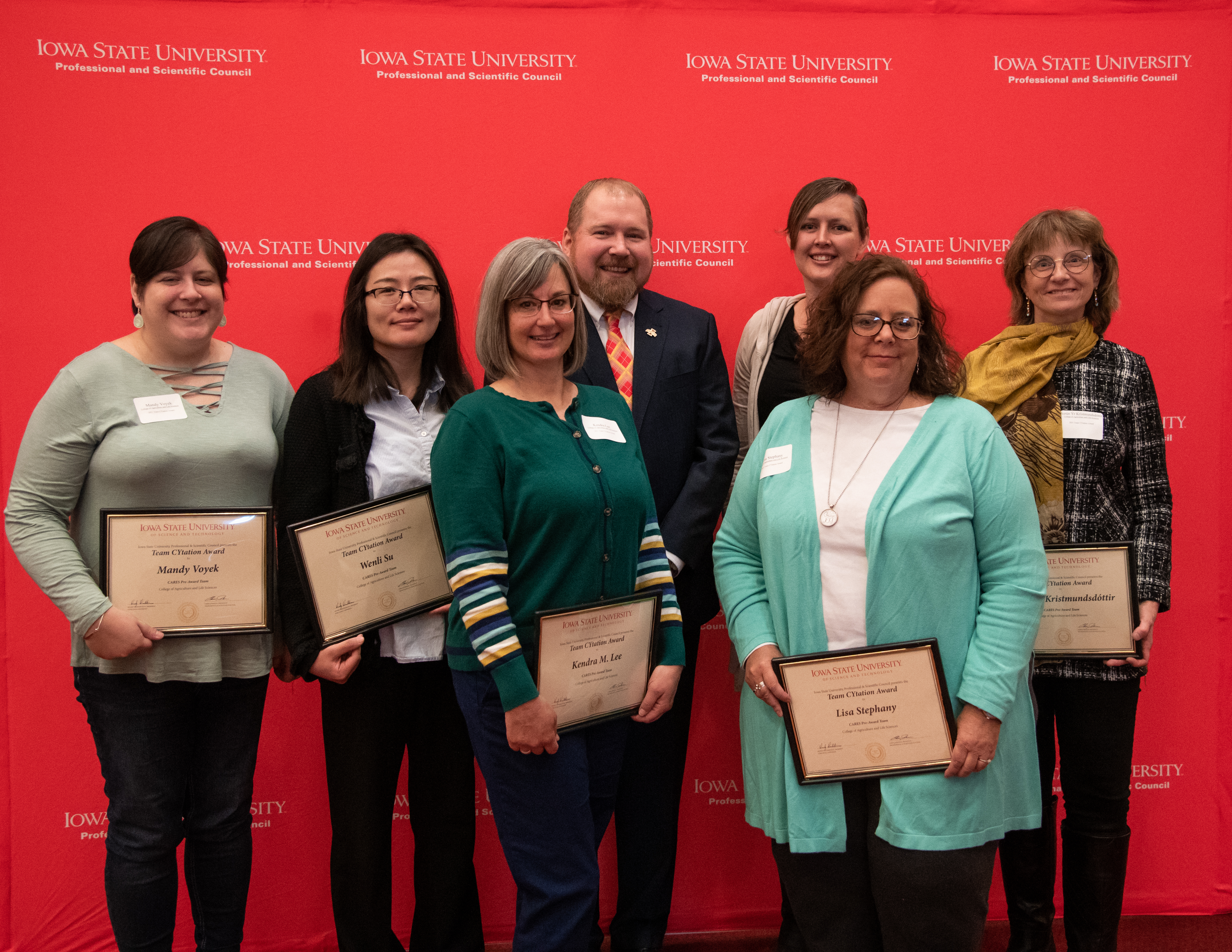 The College of Agriculture and Life Sciences Research Excellence Support Pre-Award Team supports and advances faculty and staff research excellence. Team members support faculty to locate funding opportunities that fit with their research efforts; connect faculty with grant consultants to support research proposal preparation; help to generate and submit grant proposals; and help faculty to navigate information management systems at Iowa State and beyond.  In addition, CARES Team members also help to navigate complex agreements and systems that underpin public/private partnerships, collaborative agreements with federal organizations, and various other mechanisms by which faculty interface with external partners. During the past year, when other colleges' teams had unfilled positions and a high volume of applications to manage, the CARES Team volunteered to help. The CARES Team continues to be a model of service, helping the research community both within and beyond the College of Agriculture and Life Sciences.

Team Members (left to right): Mandy Voyek, Wenli Su, Kendra M. Lee, Kerri Bilsten, Lisa Stephany, Ásrún Ýr Kristmundsdóttir, (not pictured) Natalia Rogovska, Seth Wilmes, Kelly Yohnke
---
Finance Service Delivery Operations Team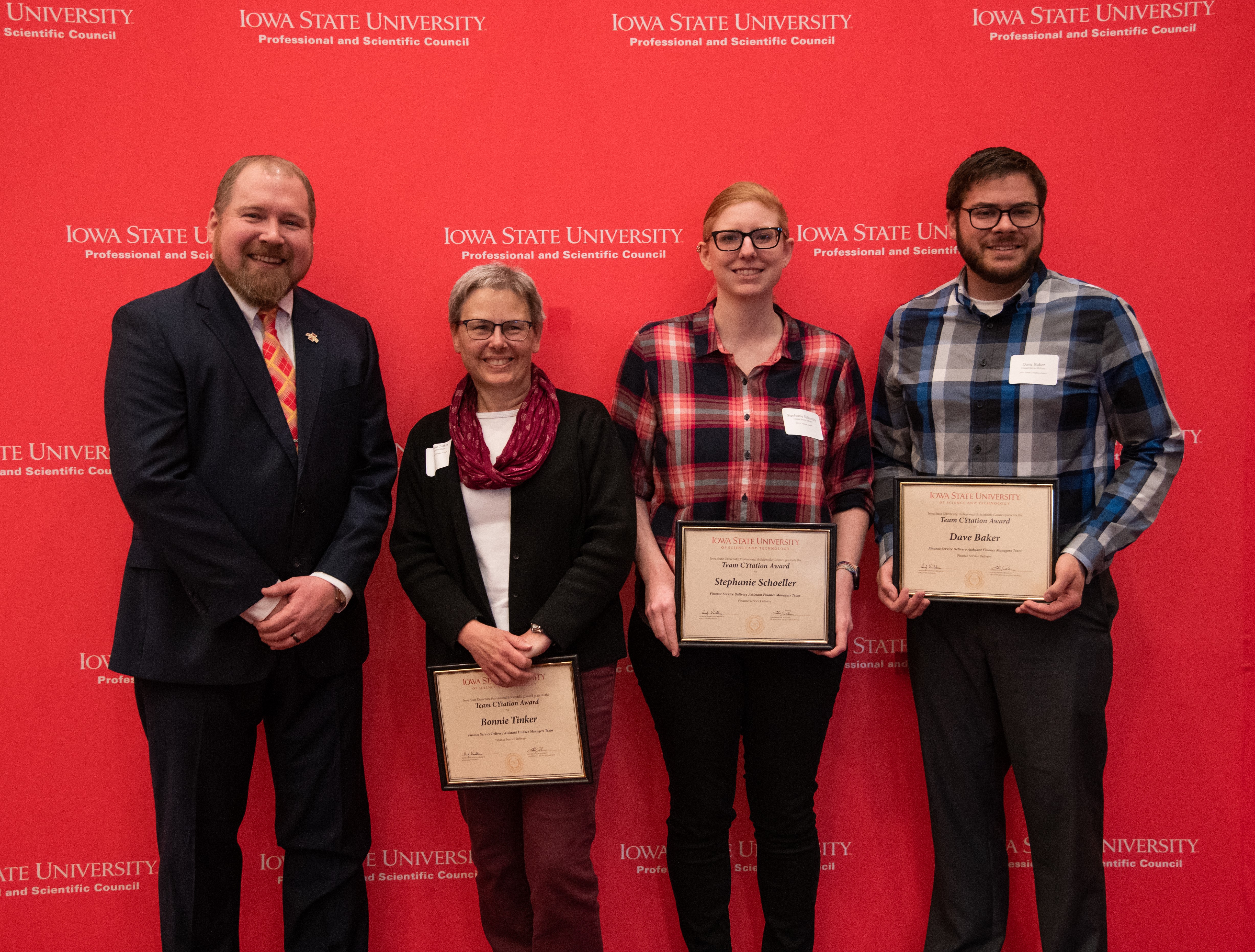 Since Finance Service Delivery (formerly known as ISD) came into existence in 2019, this team of Assistant Finance Managers has been vital to FSD's success.  FSD is comprised of three types of specialists that assist campus with all of their financial transactions: Finance Specialists, Procurement and Expenses Specialists, and Grants Finance Specialists. In the past year, this team has worked to develop many new features for campus including 1,000 Faculty Account Manger workbooks to help researchers easily access the financial information related to their sponsored funding, helping educating FSD and campus on travel policies and per diem changes, and educating campus on requirements of sponsored funding.  The collective team worked to create online request forms to easily request assistance from our team and built a robust repository of Knowledge Base Articles.  Between training, onboarding, troubleshooting, continually improving, and trying to meet the needs of campus and specialists, our team of AFMs remain dedicated to the purpose and value of Finance Service Delivery.

Team Members (left to right): Bonnie Tinker, Stephanie Schoeller, Dave Baker
---
ISCC International Student Canvas Course Team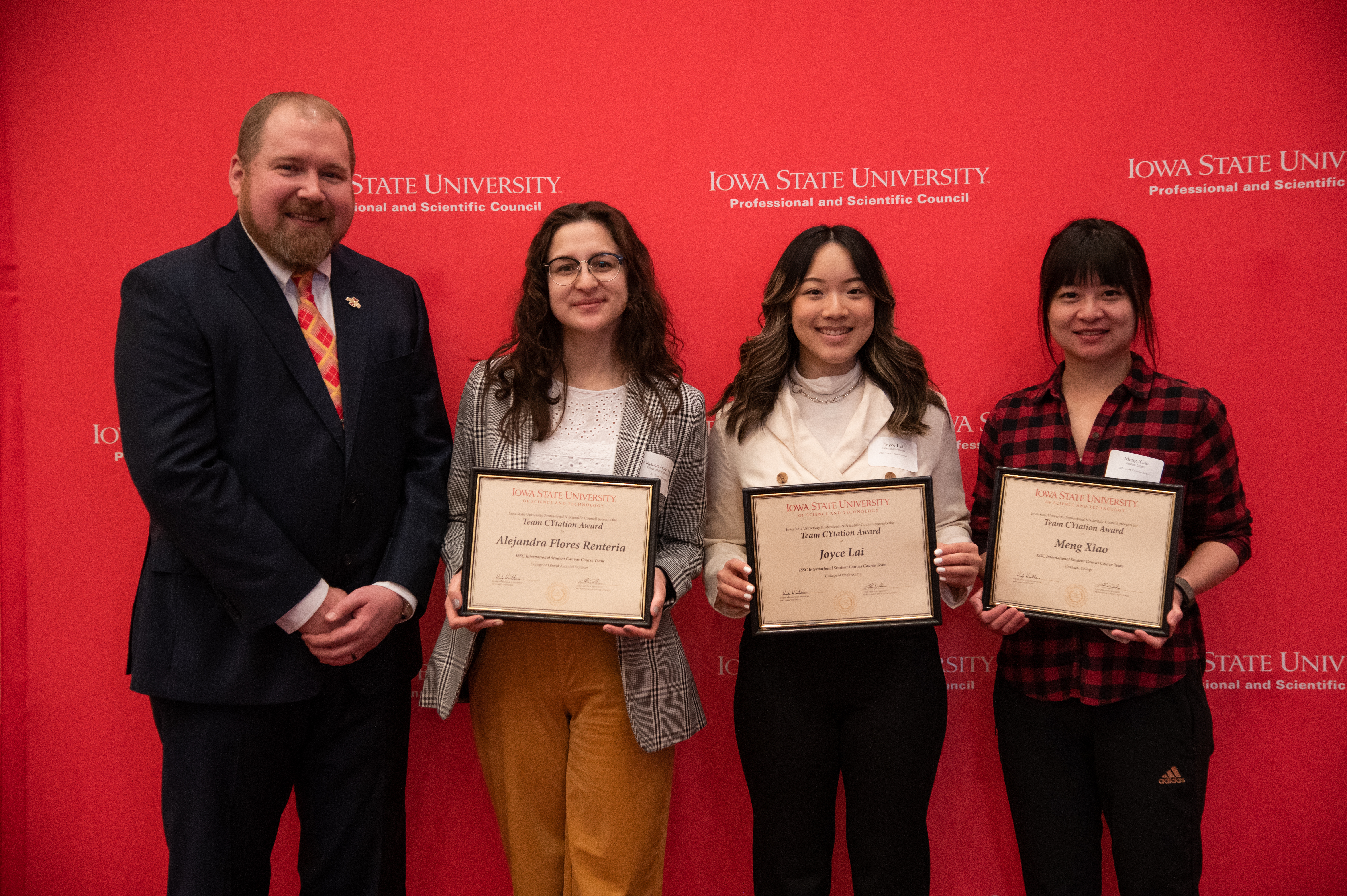 The International Student Success Collaborative is an interdisciplinary group of Iowa State professionals, students, and faculty, serving international students and scholars across campus. In 2020–2021, a sub-group of the collaborative identified the need for international students to have a one-stop location for information regarding ISU and college in Ames, Iowa. Many international students struggled with how and where to find information about resources available to them. This need grew significantly with the COVID crisis and the need for information to be available virtually. The sub-committee met monthly to plan, design, and gather materials for a CANVAS course for all new International Students by Fall 2021. The course has been an excellent tool developed to address each of   the ISU Principles of Community. International students and scholars bring a richness of diversity to our campus. Our responsibility is to assure they feel respected, have a sense of purpose, collaborate, be engaged, safe and heard.

Team Members (left to right): Alejandra Flores Renteria, Joyce Lai, Meng Xiao, (not pictured) Santos Nunez, David Sappenfield, Melody Schobert