2022 P&S Council CYtation Awards
Amy Lewman, Administrative Assistant II, Department of EEOB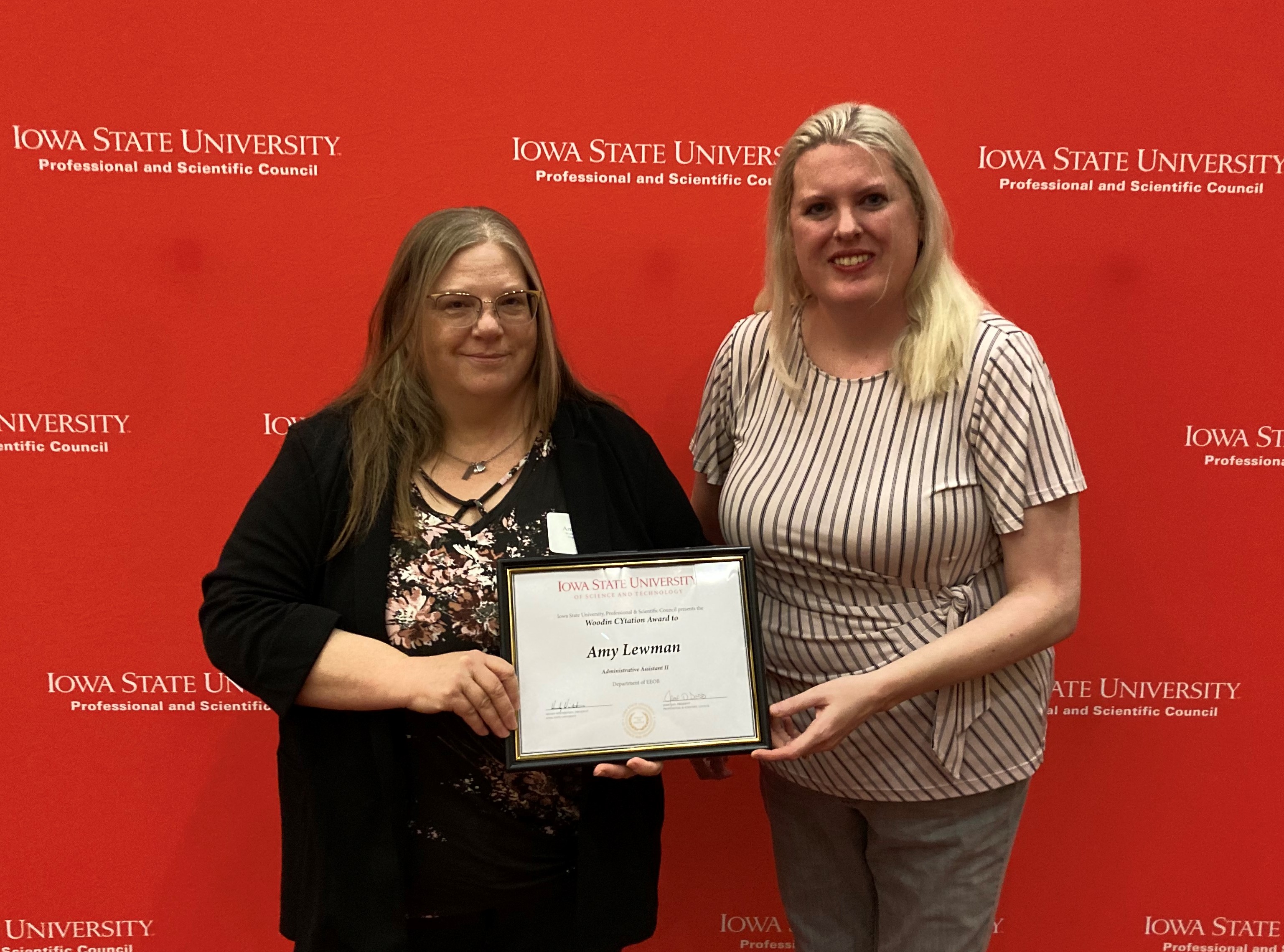 Amy started her current position as an Administrative Assistant II in EEOB in late July 2021. As is true for most departments, the job of an administrative assistant can involve an array of different tasks. To accomplish them, the admin needs strong people skills, familiarity with process, patience, and perseverance. Amy has all these qualities. What sets her apart is her can-do attitude. Whatever the EEOB department needed Amy do to, some of it way above and beyond her normal responsibilities, she has taken it on willingly. One example of how Amy went above and beyond was when EEOB was trying to replace a graduate student services specialist. In addition to her admin responsibilities, she took on the tasks of the unfilled student services specialist position and then trained the new hire. When that person left the position a few months later, Amy stepped in once again and took on these responsibilities until a replacement could be hired. In a brief period of time, Amy has become the "hub" of interpersonal connections among all of the offices and departments in Bessey Hall and has had an incredibly positive impact on this part of ISU.
---
Karen Bramow, Project Manager, Office of the Vice President for Research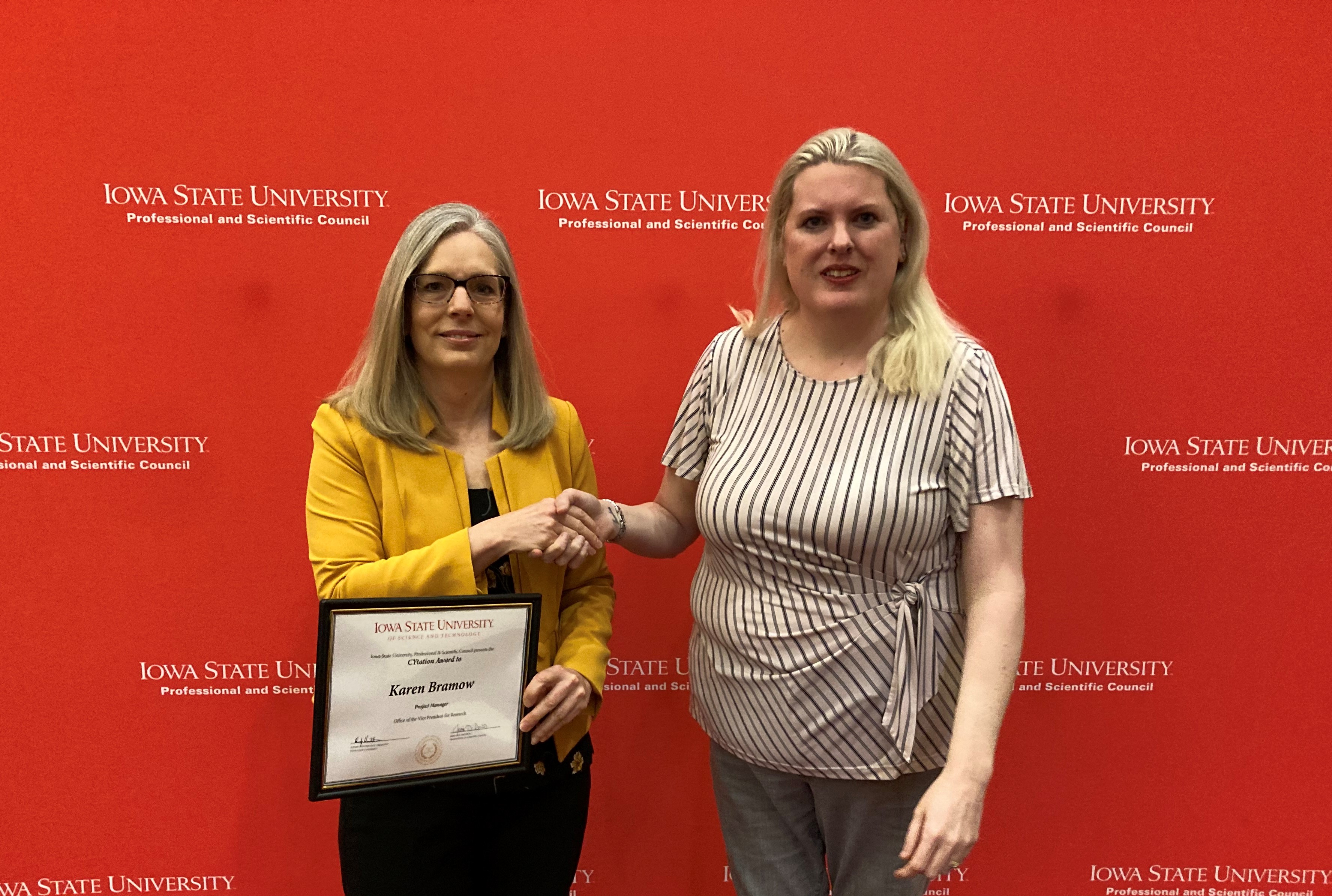 While completing her daily tasks Karen was offered the opportunity to be the project manager for the university strategic planning process. She managed the consultant evaluation and selection process, organized meetings with consulting teams, and developed the stakeholder engagement process and timeline which allowed for the project lead to deliver the final proposal well before the Regents deadline. Her dedication didn't stop here, she continued her efforts to prepare for the new director allowing for a seamless project handoff. Her dedication to her colleagues is only exemplified by her continued effort to grow her skills by completing her Project Management Professional Certification. Karen continues to support her team by helping to build a summer strategic planning retreat with the Deans and the Office of the Vice President and Research leadership team. Karen has become instrumental to the success of the OVPR.
---
Cris Broshar, Child Care & Family Services Coordinator - CCAMPIS Program Director, University Human Resources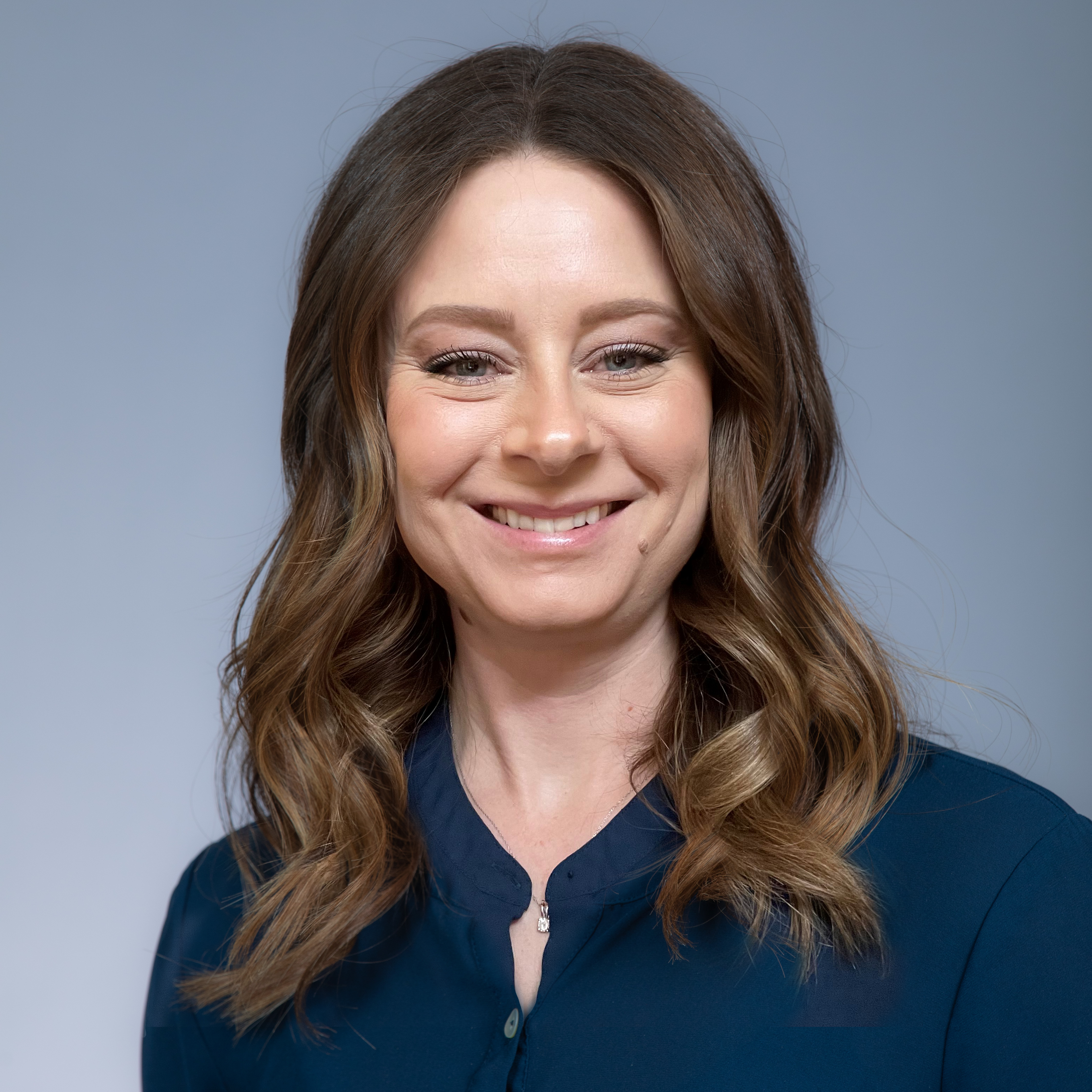 Cris is the WorkLife & Family Services Coordinator for ISU Child Care and Family Services. While serving as the WorkLife Specialist she assisted with oversight of the Child Care Access Means Parents in School (CCAMPIS) grant program. In September 2022, thanks to Cris' efforts, ISU received a four-year, $3 million grant for its CCAMPIS program. It marked the largest grant that ISU's CCAMPIS program has ever been awarded. Additionally, Cris wrote, submitted and was awarded two state grants totaling nearly $42,000. Those funds were used to help cover a portion of costs for infant room construction and expansion at University Community Childcare. Cris made major contributions to UHR and ISU during the COVID-19 pandemic by creating virtual programing such as the "Family Friday Forum," and "Wellness Wednesday Forum" to help support ISU employees and their children. Cris' passion for employee well-being and her commitment to providing our ISU student-parents with a range of childcare options are truly making a difference for those in the university community.
---
Anindita Das, Diversity Equity and Inclusion Strategist, College of Design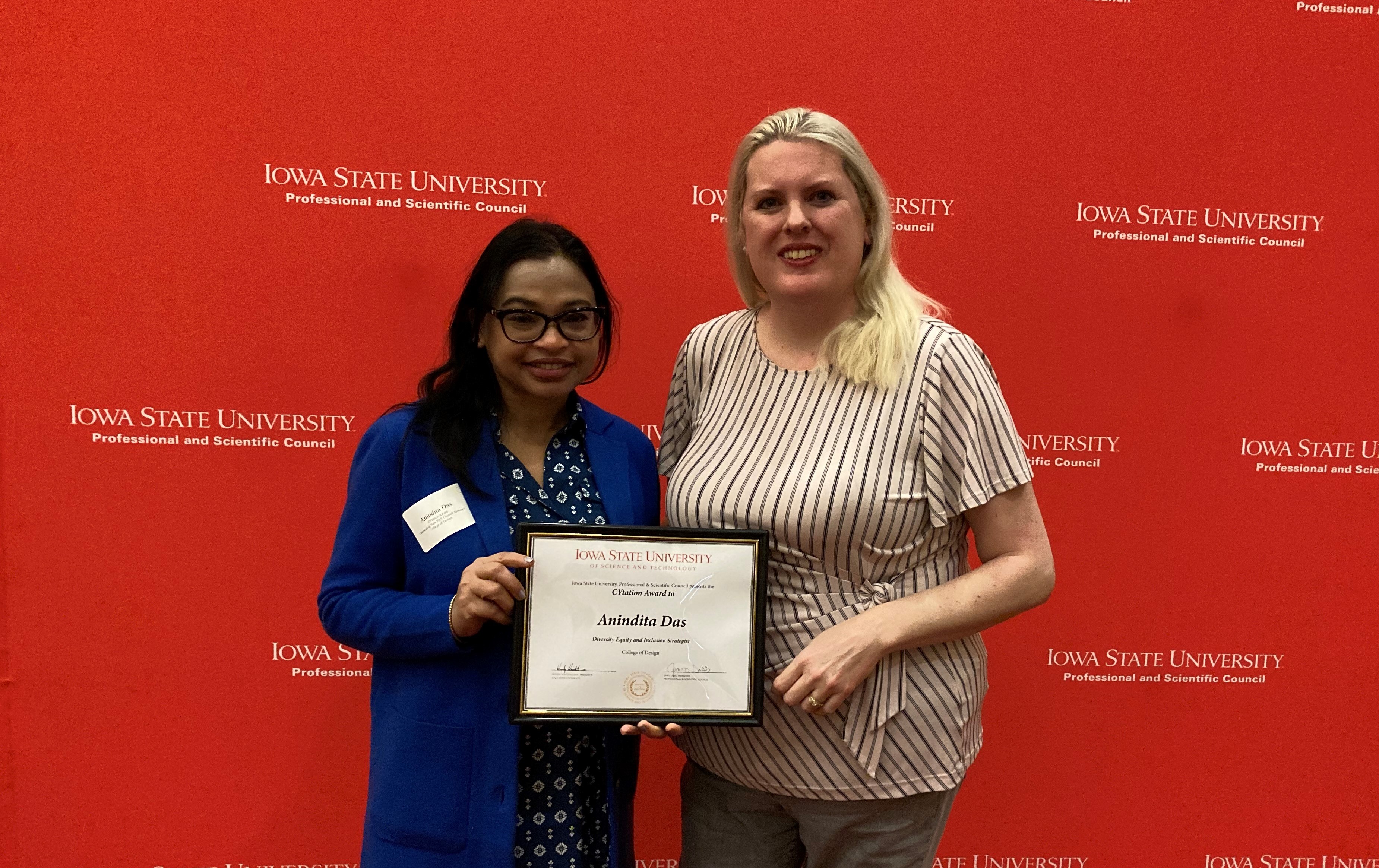 Ani is a Diversity Equity and Inclusion Strategist for the College of Design. She has a passion for diversity, equity, inclusion, and belonging. During her time at Iowa State, she has been a Program Specialist with Iowa 4-H Youth Development and a lecturer in the College of Human Ecology. Ani has been involved in Strategic Action Planning to develop systems to navigate, evaluate, train, and recruit. She has designed curriculum to improve all members of the Iowa State community. The nominee is a life-long learner, problem-solver, and human rights advocate. Her involvement in the Greater Des Moines Leadership Institute, Community Leadership Program, and National Alliance for Mental Illness have enhanced her skills in advocacy for work-place wellness.
---
Alexa Groff, 4-H Youth STEM Program Specialist, 4-H Youth Development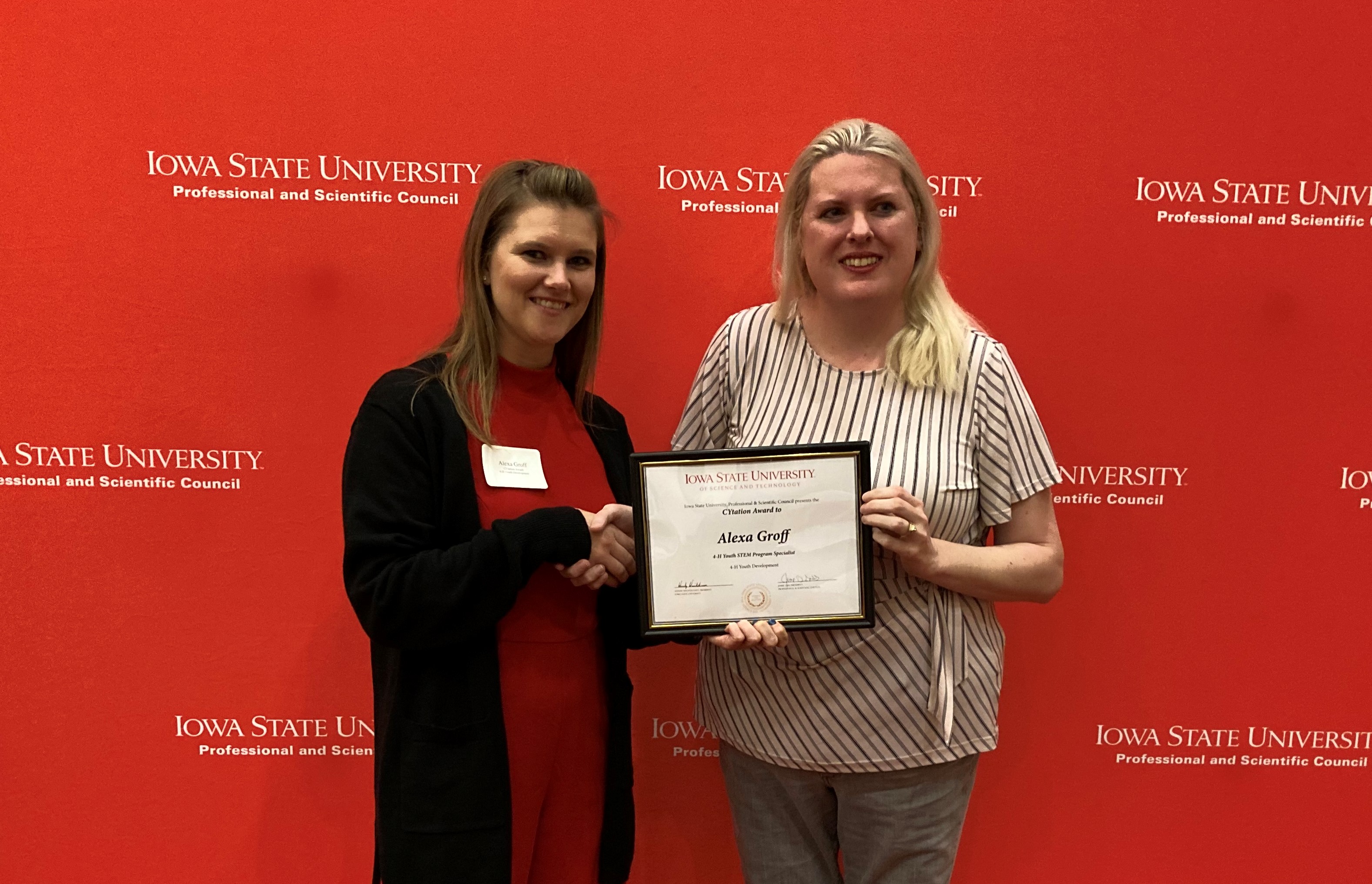 Alexa is a 4-H Youth STEM Program Specialist, responsible for overseeing the youth State Science and Technology Fair of Iowa in addition to 4-H STEM outreach programming for K-12 youth statewide. In her role she has increased youth participation at the 2021 State Science Fair to 401 students, which is up from 124 in 2021. The increase in youth participants also included 12 new participating schools with youth representing a total of 34 counties participating in the fair. Alexa has integrated additional educational experiences for the youth while they are competing in the fair, such as on-campus educational outreach tours and Lunch with a Scientist. She also initiated a program called STEM in Motion which provides 9-12 grade youth interested in STEM an opportunity to travel outside of Iowa to interact in a real-world setting and career-oriented STEM pathways. This past year she implemented a Science Research Conference for Iowa educators that provided two certified Iowa Area Education Agency (AEA) renewal licensure credits for participating educators. Alexa obtained $10,000 in funding to support the new Science Research Conference.
---
Brad Hill, Associate Director of the Memorial Union for Operations, Memorial Union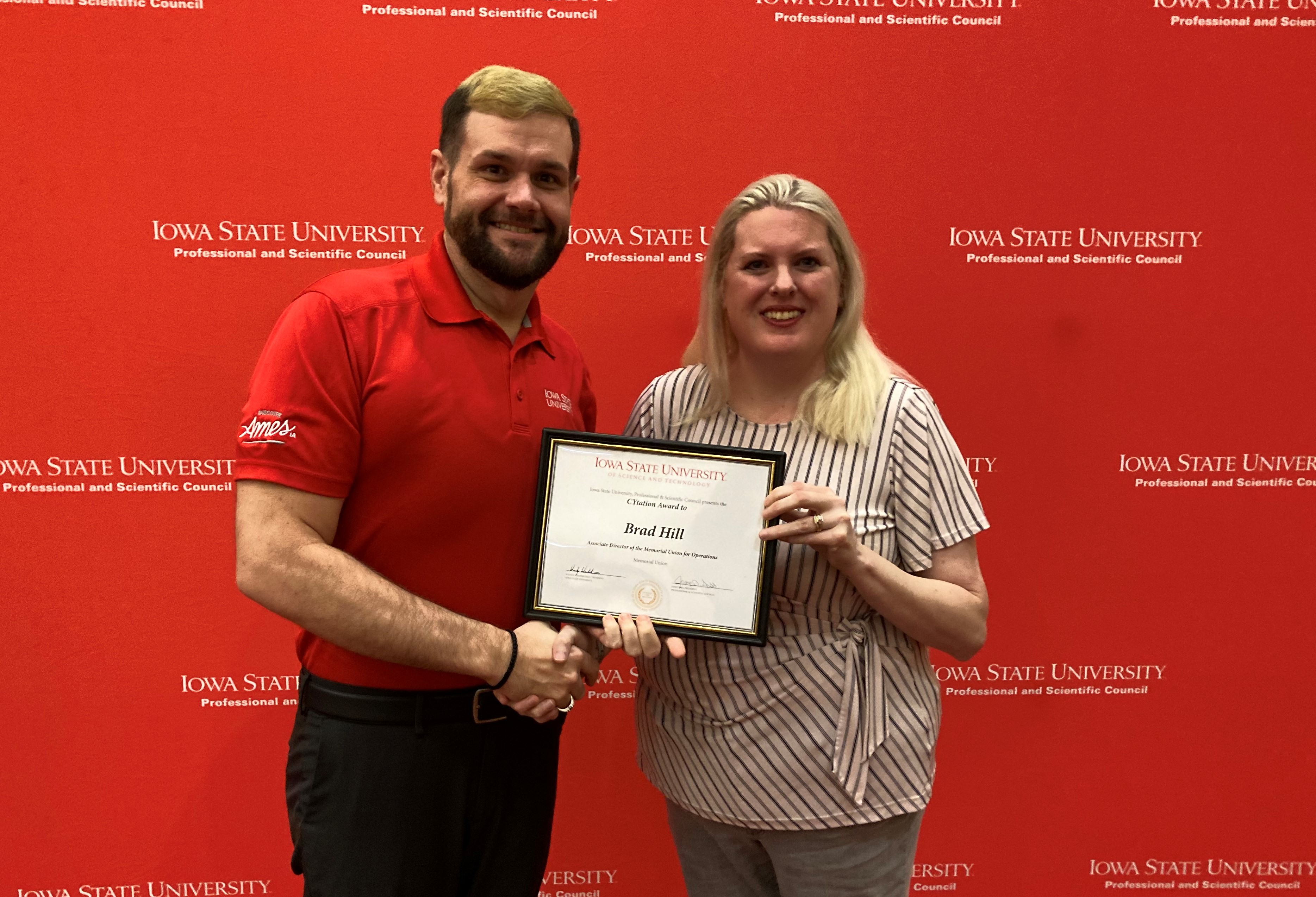 Brad Hill is the Associate Director of Operations at the Memorial Union. Brad oversees the custodial, maintenance, tenant, and event units of the Memorial Union. During the past two years, he successfully led and navigated the much needed renovations of Floors 4-6. Under Brad's supervision, the efficacy and work output of the student workers, who are called building managers and assistant building managers, has been extraordinary. Brad's philosophy as a supervisor for students is based on a student development perspective, putting the students' growth as individuals forefront. Almost every student, faculty, and staff member will come through the MU to take advantage of its dining options, the University Book Store,  or meeting spaces. Brad has made the Memorial Union a better building, a better place to work and study, and a quality venue to host events. 
---
Samantha Hirschman, Graduate Student Services Specialist II, Graduate College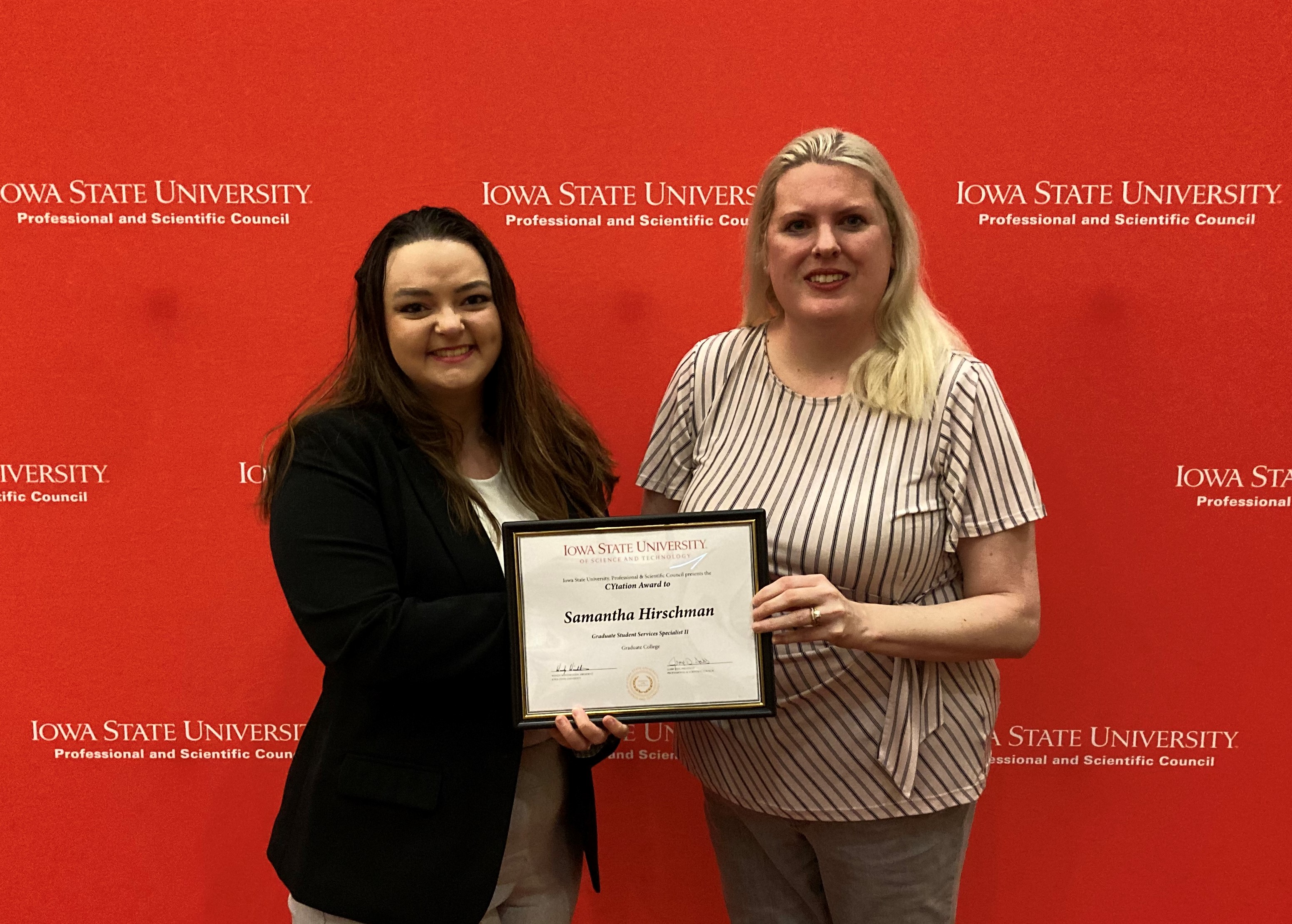 Samantha is the primary contact for graduate academic requirement configuration, Graduate College data conversion, graduate reporting, and Graduate College functions within Workday. She has configured 3500+ program of study definitions, 2000+ academic requirements, 2500+ eligibility rules, and much more. In addition to this configuration effort, she is a member of the Change Management team. It is because of her work on the project that the Graduate College's productivity and efficiency will increase with Workday Student. She has learned the Workday language and configuration needs so quickly that she has in fact spearheaded most of the solutions for things like POSCs, committee composition, and oral exams when the Workday product as designed did not deliver a solution or when our Huron consultants were unsure how to meet our needs. Her representation on the project extends far beyond the support functions that she was hired for. She is innovative and a problem-solver at her core.  I have never worked with someone so dedicated to making policies and procedures work for the constituencies we serve. She has used her creativity and ability to look at problems holistically to improve graduate education in Workday student, and thus, at Iowa State University for many years to come.
---
Claire Kruesel, Student Services Specialist II, Department of Biochemistry, Biophysics, and Molecular Biology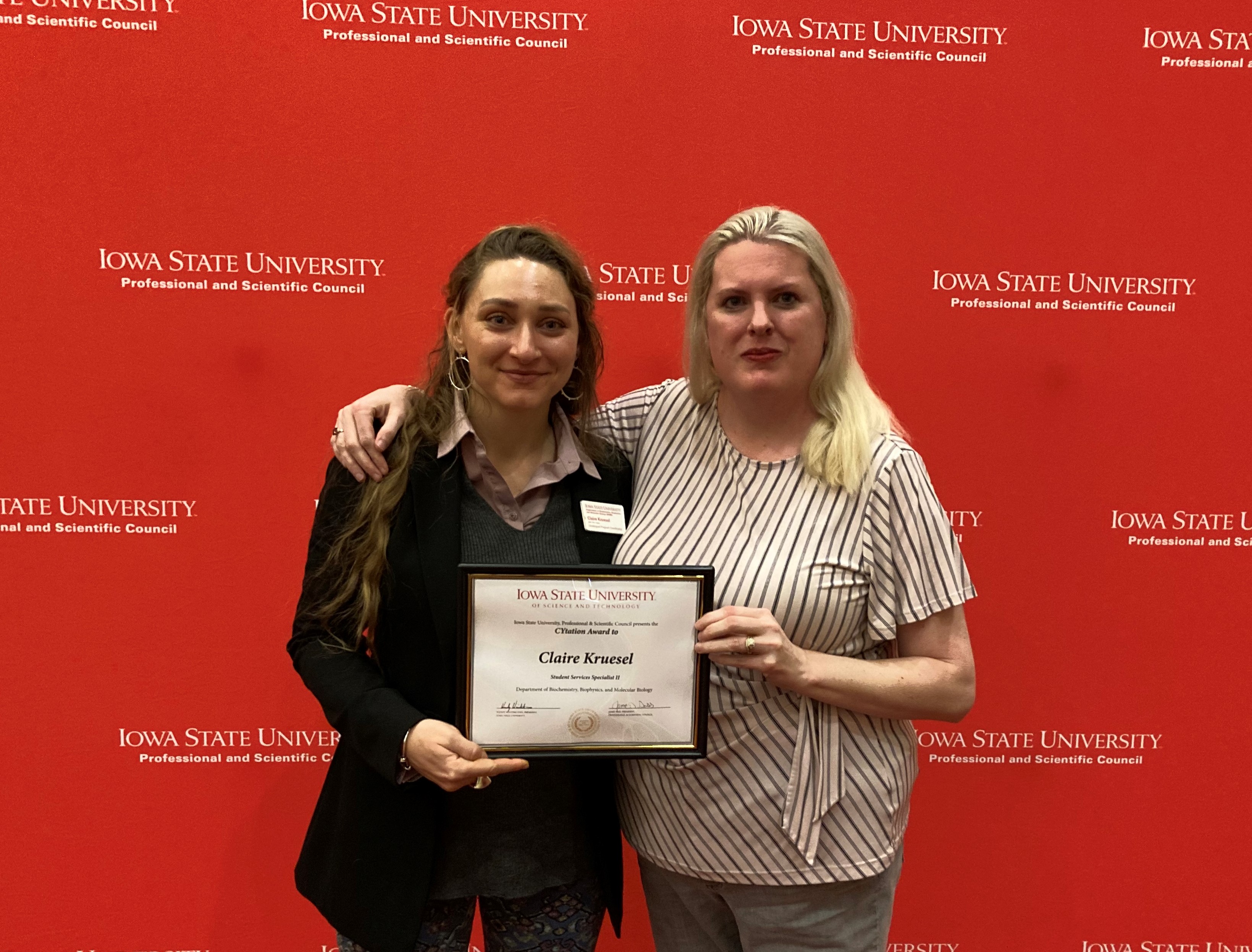 Claire is the Undergraduate Program Coordinator for the Department of Biochemistry, Biophysics and Molecular Biology (BBMB). She has gone above and beyond to cultivate a positive experience for undergraduates. As Chair of the BBMB Scholarship Committee, she worked diligently to improve scholarship administration and took the initiative to develop a rubric system to ensure objective evaluation of candidates. She is also recognized for her initiation and execution of two novel programs that support undergraduate experience: The BBMB Mentoring Program and BBMB Summer Undergraduate Research Program. When student advising shifted from faculty to professional advisors, she spearheaded the department's Mentoring Program to keep connections between undergraduates and faculty. Claire was Co-Director of the inaugural Summer Undergraduate Research Program, a professional development opportunity for student researchers. Her efforts were instrumental in the execution of this program, and key to its resounding success.
---
Liz Luiken, Assistant Director, DSO - Office of Student Conduct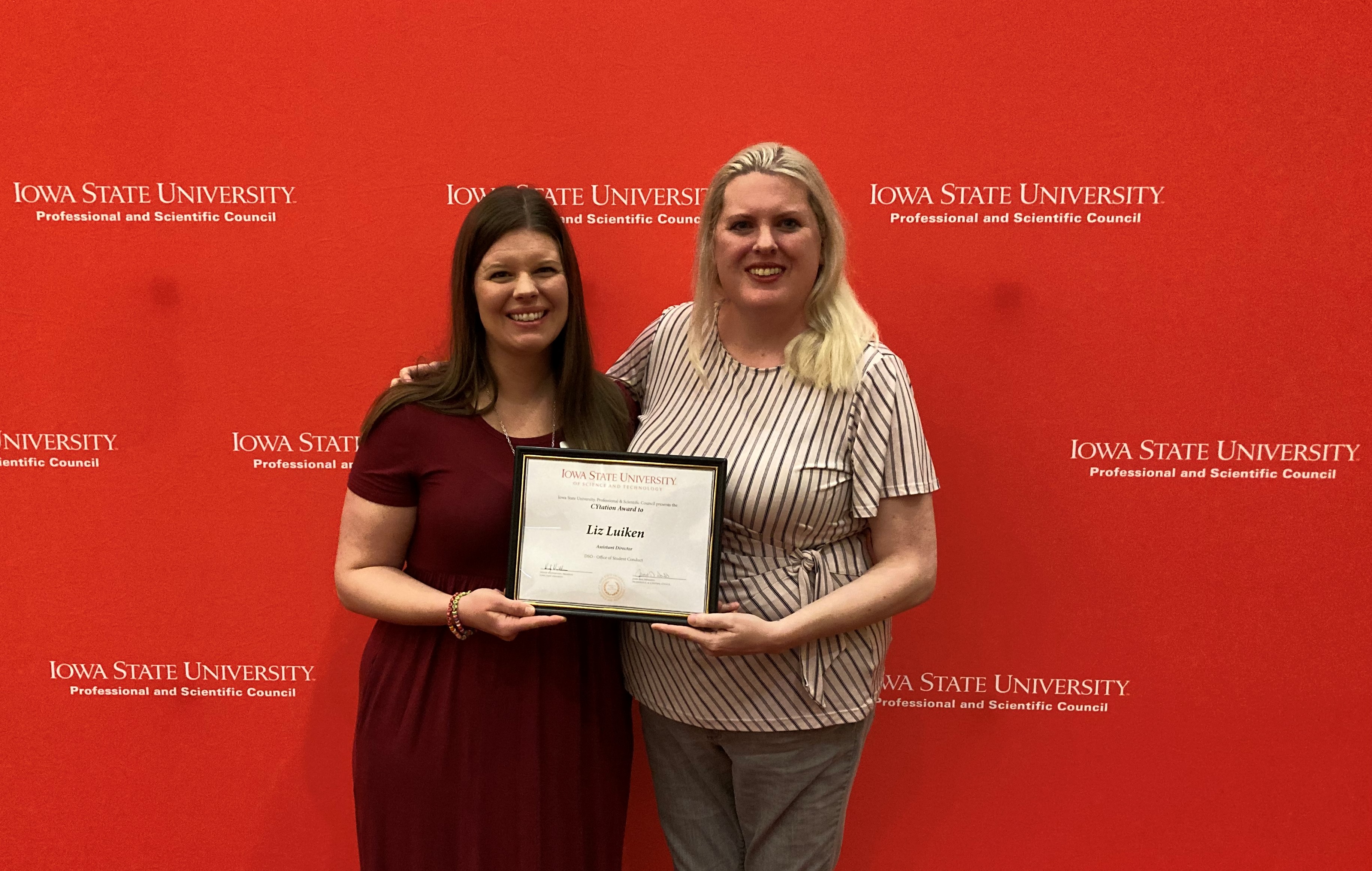 Liz has assisted and volunteered on numerous committees and work groups in the Dean of Students Office to provide orientation and training for graduate students, provide recognition for students and staff, assist with unit initiatives. She annually organizes departmental recognition of our janitorial staff, has developed infographics and marketing items for several offices outside of the department, and she provided invaluable assistance in the early stages of planning for Cyclone Family Weekend.  Liz is also in charge of website design and social media marketing.  All of this is done with enthusiasm and professionalism.  Liz has truly made a significant impact over the past 2 years, and all her work will have a broad impact, extending beyond the Student Conduct and the Dean of Students Office.
---
Gene Manhattan, International Student Advisor, International Students and Scholars Office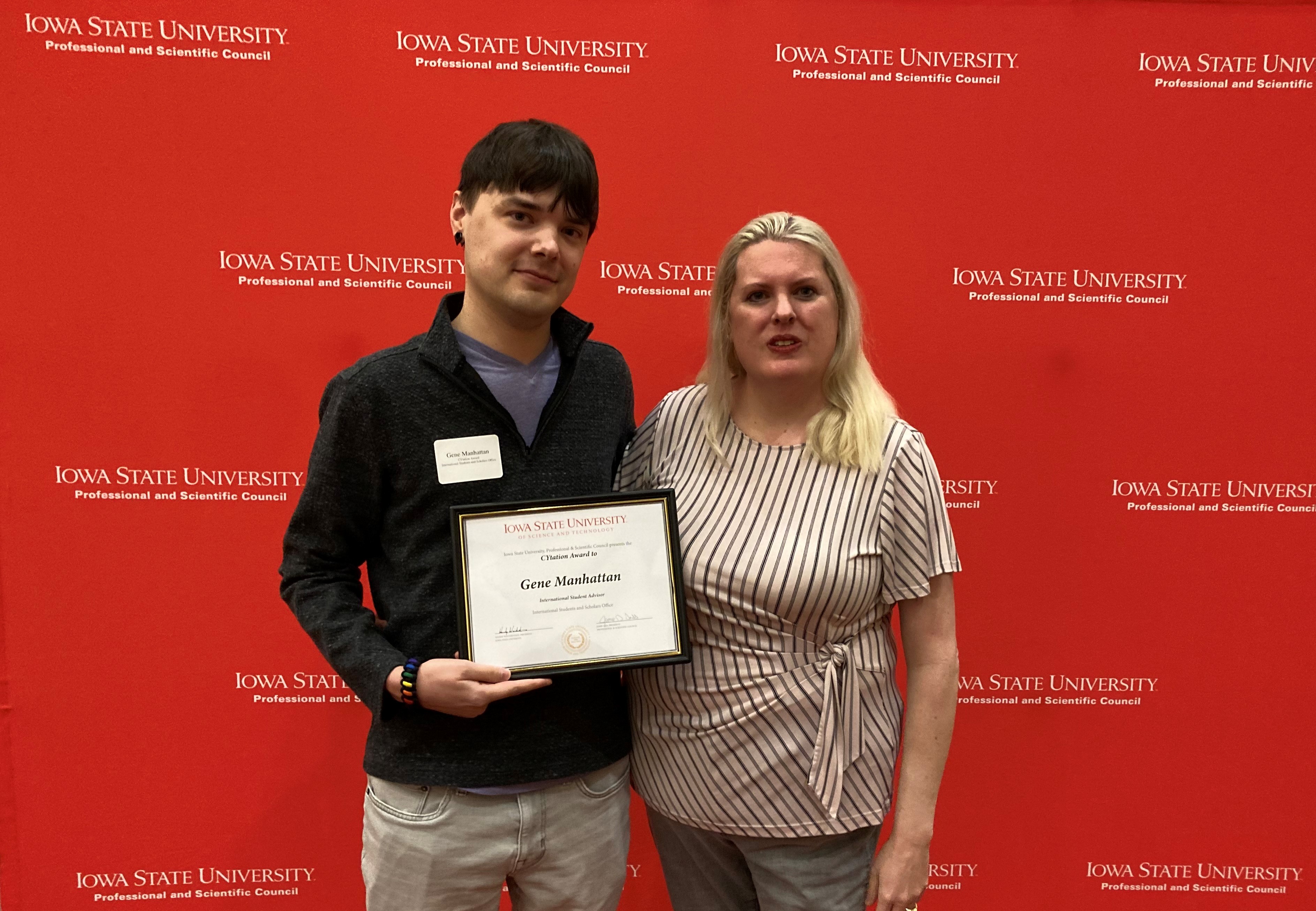 Gene is a Student Advisor in the International Students and Scholars Office. Gene observed that, with exception of an approved leave period of five days, there was nothing to support staff and faculty looking to adopt. Undiscouraged, Gene researched other institutions and businesses to learn about their benefit practices. Gene created a petition to University Human Resources and lobbied Faculty Senate and Professional and Scientific Council to increase visibility to the issue. He was steadfast in his efforts to bring this issue to those in positions of power and clear in his message that lack of adequate coverage at Iowa State University was a troubling equity issue. As a result of Gene's advocacy, the Board of Regents approved a three-year pilot program at all three state schools supplying financial reimbursement to employees for expenses tied to adoption. Without Gene's initiative and perseverance, this would not have happened.
---
Ashley Morton, Academic Advisor, Engineering Student Services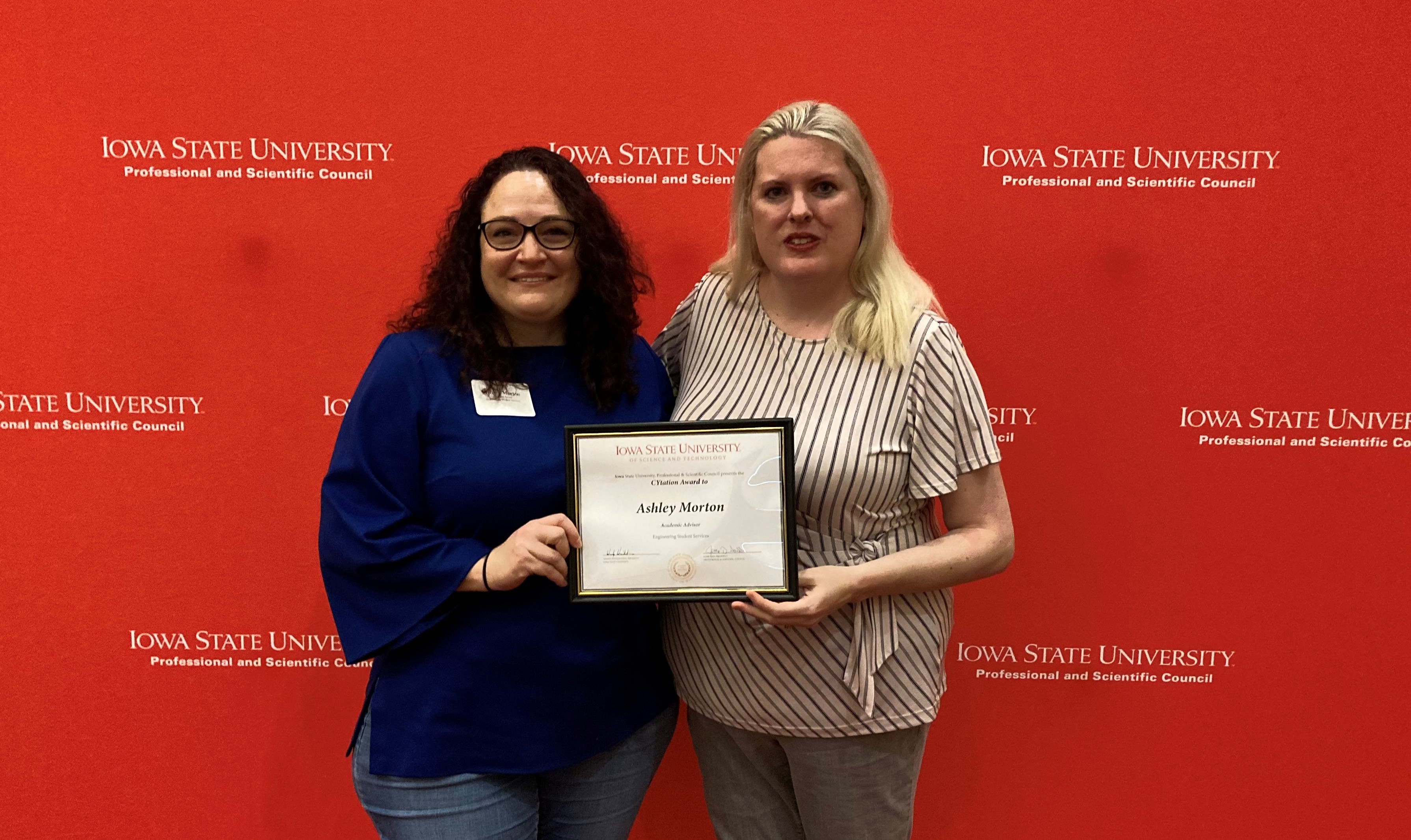 Ashley Morton works in the College of Engineering Student Services Office as an Academic Advisor III serving undeclared engineering students. Over the past two years, Ashley has gone above and beyond her normal job responsibilities in response to staff shortages, while at the same time creating, developing, and initiating new programming benefitting not only students but staff development within the college. Ashley's passion for getting involved with professional development, especially DEI (Diversity, Equity, and Inclusion) led her to being heavily involved in the University Academic Advisor Professional Development Committee creating training opportunities for advisors across campus. Additionally, Ashley created an advisor DEI group within the College of Engineering. Ashley was also the co-creator of a College of Engineering student group, QT Engineers, developed to support queer and transgender students within the College of Engineering. Ashley's hard work over the past 2 years has not gone unnoticed and she deserves to be recognized for the time, effort, and creativity she has put in to improving the campus experience for both students and staff.
---
Cindy Osborne, Manager Custodial Services, Recreation Services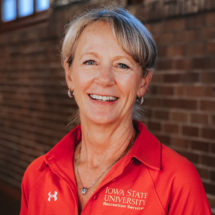 Cindy is the Manager of Custodial Services for ISU Recreation Services. She has led the way over the past two years to ensure our facilities are sanitized and safe during the COVID pandemic. ISU Recreation Services include three facilities with over 540,000 square feet.  Our recreation facilities hosted multiple university initiatives for COVID testing, vaccinations, and flu shot efforts. Cindy worked endlessly with these programs to ensure they had the needed space and supplies to be successful.  Additionally, Cindy offered to assume the management of the Thielen Student Health Center custodial program that requires cleaning at a medical grade level. After a year of managing the program, Cindy revamped the existing system, reduced staffing, and improved efficiency, resulting in cost savings for Thielen Student Health Center. Cindy is more than a "Custodial Manager"; she is a vital part of ISU Rec Services that works for the betterment of the department and Iowa State University.
---
Sadi Reimann, Administrative Assistant II, School of Education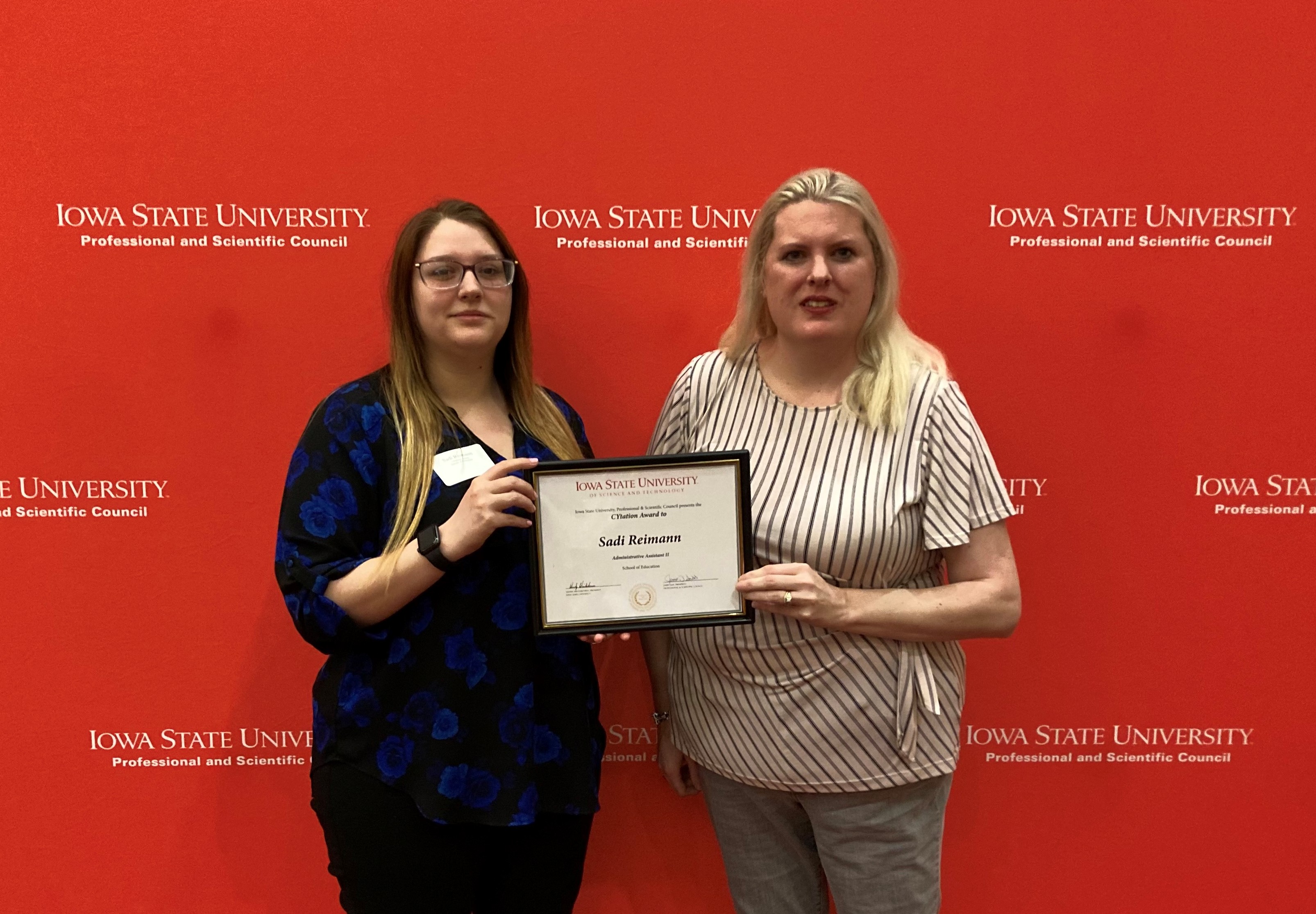 Sadi's dedication to the School of Education is nothing less than exemplary. SOE used to have six individuals to provide administrative support and now Sadie is the only point of contact as the Administrative Assistant II. In the past year she not only had to cover her position, but also a vacant position in her office for two months. She is considered the go-to resource and has become the budget and finance support. Sadi has become the heartbeat to the administration of SOE. Even in difficult situations she always responds with the utmost professionalism and is at the center of the solution. Sadi leads by example and exemplifies the Iowa State University Principles of Community.
---
Johna Wolfe, Student Services Specialist III/LAS Classification Coordinator, LAS Student Services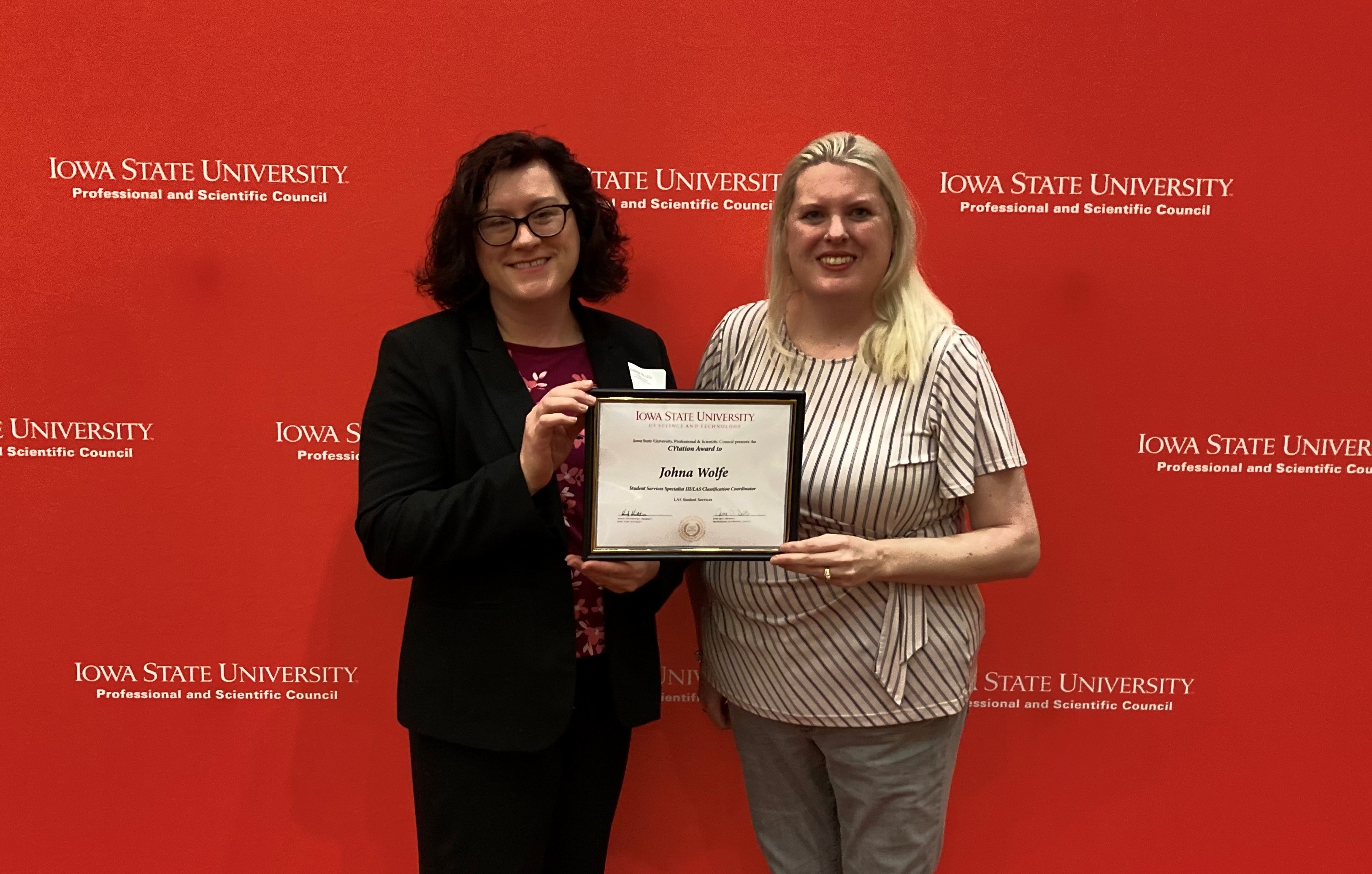 Johna is a Student Services Specialist in the College of Liberal Arts and Sciences. One of their most important roles is campus-wide course availability and management. LAS departments teach the bulk of service courses at ISU. Johna is part of the team that forecasts number of seats needed more than a semester in advance. After receiving complaints from offices about the need for more seats, Johna quickly identified the problem, then worked with departments and Registrar's office to fix the issue. She played a crucial role in restructuring advising and student services for LAS. Johna went above and beyond to make sure the process went smoothly and service to students was not interrupted. Johna worked long hours to ensure a seamless transition. Her knowledge of academic systems, services and processes is unparalleled, and her ability to work efficiently through problems make her vital asset to LAS and the University.
---
Svitlana Zbarska, Campus-wide Undergraduate Research Program Coordinator, Honors Program-Prv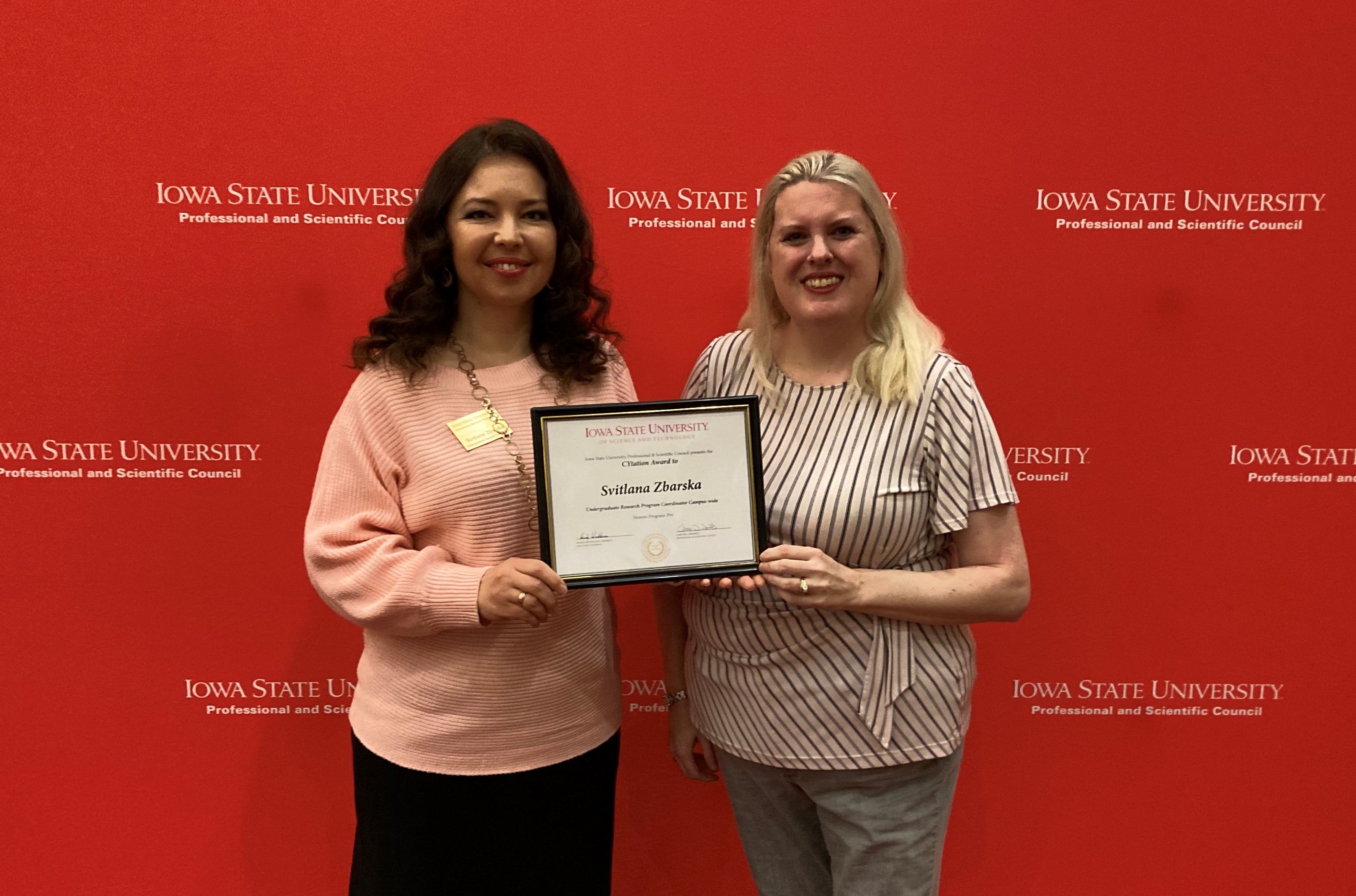 There is no greater advocate for the undergraduate community than Svitlana. Svitlana has implemented multiple undergraduate initiatives while fulfilling her duties as the Undergraduate Research Program Coordinator Campus-Wide. Undergraduate Research Ambassador Program, Undergraduate Research Alumni Board, and Research Seminars for Undergraduate students are just a few of the programs Svitlana has introduced that are making a significant impact and are advancing undergraduates across campus. One of the most noteworthy accomplishments is her coordination of all aspects of the First-Year Honors Mentor Program, with the number of students and faculty participating nearly doubling. Svitlana is one of the true promoters of Iowa State Universities focus on science and technology.
---
Anindita Das: Diversity Equity and Inclusion Strategist, College of Design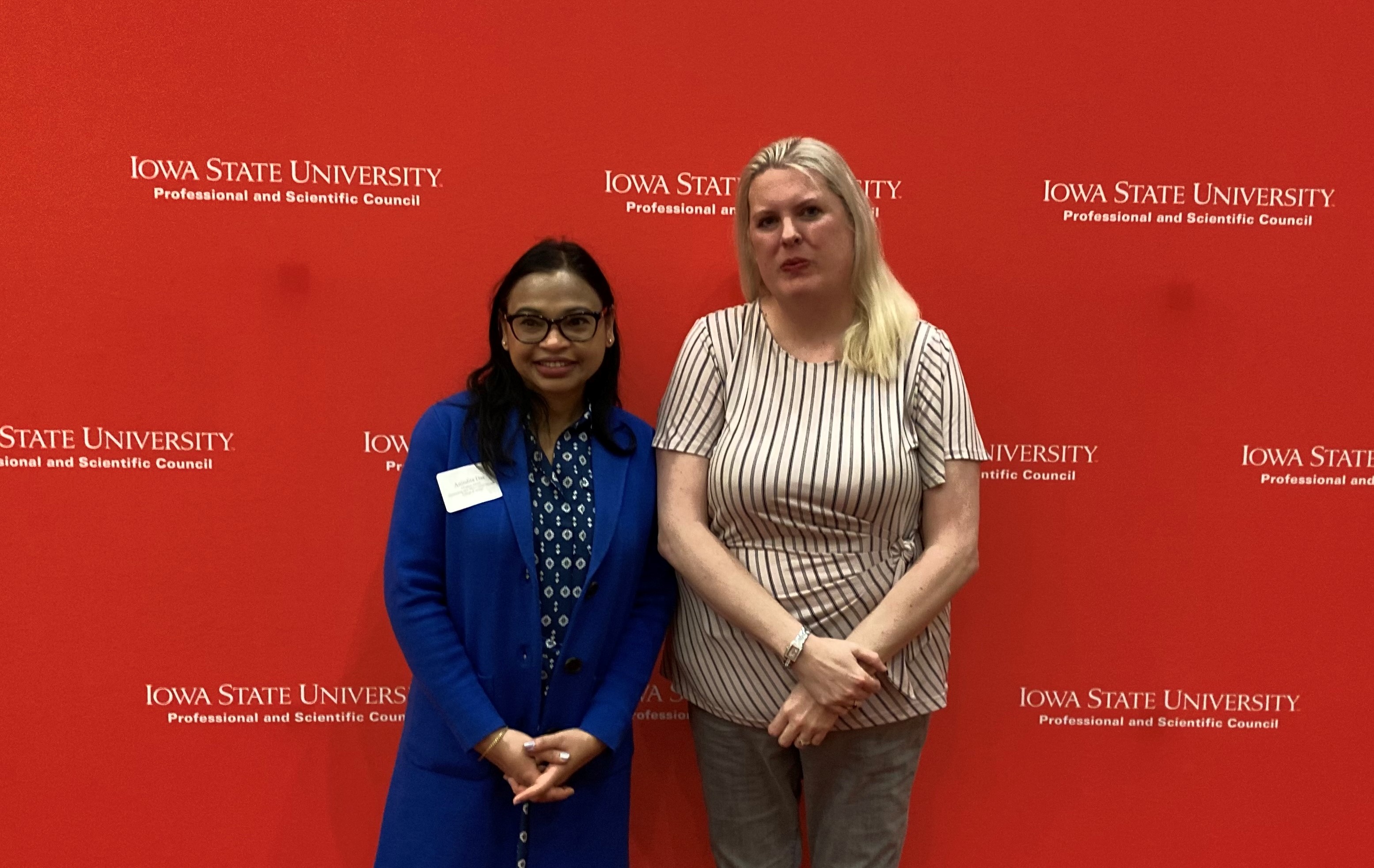 Ani began on Professional and Scientific Council in 2022, and has established a pattern of reliability and responsibility. She is the sole representative for the College of Design. Immediately, she wanted to know how to best reach out to her constituents because she wanted to understand their concerns, questions, and feedback.  Ani is always one of the first Councilors to push out information to her constitutents and to bring information to Council. She is a strong communicator who cares deeply about Professional and Scientific employees and clearly sees Council as an avenue to advocate for change. Ani was also assigned to the Diversity and Equity committee, which is where she really shines. Ani has a passion for diversity, equity, inclusion, and belonging work that she brings to the committee. Because of her professional work at Iowa State as a DEI strategist, she understands the administrative and social challenges presented by this work, and yet, she wants to tackle it aggressively for the benefit of her P&S colleagues.
---
CIRAS Salesforce Implementation Team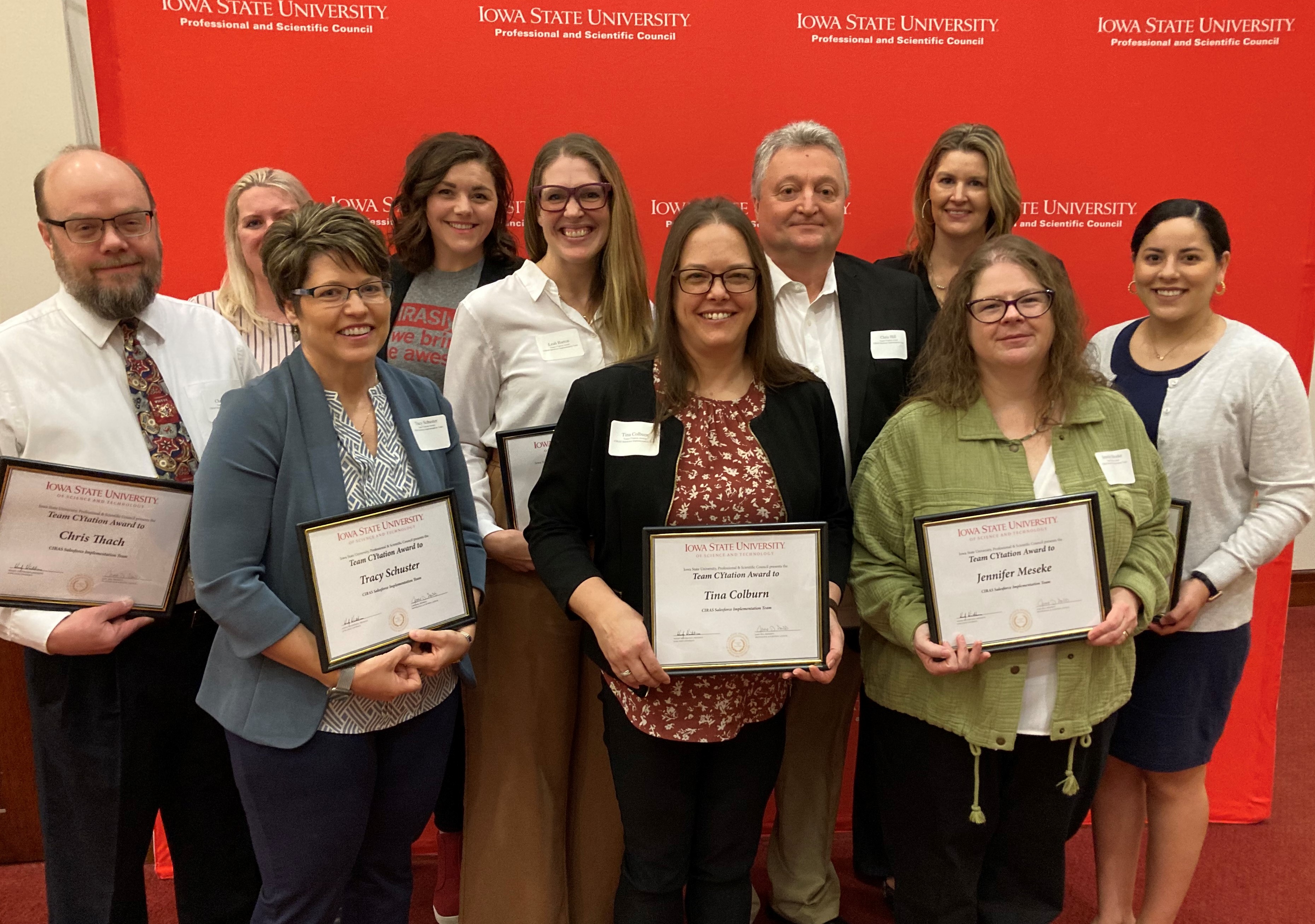 Center for Industrial Research and Service (CIRAS) mission is to improve the performance of industry through applied research, education, and technical assistance. They deliver services from 30 minutes counseling sessions to a multi-year transformational engagement. The funding comes from several federal agencies, two state agencies, the University, and private organizations. With the number of different organizations, it's very important to manage these relationships and track and report to stakeholders. For 20 years they used an online database. In 2019 they decided to implement Salesforce as their core operating platform. In 2020 the external integrator decided they were unable to meet their needs and backed out of the project. CIRAS formed a team to manage the implementation themselves, led by Leah Barton and Chris Thach. Throughout 2021 the CIRAS Salesforce Implementation Team took on the largest project in CIRAS history. They conducted extensive discovery processing, identifying over 230 requirements to meet the needs of CIRAS. They then developed solutions, preformed hundreds of tests and created 80 training videos. On January 3, 2022, Salesforce went live. While many organizations share stories of the struggles of launching a new system, this year has been full of stories of success and excitement. Some of the successes include simplified event planning, improved marketing, a simplified contract process, and saving hundreds of hours in creating reports for stakeholders every year. The implementation of Salesforce has far exceeded expectations. In 2023, CIRAS will be celebrating 60 years serving Iowa industry, and, thanks to this team, they are well-positioned for the next 60 years.

Team Members (left to right): Chris Thach, Tracy Schuster, Gayle Mastbergen, Leah Barton, Tina Colburn, Chris Hill, Jodi Essex, Jennifer Meseke, Jennifer Garcia-Velazquez
---
Pappajohn Center for Entrepreneurship Team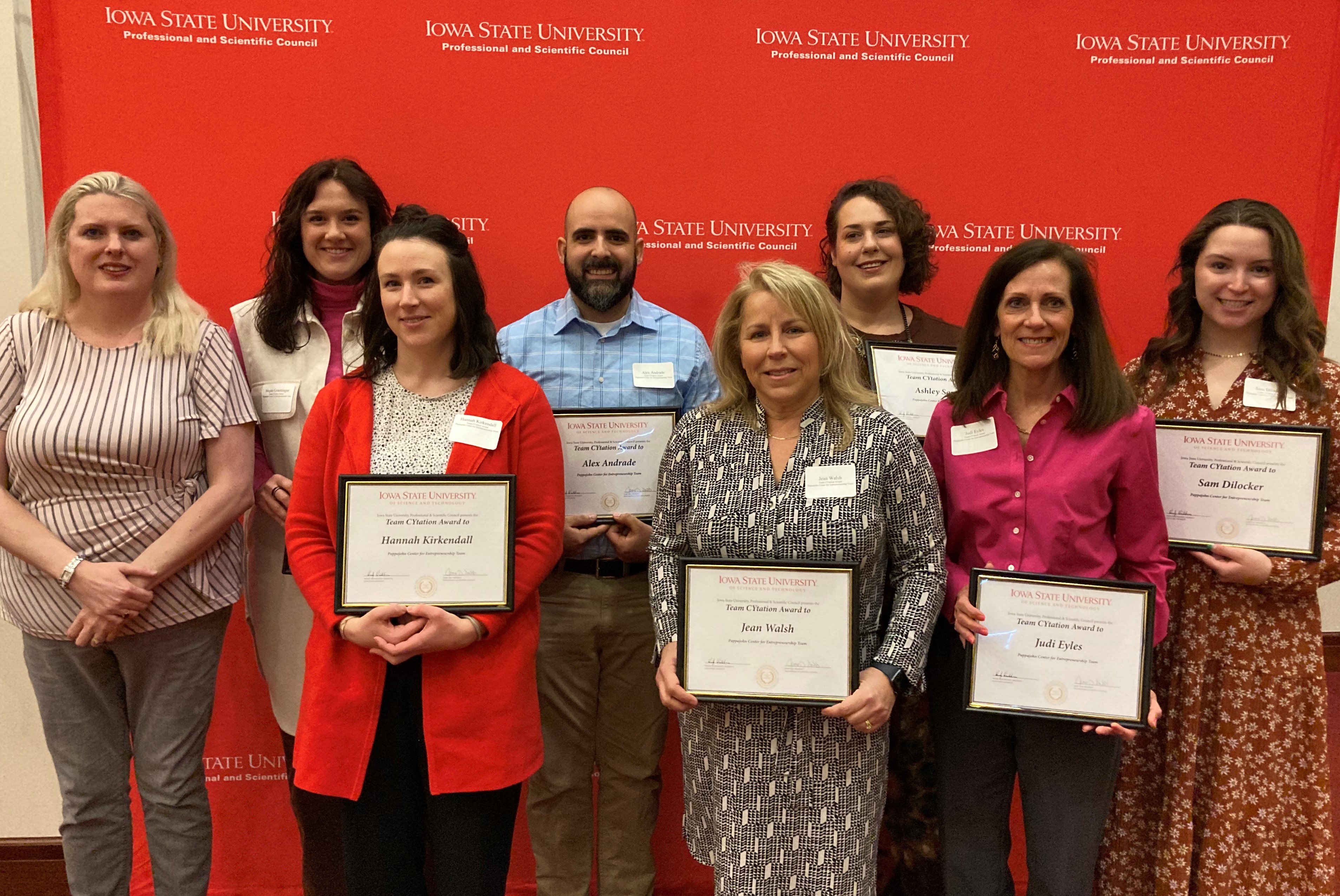 In 2018 when Wendy Wintersteen was named President of Iowa State University, she proposed that ISU become a leader in entrepreneurship and innovation. The team at the Pappajohn Center for Entrepreneurship played a significant role in making that vision a reality. In the past year, the Pappajohn Center team visited 82 classrooms containing over 7,000 students from 71 different majors. They attended 50 student orientations or Experience Iowa State days, gave out just over $125,000 in prizes to pitch and business plan competition winners, facilitated the investment of $127,500 in support for students in the CYstarters summer accelerator program. Hosted 172 workshops, seminars or events, spent countless hours mentoring students, employed 77 students in its CyBIZ Lab or Reiman internship program, and shared innumerable social media stories, news releases, and feature stories about our programs and the entrepreneurial students and faculty who participate. In 2021, the Pappajohn Center won the U.S. Association for Small Business and Entrepreneurship "Model Program" award, USASBE's most prestigious award. In 2022, the Pappajohn Center was named a Global Consortium of Entrepreneurship Center "Nasdaq Center of Entrepreneurial Excellence", the organization's highest honor, a "Good Housekeeping Seal of Approval" of entrepreneurship centers. For the third year in a row, they were named a top entrepreneurship program, ranked #11 in the country for undergraduate entrepreneurship by the Princeton Review and Entrepreneur Magazine. Although these metrics and accolades are impressive, they only tell part of the story of the success of the Pappajohn Center. To win back-to-back top national awards in entrepreneurship says a lot about the character of this team. When it comes to promoting entrepreneurship and innovation at Iowa State, the team at the Pappajohn Center for Entrepreneurship is leading the way with enthusiasm, professionalism, creativity, and passion.

Team Members (left to right): Megan Graettinger, Hannah Kirkendall, Alex Andrade, Jean Walsh, Ashley Sawyer, Judi Eyles, Sam Dilocker, (not pictured) Peter Hong, Tom Swartwood
---
Strategic Facilities Planning Team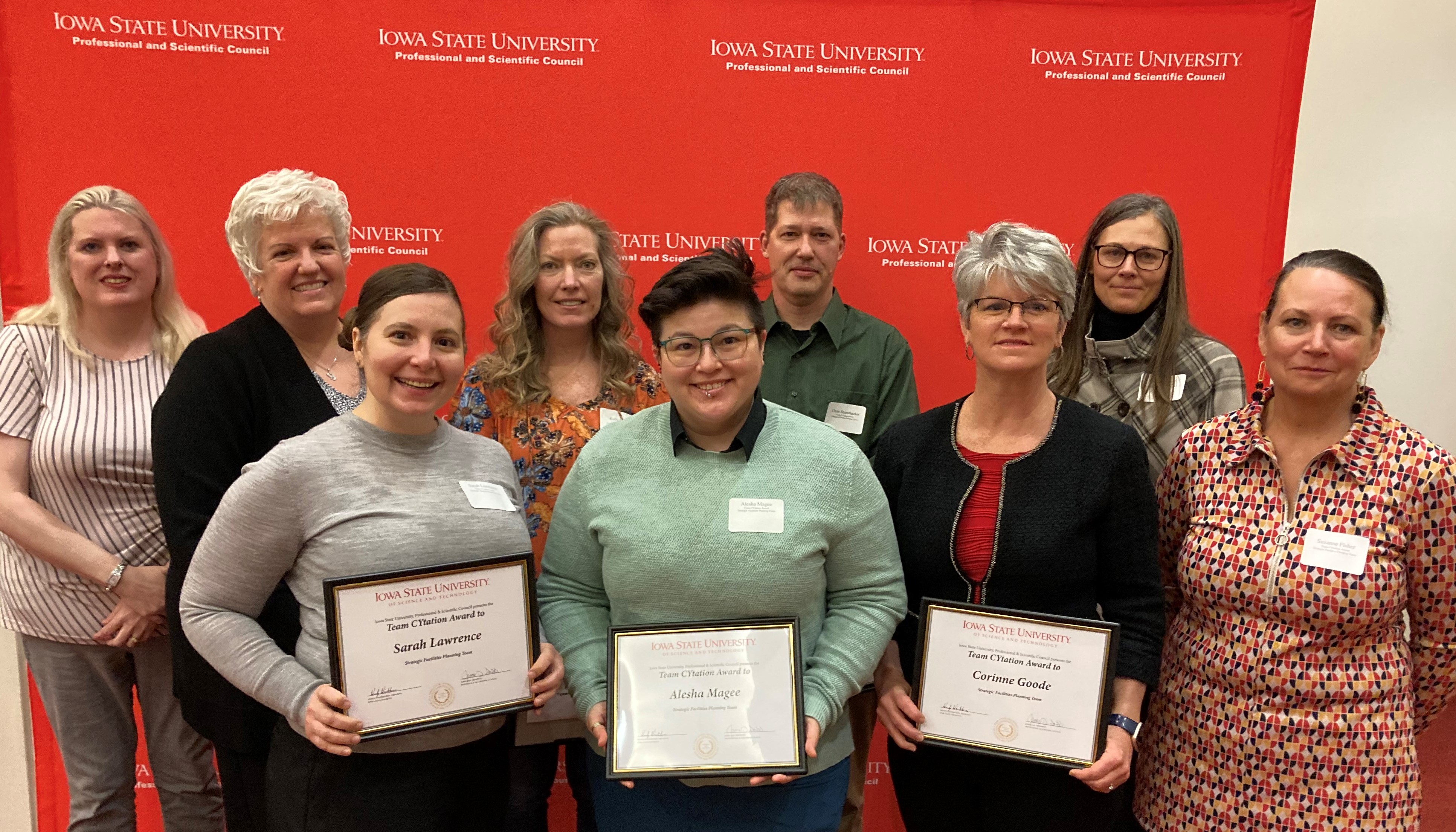 The Planning Services team is responsible for three areas - campus planning, space planning and management, and room scheduling. This team recently conducted a campus-wide review of the university's facilities to determine the space needs for the next 30 years. While the last master plan served the university well for over 30 years, it was realized, that now is the time to face a growing need for major reinvestment in our aging facilities by developing a framework for decision making and problem solving to truly embody the mission of creating, sharing, and applying knowledge for Iowa State University. The last 2+ years were filled with many meetings, discussions, and analysis, resulting in the completion of the Strategic Facilities Plan. During the workshops, the college senior leadership provided college-specific strategies and recommendations for facilities improvements focused on recruitment and retention of faculty, students, and staff. Other meetings focused on space types, including instructional space and research, were held to develop a better understanding of both current and future possibilities for these diverse types of facilities at Iowa State. The quality and quantity of existing facilities were the driving forces behind the identification of facilities that became the framework for the Strategic Facilities Renewal Plan. The plan was reviewed and accepted by the Capital Planning Advisory Committee and the Board of Regents in the spring of 2022. These efforts required collaboration from the entire Planning Services team to confirm data and provide clarification to the consultant, resulting in this detailed plan which provides the university with a plan to move forward with improvements of our facilities here at Iowa State University…thus creating exciting learning, teaching, and research spaces!
 
Team Members (left to right): Katie Baumgarn, Sarah Lawrence, Kelly Nelson, Alesha Magee, Chris Strawhacker, Corinne Goode, Brandi Latterell, Suzanne Fisher, (not pictured) Elizabeth Salton, Linda Tibbs
Click here to learn more about the Professional & Scientific Council CYtation Awards.